Verizon Communications Inc (NYSE:VZ) has recently taken the number 22 spot in terms of largest companies, surpassing even Amazon.com Inc (NASDAQ:AMZN). It is also interesting to see that AT&T Inc is ranked 12th, exceeding the likes of JPMorgan (NYSE:JPM) and Coca-Cola (NYSE:KO). This is vital as it opens up the doors for the company in many ways. First the reputation that this presents to investors attracts them from all over the globe. Second, the amount of wealth accumulated allows these companies to consistently navigate their operations in the most profitable direction. These companies certainly aren't, in theory anyway, going to go into just administration any time soon so the risk isn't as high as a company that is just starting out.
Another positive linked to this is that mutual funds only consider buying shares in company sized $10 billion or higher. Verizon is valued at $136 billion and AT&T Inc (NYSE:T) is valued at just over $202 billion. This means that these two stocks will have the financial backing of mutual funds behind them.
A chart (below) on the first news report shows the stock performance of Verizon in comparison to Amazon.com Inc. It shows that whilst Amazon has had a positive performance over the last three months, Verizon has had a negative one. Whilst this may sound bad, it may mean that Verizon's current share price is below what the company's actually worth - this is something to bear in mind.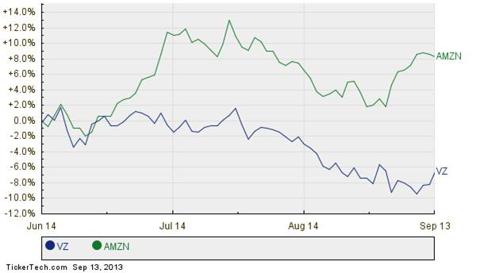 Sprint Corporation (NYSE:S) has recently settled 'open disputes' with NTELOS Holdings Corp regarding issues with its business partnership. These disputes are issues with the partnership itself and have been 'modified' to adapt to changing plans. The partnership is reported to be ready for the future. However, I would recommend keeping an eye on this as it may demonstrate problems in the near future.
Sprint also has 2.5GHz licenses, which will help it to provide faster network speeds than its competitors by 2016. This could affect AT&T and Verizon as their customers may be attracted to move over to Sprint. However, I don't think it will have an overwhelming affect as these two companies have the capital to invest in research for faster products than these.
AT&T Inc has moved forward with a project to supply around 15,000 students in Fresno, California, with new Tablets that will help to encourage mobile learning. A data plan and security software will be provided - courtesy of AT&T. The project will last for three years and is reported to be worth millions. This could be a positive move for AT&T but personally I would be a little skeptical at this stage as funding is being cut by the government for education so if AT&T Inc is starting to 'put all its eggs into one basket', this would put me off this stock. However, if it continues to be one of many parts of AT&T Inc and it manages to secure several deals like this, it could be a benefit to the business.
Financial Analysis
Verizon made $116 billion of sales in 2012, with a Gross Profit of 11.359% and a 9.11% Net profit. For every $1 of assets it owns, it has $0.62 of debt.
AT&T Inc made $127 billion of sales in 2012 and a 10.199% Gross Profit and a 5.7% Net Profit. For every $1 of assets it owns, it has $0.43 of debt.
Sprint Corporation made $639 million of sales in 2012 with a Gross Profit of 23.665% and a Net loss of $1 billion. For every $1 of assets it owns, it has $0.73.49 of debt.
It's interesting to see that both AT&T Inc and Verizon made small gross profits but whilst their net profit is relatively low, it is quite close to their gross profit margins. If they were to increase efficiency and improve gross profit margins, their net profit margins would surely increase too.
Conclusion
I would rate Verizon as a BUY as it has reasonable financials (its debt could be a bit lower) but efficiency could improve this company (which may provide the share price increase every investor enjoys). It is a large company with fairly decent news surrounding it, which suggests it's a safe stock to buy and it pays dividends. I would also pick Verizon on the basis that AT&T is larger and will find it harder to maintain its entire market share (which Verizon Communications Inc could gain) and whilst debt is higher and sales are lower, gross and net profit figures are currently higher and may provide the slight edge over AT&T Inc.
Disclosure: I have no positions in any stocks mentioned, and no plans to initiate any positions within the next 72 hours. I wrote this article myself, and it expresses my own opinions. I am not receiving compensation for it (other than from Seeking Alpha). I have no business relationship with any company whose stock is mentioned in this article.