Last week, SA reported the following headline on Lumber Liquidators (NYSE:LL):
Lumber Liquidators falls after Feds storm HQ

Shares of Lumber Liquidators crumple in early trading on reports the company's headquarters in Virginia have been searched by federal authorities.
Homeland Security Investigations executed a search warrant in coordination with the DOJ and U.S. Fish and Wildlife Service, according to the Charlotte Observer.
We always like to follow the money trail in the high flying names like LL when something fishy like a government search pops up. When we went to the SEC filings, we found an extremely interesting scenario regarding the company's insider roster, which is copied below: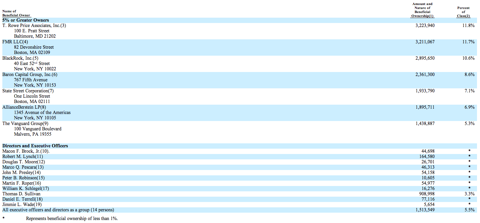 What the recent proxy filing tells us is that management only owns 5.5% of this high-flyer. The roster of Wall Street who's who owns over 50% of LL. This is known in many circles as a classic Wall Street promote. What's even more interesting is that most of these street-savvy players also control the opaque market of stock loans, which are used by short sellers to borrow stock and then sell the borrowed to bet against the company's survival. To obtain the true cost to borrow stock aka the "negative rebate" when the stock is in a "hard to borrow" situation, we have used optionapps.com and its implied volatility model and currently see a borrow rate of ~ 9% annually. Here is the latest Nasdaq report on the outstanding short position in LL: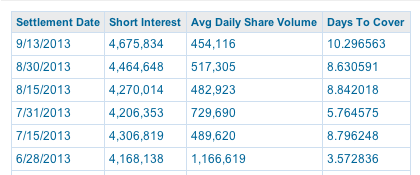 Since the article here outlining the questionable practice of importing wood products containing illegal levels of formaldehyde - a known carcinogen published here at SA by Xuhua Zhou on June 20, we see the short interest creep up by ~ 10% and the days to cover nearly triple. More importantly, the stock seems to continue to rise as shown by this chart: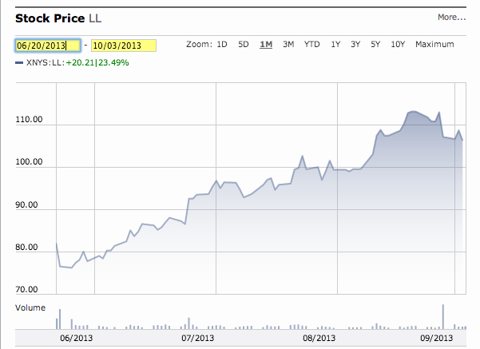 We can partially attribute this rise to the unavailability of shares that are available for borrowing on favorable terms by short sellers. The scarcity of shares freely available for trading is demonstrated by this chart: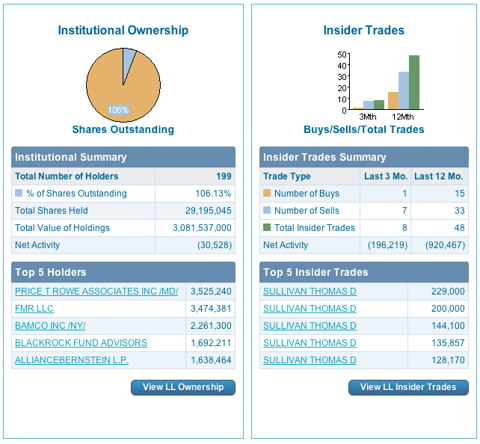 To summarize the chart, there are 29.195 million shares total outstanding, of which ~ 12.5 million are held by 5 large players starting with T.Rowe at 3.525 million. Add in another 1.65 million shares held by management and the board and you have less than 16 million shares in the float. Of that, 4.65 million are short, so the picture of a potential squeeze starts to emerge, if it hasn't already started. We think the Wall Street veteran's listed above as insiders are working their collective magic to keep this name rising ever higher for the foreseeable future, especially if the people who are investigating their questioned practices become furloughed as a result of the government shutdown. Bottom line, be careful shorting this name.
Disclosure: I have no positions in any stocks mentioned, and no plans to initiate any positions within the next 72 hours. I wrote this article myself, and it expresses my own opinions. I am not receiving compensation for it. I have no business relationship with any company whose stock is mentioned in this article.