By David Urani
Twitter is getting closer to its introduction to the public market and last night they issued their official S-1 documenting financial performance over the past couple of years and a general overview of the company. The ticker will be TWTR and although it isn't trading yet, nor has its shares even been given a price, I couldn't wait to sink my teeth into the numbers. So let's take an overview:
I'm sure you know about Twitter by this point so I won't trouble you with everything that it does. That said, it has revolutionized social networking and there's nothing else quite like it out there. Its main use is probably for communicating with pals and following the lives of celebs but it has so many other uses beyond that. It's become a very useful forum for posting breaking news and other information.
It's also a fantastic tool for financial professionals such as myself, particularly when it comes to getting stock-related news well before other major media sources give it out. One example of that would be when Carl Icahn (@Carl_C_Icahn) broke the news on Twitter first in August when he took a large stake in Apple (NASDAQ:AAPL). Companies have also turned to Twitter in a big way as a way to connect with consumers. In the last Super Bowl, 45% of the ads displayed Twitter hashtags to fuel discussions about their commercials.
Okay, let's get into some facts and figures. The company has more than 215 million monthly active users and generates most of its revenue from selling ads. 75% of those users reportedly access Twitter through mobile, with mobile accounting for 65% of ad revenues. It sells ads for $0.80 (as of 2Q13) per 1,000 views. Ads are 85% of revenues in total, while Data Licensing is the other 15%. Data Licensing consists of historical tweet data that companies can buy for a period of time to analyze – the company expects that to decline as a percentage of revenue over time. In total Twitter generated $316.9 million of revenue in 2012, a 198% increase over 2011.
As far as its cost structure, as of 2Q13 its biggest expense was R&D at 46.1% of revenues, consisting mostly of salaries for engineers, designers and other tech workers. Cost of goods sold is 36.3% of sales, and includes servers, bandwidth, energy and maintenance for its data centers among other things. Sales and marketing is 32.5% of sales, while general & administrative costs are 13.0% of sales. As of now the company continues to run at losses, and for 2012 it posted a $79 million net loss. However, Twitter also gave out figures for adjusted EBITDA, which strips away stock-based compensation, depreciation and some other costs. Adjusted EBITDA for 2012 was +$21.2 million.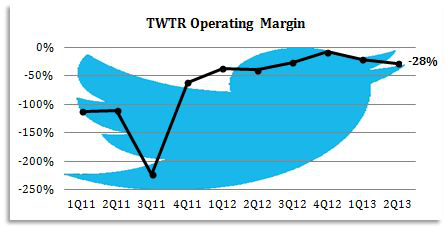 Second Quarter 2013
Twitter's financials were complete with the latest quarterly results as well for 2Q, so let's analyze some of those numbers.
Revenues +105% y/y and +21.8% q/q to $139.3 million
Timeline views +68.7
Revenue/1,000 views up to $0.80 from $0.64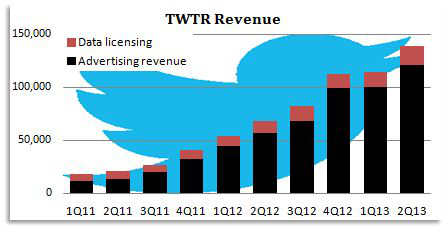 Gross margin improved all the way from 55.1% to 63.7% y/y
G&A costs sank from 25.5% of sales to 13.0% y/y as the company sees economies of scale over its fixed costs.
However, the company has also been beefing up its employee base to deal with its growth, so R&D was up from 40.2% of sales to 46.1% and Sales & Marketing was up from 28.9% to 32.5%
Net loss of $42.2 million, with adjusted EBITDA of +$9.65 million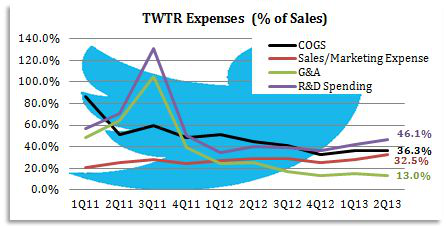 No doubt Twitter continues to see explosive revenue growth, with the latest sales figures more than doubling year over year. The company does continue to run at a net loss, which isn't unusual for a relatively new tech company like this, but you can see it growing into its cost structure with gross margin and G&A improving significantly.
Unfortunately I can't recommend a buy or a sell on TWTR since it hasn't been given a value yet, that will be up to Goldman Sachs (NYSE:GS) and a few others who are managing the IPO. Hopefully they don't take the route of Facebook (NASDAQ:FB) and Morgan Stanley (NYSE:MS), who grossly inflated the value of the stock in an effort to milk as much money as they could from the largely over-hyped public interest. Certainly though the future only looks brighter for Twitter. In the event that this one does get overvalued for its market debut (although TWTR management reportedly so far sounds more level-headed than the folks over at Facebook) this is looking like a stock that, like Facebook, should be able to pull higher over time if you could stomach or avoid the initial drop.