In my last article, I laid out a brief case on why I've been searching around in the world of small commercial banks. My basic hypothesis is that there are some huge opportunities in that sphere right now, as investor fear is at all-time highs. Contrast that to the rest of the market, which has been on an undeniable bull run over most of the past half year.

It's easy to understand why people are scared of small commercial banks. They are not easy to analyze, the risks are high, earnings look terrible, and since these banks don't qualify as "too big to fail," the government isn't going to come in and rescue them. In fact, the FDIC seems to close down a few banks every single Friday.

But here's the bull case on small commercial banks --- many of them are beaten down into the gutter right now. The US government is providing these banks with a huge gift in the form of 0% interest rates and this state could last for quite awhile. Competition is on the decline as many banks struggle to stay afloat. If you can find a small commercial bank that is beaten down severely, relatively good quality, and can survive, you can make great returns.

Criteria

Here are the attributes I've been searching for in small commercial banks:
Lower to moderate leverage when compared to other commercial banks

Less exposure to the huge bubble markets

Revenues are increasing, staying the same, or not significantly declining

Market share is increasing

Interest margins are strong/increasing

Inside ownership

Insiders have made significant buys

Strong earnings potential, and most importantly,

Stock price offers very highly favorable risk-reward balance
My last article dealt with the largely Virginia and North Carolina based Hampton Roads Bankshares (NASDAQ:HMPR). This article deals with Tennessee-based Green Bankshares (NASDAQ:GRNB).

Overview
Green Bankshares is the holding company of Green Bank, formerly known as "Greene County Bank." It is headquartered in the small city of Greeneville, TN and nearly all of its operations are centered in either Eastern Tennessee or Central Tennessee; but they do conduct a small amount of business in the Appalachian region of Western Carolina and Southwestern Virginia.
GRNB operates a mortgage banking operation in Knoxville, TN. It has eight consumer finance offices mostly in the Knoxville area and Northeastern Tennessee. It operates a sub-prime auto lending company in Johnson City, TN. It also operates Fairway Title Company, a title insurance company in Knoxville, TN. In May 2007, GRNB purchased Civitas BankGroup, which has 12 branch offices in the Nashville metro area.

Green elected to participate in TARP last December. They also suspended their quarterly cash dividend in June.
Attributes
According to Yahoo, GRNB has inside ownership of 19%. There have been two relatively small insider buys in November. There have also been several inside buys throughout the past nine months; the largest of which was a purchase of about $78K worth while the stock was trading around $5.
Tier-1 Leverage is at 10.5%, while Tier 1 Risk-Based Capital is at 13.2%.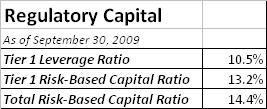 This suggests to me that GRNB has a reasonable capital cushion, particularly when you consider their core operating areas in East Tennessee were not bubble markets. The Middle Tennessee area might have some slightly larger issues, particularly around Nashville, but even there, the RE bubble was not nearly as bad as in some of the nation's other larger metropolitan areas.
If you don't believe me, check out the FDIC's failed bank list. If you sort by state, there should be zero bank failures in Tennessee this year. Compare that to 21 bank failures in Georgia. This should also tell one that the banks are sinking right now less on exotic financial instruments and more on falling real estate prices in bubble markets, coupled with high unemployment. Of course, there's always poor underwriting standards at some banks, as well.
It's unclear whether GRNB can grow market share in the next few years, but their prospects might be reasonably good once things clear. Their strategy largely seems to be based on acquisitions, but the East Tennessee region has not been as adversely affected by this crisis as some other regions, so organic growth is certainly a possibility as well.

Balance Sheet
The first thing to look at with GRNB is the balance sheet. Below is my version of the balance sheet from the end of the 3rd Quarter: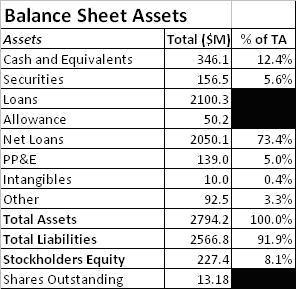 Here is a chart showing GRNB's loan concentration: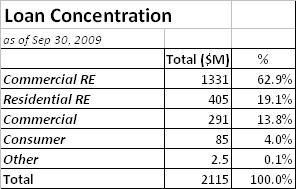 This next chart shows the trends in deposits from GRNB: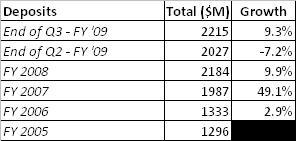 The chart is a little funky due to a massive spike in FY '07 that resulted from the acquisition of Civitas Bank.
Now time for my so-called "stress test" chart. Note that the column highlighted in green shows the current version balance sheet, as of Sep 30, 2009: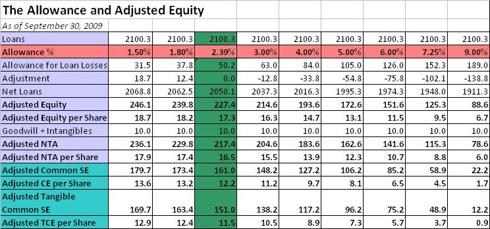 Click to enlarge

This chart suggests that GRNB could potentially survive even if portfolio losses were significantly greater than the auditors estimate. One additional risk here is that GRNB could issue a common share offering in order to increase capital. I hope that does not happen, but I would not rule it out and it would mean significant dilution.
For an example of a terribly dilutive share offering, take a glance at Bank of Florida (BOFL). It originally had 13 million shares outstanding. They recently decided to do an 86 million share offering. That is some major dilution! Other banks have made similar dilutive offerings, but most of the ones I've seen have either doubled or tripled the number of shares; BOFL appears to be one of the most egregious cases and I don't think I could ever invest in a company after doing something like that. The good news here is that GRNB is not exposed to Florida.
Earnings Potential
The two major questions I have with each bank I analyze right now is:

Can they survive?

What is their future earnings potential?
The latter question becomes particularly difficult to answer because of the aforementioned potential for dilution.

Here are GRNB's historical earnings over the past three years. The last two columns are for the first three quarters of 2009 and 2008 respectively: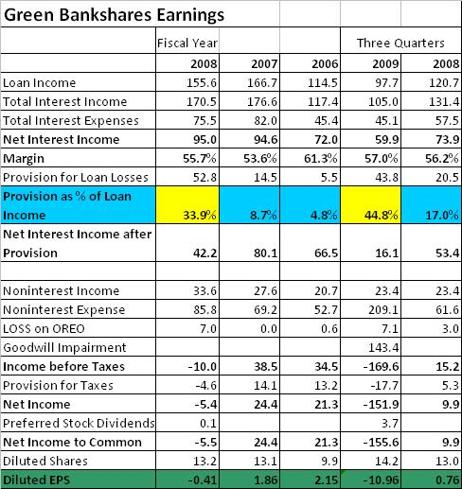 Click to enlarge

Notice that I highlighted the provision for loan losses in yellow. The one thing that scares me about GRNB is that their provision was actually fairly high as early as 2006. They do engage in some "sub-prime" lending and their portfolio might be a bit riskier than average. This is not necessarily a bad thing; risk is fine, so long as rewards are high enough to compensate. The banks seemed to have forgotten that truth throughout the early to mid- part of the decade.
The next chart is an attempt at creating a "normalized earnings" picture for GRNB. In order to do this, I eliminate goodwill impairments and adjust the provision for loan losses for my first set of data. In the second portion, I also eliminate the losses from "OREO" (other real estate owned)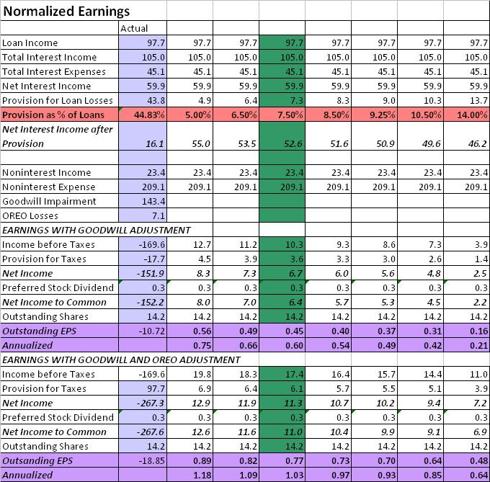 Click to enlarge
While there's a lot to dislike with almost every bank right now, the earnings potential for GRNB actually looks fairly impressive relative to the stock's current selling price. It is worthwhile to note that GRNB sold at over $20 in early 2008 and sold over $35 at the height of the boom. Don't expect it to hit upwards of $30 any time soon, but given the earnings potential here, it might not be a stretch to see it trading back at $20 eventually. Of course, I would temper the earnings potential with the possibility that there could be further dilution at some point in the future.
While I do not in any way, shape, or form condone using the following table as a realistic estimate of "earnings potential", it is nonetheless encouraging to see very positive cash flow figures: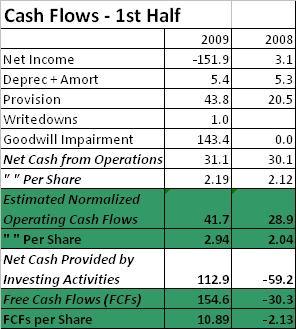 Valuation
There are many factors to consider in valuation. I fully admit I'm relatively new to analyzing banks and bank stocks can be some of the trickiest to value, my estimates are as such:
Low-end Probable = $8

High-end Probable = $22

Best guess in current environment = $16

Upside potential = $35

Downside risk = Always $0 with banks; but realistically speaking, they would probably chose to dilute their stock in the event of a worst-case scenario where they needed to quickly increase capital
While GRNB might have some significant growth in the future, it's difficult to immediately come to that conclusion after analyzing the company. There are some signs that they continue to do well on the retail end, however, so they could pleasantly surprise here.
Conclusion
As I said in my previous article, don't take my endorsement as a die-hard statement that I believe every bank I write about will turn out to be a great investment. My basic hypothesis here is that I can buy a basket of about a dozen small commercial banks and the returns from the winners should greatly exceed any losses from the losers. All the same, Green Bankshares looks very attractive to me right now.
GRNB has significant inside ownership and some recent insider buys. Its Tier 1 leverage and capital ratios are good. While revenues are not radically increasing, there's no evidence that they are about to fall off a cliff and it appears deposits are picking up rapidly in their Knoxville and Middle Tennessee markets. Interest margins appear to be lower than I would like in the 3.2% - 3.4% range, but they are not unreasonable, either. GRNB's core market areas are all areas that were not severely adversely affected by the real estate bust.
Given the fact that GRNB is selling at a significant discount to tangible common equity (TCE) and would appear to have strong earnings potential, with some chance of reasonable future growth, this would appear to be quite a bargain right now. In fact, it's one of my favorite buys in the banking sector, as I believe the risk-reward balance is highly favorable on the long side.
Disclosure: Author is long on GRNB in funds managed by him.