Kodiak Oil & Gas (KOG)'s main focus is in the development of the Williston Basin located in North Dakota, which constitutes a large portion of the company's asset portfolio. It is carrying out experiments in the Williston Basin to increase the production from this region. The company reported production around 34,000 barrels of oil equivalent per day, or Boepd, during the second quarter ending in June this year.
Along with increasing oil production, the company is also working on achieving efficiencies in well drilling activities. With a strong focus on its operations, Kodiak has been able to provide superior investor returns. Its stock currently trades around $12, which is around a 28% increase over last year.
The growth from downspacing
Kodiak has 196,000 net acres in the Williston Basin, primarily located in Dunn, McKenzie, and Williams Counties in North Dakota. Within these counties, the company has its Polar, Smokey, and Koala projects. In the Williston Basin of North Dakota, Bakken and Three Forks are types of rock formation that contain oil deposits. These rock formations can be found in large amounts in the Williston Basin, where the company operates.
Kodiak has been investing in the downspacing program in the Williston Basin to increase the productivity of its reserves. Downspacing increases the number of wells in a given acreage, increasing the productivity of the reserve.
Kodiak's downspacing pilot program is off to a good start; all the wells in the Polar project area in southern Williams County have been completed and are in production. The average 24-hour initial production, or IP, rate for the 12 wells (six in Bakken and six in Three Forks) was 2,549 Boepd. The IP metric of a well is used to estimate the total production capacity from the well. The chart below shows the company's extraction from different formations under the downspacing program.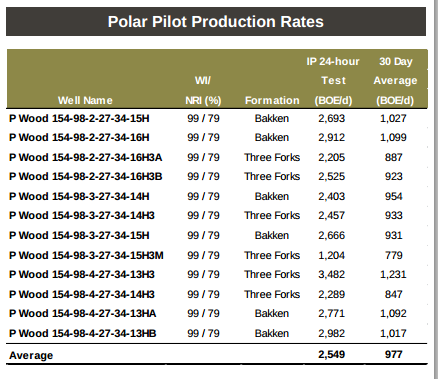 Source: Company Presentation
Kodiak is also carrying out its downspacing program in other parts of the Williston Basin. In the Smokey region of Williston basin, the company is drilling 12 wells on a 1280 acre unit. Eight of the 12 wells are completed, and four were expected to be completed by September of this year. Going by the above average, if the four wells are completed, as scheduled, production would increase by around 3,904 Boepd.
The reserves in the Williston Basin are attracting additional players. In September this year, Oasis Petroleum (OAS) acquired 161,000 net acres in the Williston Basin with 9,300 barrels of oil equivalent per day, or Boepd, for around $1.51 billion. The leasehold is predominately in the western Williston Basin and increases Oasis' total Williston Basin position to 492,000 net acres, increasing its land hold in the region by around 50%. With an output value around $163 per million Boepd, this transaction would bolster Oasis' position in the Bakken and Three Forks formations in the Williston Basin.
The oil exploration by Continental Resources (CLR) in North Dakota received a boost when the company announced its budget allocated for this region. The company plans to expense around $2.5 billion next year in the Bakken formation in North Dakota out of its total expenditures of around $4 billion. This expenditure is an increase of around 16% over this year. The company controls around 1.2 million net acres in the Bakken region. With the increased spending, the company plans to boost production from its North Dakota region.
Is the cash flow improving?
One of the most attractive aspects of Kodiak is its improving cash flow. Its operating cash flow has been increasing over the years. The following table shows the company's five year operating cash flow trend.
| | | | | | |
| --- | --- | --- | --- | --- | --- |
| Year | 2008 | 2009 | 2010 | 2011 | 2012 |
| Cash flow from operations ($ millions) | (2.17) | 9.39 | 10.32 | 53.91 | 272.68 |
Source: MarketWatch
We believe the cash flow from operations will continue to improve through this year. This is because the company has been gaining efficiencies in the well drilling operations. These efficiencies are due to a method of pad drilling where multiple wells can be drilled from a single site. It has been able to reduce the number of drilling days required for a well. Initially the drilling of wells took around 35 days - 38 days. Now similar wells take around 20 days - 23 days with some wells being drilled within 20 days.
The reduction in the number of drilling days resulted in drilling cost reduction. The drilling cost reduced from around $11 million - $12.5 million per well to around $10 million - $10.5 million per well. This year Kodiak earmarked around $1 billion for drilling around 100 wells, which puts the per well cost at around $10 million. The company expects to complete around 30 gross operated wells in the quarter ended in September this year. Gross wells indicate the total number the wells Kodiak will drill during a period. The table below shows the company's cost trend in well drilling and expected cost in well drilling for this year.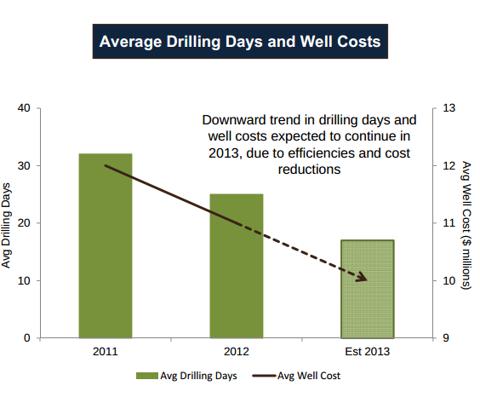 Source: Kodiak Oil and Gas
Therefore, we expect that if the company continues with the current level of efficiencies through the end of this year, it will further enhance its cash flow compared to previous years.
So what we think about it?
| | | | |
| --- | --- | --- | --- |
| Company | P/B | P/E | Forward P/E |
| Oasis Petroleum | 5 | 25.31 | 12.83 |
| Continental Resources | 5.42 | 27.06 | 14.94 |
| Kodiak Oil and Gas | 2.9 | 32.16 | 12.31 |
Source: Yahoo finance
The above metrics of price-to-book, or P/B, shows that Kodiak's price is attractive relative to its competitors. Also, it has a high potential asset in the Williston Basin, from which future growth in production would be achieved. The company's on-going experiments in the Williston Basin to achieve production efficiently would enhance its operation. Kodiak's focus on reaching efficiencies in well drilling will increase its cash flow. This is reflected in its forward P/E ratio. The company's strong position in the Williston Basin in North Dakota, along with the drilling efficiencies, will lead to better revenue generation in the future.
Disclosure: I have no positions in any stocks mentioned, and no plans to initiate any positions within the next 72 hours. I wrote this article myself, and it expresses my own opinions. I am not receiving compensation for it (other than from Seeking Alpha). I have no business relationship with any company whose stock is mentioned in this article.
Additional disclosure: Fusion Research is a team of equity analysts. This article was written by Madhu Dube, one of our research analysts. We did not receive compensation for this article (other than from Seeking Alpha), and we have no business relationship with any company whose stock is mentioned in this article.