By Sumit Roy
Oil and wheat outperformed, but most commodities fell this week. Stocks, as measured by the S&P 500, finished the volatile period with an overall loss of less than 1%. Year to date, the index is up 18.4%.
Macroeconomic Highlights
This week's news flow was dominated by talk of the first federal government shutdown in nearly 18 years. The shutdown has dragged on for four days and counting, after beginning on Tuesday. Traders are also getting jittery about the approaching debt-ceiling deadline, which the Treasury has said is around Oct. 17. Most government economic releases have been delayed, including the important monthly nonfarm payrolls report that was originally scheduled for today.
However, we did see a number of private sector releases and other data from around the world. China's manufacturing PMI edged up from 51 to 51.1 in September, slightly below the 51.6 that was expected. At the same time, the equivalent PMI gauge in the eurozone remained unchanged at 51.1 in September, remaining above the key 50 level for a third-straight month, while ISM said that its U.S. manufacturing index rose from 55.7 to 56.2, the strongest level since April 2011.
Meanwhile, payroll processor ADP said that private employers added 166K jobs in September, below the 180K that was expected. Lastly, ISM said that its nonmanufacturing composite fell from 58.6 to 54.4 in September, below the 57 that was expected.

Commodity Wrap
| | | |
| --- | --- | --- |
| Commodity | Weekly Return | YTD Return |
| Wheat | 0.88% | -11.44% |
| WTI | 0.62% | 12.73% |
| Brent | 0.36% | -1.88% |
| Silver | -0.23% | -28.37% |
| Copper | -0.90% | -9.59% |
| Soybeans | -1.67% | -8.60% |
| Gold | -1.99% | -21.80% |
| Platinum | -2.30% | -9.84% |
| Corn | -2.42% | -36.53% |
| Natural Gas | -2.54% | 4.42% |
| Palladium | -3.79% | -0.31% |
Gold sank this week despite the ongoing dysfunction in Washington. Prices briefly tested the support level at $1,273 before rebounding to $1,330 or so. Currently, prices are making their way back toward $1,300. Overall, gold's movements during this week have been disappointing from the standpoint of the bulls. The yellow metal has been unable to rally even temporarily as it did during the last government shutdown in 1995 (see "Gold's Reaction To 1995 Govt. Shutdown Points To Volatility Ahead"). We can only speculate that once a resolution to the budget and debt-ceiling issues are reached, gold will tumble through $1,273 and make its way toward the current cycle low of $1,180.
Gold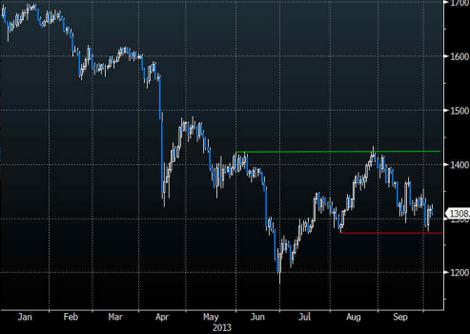 Silver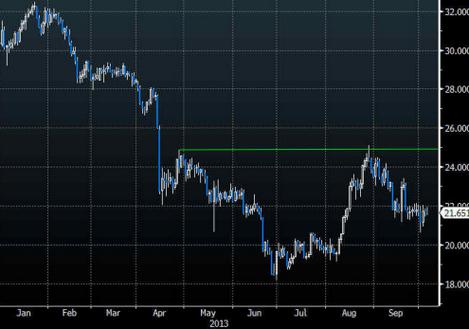 Platinum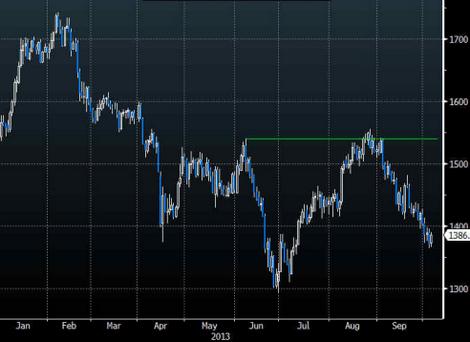 Palladium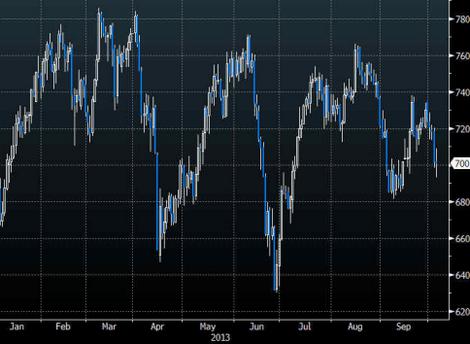 Oil outperformed this week, but didn't make much headway in establishing a trend, as can been seen from the charts below. We continue to see significant of action on the supply side of the market. As we wrote earlier this week (see "Saudi Production Hits Record High Of 10M Barrels Per Day, Libya Output Tumbles"), Saudi Arabia's output topped 10 million barrels per day for the first time ever in September, according to Bloomberg estimates. At the same time, Libya's output was down a whopping 1.3 mmbbl/d from its 2012 peak. We remain on the sidelines for now, awaiting buying opportunities at lower levels.
Brent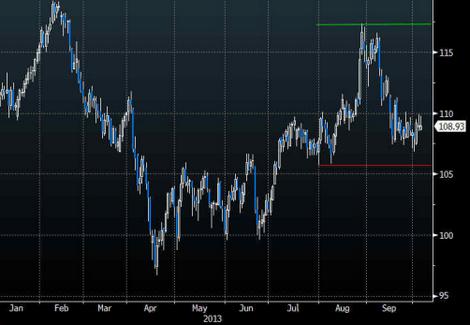 WTI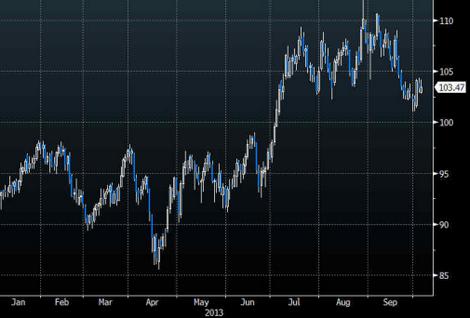 The grain complex was mixed. Corn and soybeans hit multimonth lows amid signs of ample supplies as this season's harvest proceeds. Wheat, on the other hand, put in a solid gain during the week. "Wheat continues to be the leader," economist Dennis Gartman said. Traders are "paying attention to the fact that Ukraine's winter wheat crop will be curtailed rather sharply because of undue amounts of rain that have made planting of that crop all but impossible."
Corn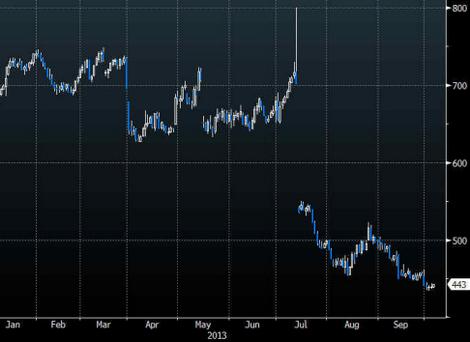 Soybeans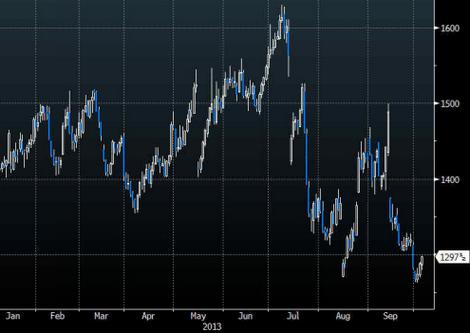 Wheat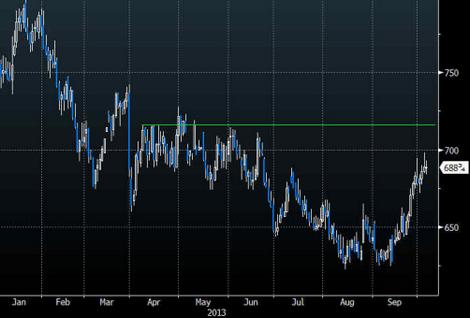 Copper edged down but remained within its well-established trading range.
Copper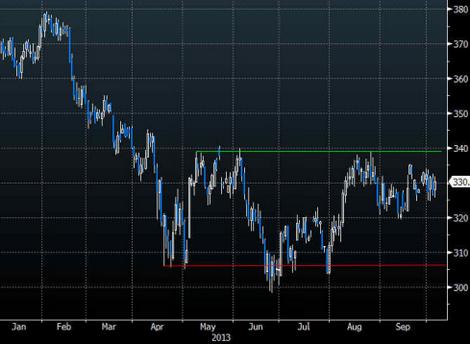 Natural gas fell in part due to a much larger-than-expected reported inventory build on Thursday. As we wrote, while the market is amply supplied, we are in search of buying opportunities heading into winter (see "NatGas Surplus Grows, Prices Fall, But Buying Opportunities Ahead Of Winter Await").
Natural Gas