Microsoft (NASDAQ:MSFT) has a number of key irons in the fire for 2014. It has acquired the handset operations of Nokia (NYSE:NOK) presuming the deal proceeds; it has revamped its line of Surface Pro and Surface RT tablets resolving the issues critics complained of in the first go around; it has produced a vastly improved version of Windows 8 bringing back the start button and making the transition from Windows 7 and earlier versions a lot less painful; it has made improvements to MS Office with support for iOS and Android applications and a popular subscription model rapidly taking the lion's share of sales; and, it has demonstrated sustained progress with its Dynamics and Azure platforms.
These are not incidental improvements. They are part of a determined effort to make a mark in mobile and to capitalize on early success in the Cloud. In my view, they will be successful.
The most important of these advances in my view is the progress Microsoft is making in the Cloud as Microsoft expands Windows Azure and Microsoft Dynamics.
Windows Azure has grown to a $1 billion business with a blue chip clientele as Microsoft's flexible and secure Cloud platform. Cloud computing is growing at 36% annually according to some estimates, with users expressing security as a primary concern. Microsoft has addressed this concern with multi-factor authentication wherein users can log on with a smart phone application, an automated voice call or a test message with a pass code in addition to the traditional user name and password entry. Microsoft today received a provisional Authority to Operate status from the Federal Risk and Authorization Management Program's (FedRAMP) Joint Authorization Board.
While Azure at $1 billion revenue may seem small in Microsoft today, this business is growing very quickly with over 2,500 Azure agreements in place that include as clients more than half the Fortune 500. Microsoft stated at its analyst meeting that its Fiscal Year 2013 fourth quarter revenue from Azure exceeded total Azure revenue in Fiscal Year 2012.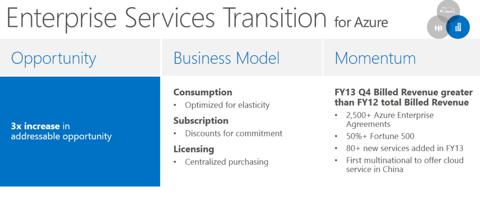 Microsoft Dynamics is also growing. Microsoft has become a key player in the Customer Relationship Management (CRM) area where it competes with Salesforce.com, SAP, Oracle and IBM, among others, and has established itself as a major force in this space with annual sales estimated by Gartner to be in the range of $1 billion annually and growing 26% year over year.
Total Software Revenue Worldwide, 2012 (Millions of Dollars)
Company

2012

Revenue

2012 Market

Share (%)

2011 Revenue

2011-2012

Growth (%)

salesforce.com

2,525.6

14.0

2,004.6

26.0

SAP

2,327.1

12.9

2,325.1

0.1

Oracle

2,015.2

11.1

1,870.0

7.8

Microsoft

1,135.3

6.3

900.9

26.0

IBM

649.1

3.6

465.6

39.4

Others

9,437.7

52.1

8,513.7

10.7

Total

18,090.0

100.0

16,079.9

12.5
Source: Gartner
Microsoft Dynamics is a lot more than CRM, of course, with its broad Enterprise Resource Planning products established through its acquisitions of Great Plains Software, Navision, Solomon and Axapta over the past several years. Microsoft Point of Sale (POS) software is used by hundreds of retailers and integrated into accounting, CRM, purchasing and inventory management. The recent addition of time and expense tracking capability through third party Journx is an example of how specialized software suppliers to enterprise are customizing their offerings to work on the Dynamics platform.
Enterprise services now comprise 12 businesses in Microsoft each with over $1 billion sales.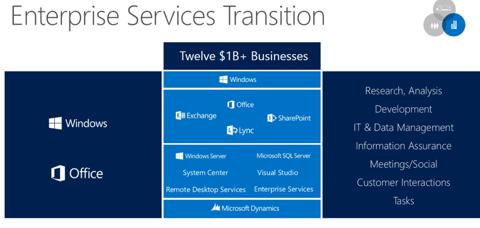 Microsoft is shifting its enterprise product portfolio to a subscription model wherever that makes sense. Office 365 for enterprise is an example and Microsoft sees the change as likely to increase gross margin per user by as much as 50% over the next few years.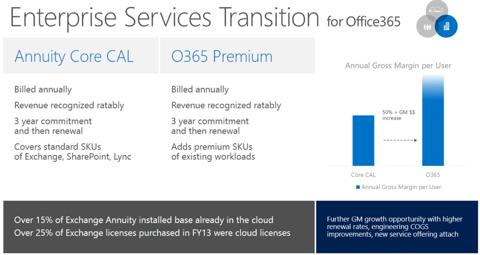 In the consumers markets, MS Office move to a subscription model is also catching on. Subscribers reached 1 million last May and have since doubled to 2 million according to an announcement by Microsoft at a September 19, 2013 analyst event.
The Office 365 initiative will initially result in lower revenue for Microsoft as sales of its desktop software yield to the subscription model, but over time the revenue base will grow to surpass the older approach and in my view it is likely to be "stickier" with the integration of Office 365 with SkyDrive and Skype and the online updates keeping the product current.
Office 365 is a key part of the Microsoft consumer services set of businesses which in Fiscal Year 2013 produced $15 billion revenue. Xbox, Outlook, Skype, Bing and SkyDrive are all part of this package.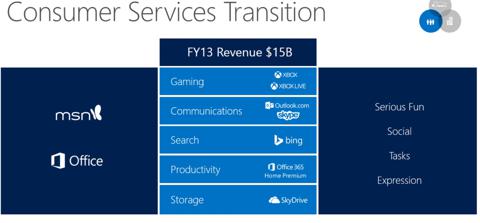 Microsoft is taking full advantage of its ability to integrate this suite of consumer products. Almost 60 million Xbox consoles have been sold to consumers who have purchased over 380 million games. Xbox is now more than a gaming platform. 42% of Xbox Live subscribers now use the platform to watch movies and other videos and consume 30 hours of content each month. Xbox music has become Microsoft's answer to iTunes providing unlimited streaming of music not only to Xbox consoles but also to Windows 8 tablets, personal computers and smart phones. I use Xbox music and find it has a rich library of music and is more flexible and less costly than iTunes.
Microsoft has also moved to increase its commitment to devices with the Nokia acquisition and the recently announced Surface Pro 2 and Surface 2 models. Microsoft has addressed the issue of battery life with the Intel Haswell processor in the Pro version; has increased storage to up to 512GB; has improved the kickstand design; and, has improved the screen in the RT version. I expect sales to be stronger than the previous versions. Delta Airlines just bought 11,000 of the Surface 2 model which is based on the RT operating system. Other reports indicate that the Surface RT is gaining traction now that it has a lower price point. AdDuplex shows the Surface RT now represents almost 10% of Windows 8 internet traffic.
Windows phone has been steadily gaining share, particularly in Europe where it reportedly has reached a 9.2% market share in the five major European countries. This trend is likely to continue given the combination of the attractive price points and excellent feature of the Nokia phones which make up most of the sales.
Microsoft is changing its reporting structure to make it more transparent and has provided Fiscal 2013 segmented data in the new format.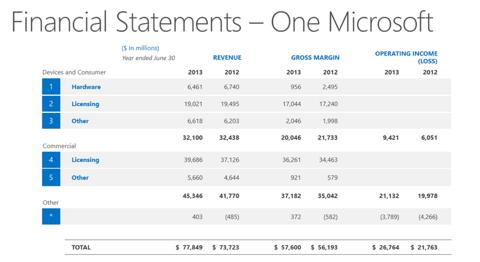 The change makes two things clear. First, Microsoft is an enterprise company with $21 billion of its $27 billion of net income from commercial customers. But importantly, Microsoft is becoming a consumer driven company as well with $32 billion in revenue and a growing presence in devices and services that go beyond Windows and Office. How successful the company is in that area will have a lot to do with its future value.
In my view, Microsoft is on track to earnings about $3.00 a share in fiscal 2014.
Microsoft Fiscal 2014 Forecast by Business Segment
(millions)
Devices and Consumer
2013
2014
Revenues
Hardware
$ 6,461
$ 8,500
Licensing
$ 19,021
$ 20,352
Other
$ 6,618
$ 7,000
$ 32,100
$ 37,866
Margin
Hardware
$ 956
$ 2,200
Licensing
$ 17,044
$ 18,237
Other
$ 2,046
$ 2,200
$ 20,046
$ 22,637
Commercial
Revenues
Licensing
$ 39,686
$ 42,067
Other
$ 5,660
$ 6,500
Margin
$ 45,346
$ 48,567
Licensing
$ 36,261
$ 38,437
Other
$ 921
$ 1,100
$ 37,182
$ 39,537
Sub-totals
Revenues
$ 77,849
$ 84,500
Margin
$ 57,600
$ 62,174
Operating expenses
$ 30,836
$ 31,000
Operating income
$ 27,052
$ 31,174
Income tax
$ 5,189
$ 5,980
Net income
$ 21,863
$ 25,194
Earnings per share
$ 2.58
$ 2.97
If these earnings materialize a share price of over $40 seems possible at a price-earnings ratio of 13 to 14 times, and if does occur, Microsoft would have a market capitalization in the range of $330 billion.
As I have written in other SA articles, my view on Apple (NASDAQ:AAPL) is bearish and I see a share price below $400 in the offing. With its roughly 900 million shares outstanding, Apple's market capitalization would fall below $360 billion if its shares dropped below $400.
It would have been outlandish to suggest only a year ago, but there is a reasonable chance Microsoft will surpass Apple in terms of market capitalization in 2014 or 2015. I am betting it will.
I am long Microsoft and short Apple through options.
Disclosure: I am long MSFT. I wrote this article myself, and it expresses my own opinions. I am not receiving compensation for it (other than from Seeking Alpha). I have no business relationship with any company whose stock is mentioned in this article.
Additional disclosure: I am long 10,000 MSFT and short 2,000 AAPL both through options