I don't do a lot of public service type announcements, but there are some times where investors need to be warned. Recently, a new series of leveraged exchange traded funds were launched, and these could be the riskiest of them all. We now have another way to play the gold trade, but the average investor needs to stay away. These products are for the most experienced of investors, and are more geared towards short-term and day traders. Today, I'll discuss the new ETFs and why the average investor should steer clear.
A new set of products:
The wonderful folks over at Direxion recently launched a new pair of three times leveraged exchanged traded funds. The new pair will target the junior gold miners. This is the most basic description:
The funds seek daily investment results, before fees and expenses, of 300% or -300% of the performance of the price performance of the Market Vectors Junior Gold Miners Index.
On the long side of the trade, we have the Daily Junior Gold Miners Bull 3X Shares (NYSEARCA:JNUG), and on the short side we have the Daily Junior Gold Miners Bear 3X Shares (NYSEARCA:JDST). For those that know the regular 3X ETFs that track the regular gold miners, you'll notice that the ticker symbols are similar.
If you don't know about Direxion's products, it's probably because you are a long-term investor. This company has a lot of leveraged exchange traded funds, and this is the next set of them. These ETFs aim to have returns that are 3 times their stated index, on a daily basis. So if the index moves up 1%, the 3X long ETF should move up 3%, and the 3X short ETF would move down 3%. Direxion always warns that these funds may not always meet their stated objective. Generally speaking, some of their more popular, and highly traded funds, are a lot better at being close to the performance they should be at, and the thinly traded ones are often not.
But again, these are based on daily moves. They will not track an index over time. This is due to simple math, or compounding. If you go up 1% one day, then down 1% the next, and you repeat that pattern, over time, you won't be back at break even. Now do that on a three times larger scale, and the math quickly adds up. If the index is only moving in one direction, these products can be beneficial. But since prices go up and down every single day, over time they will never work, and they aren't intended to. So if an index rises 2% over a month, one or both of these funds (long and short) could have a large loss, depending on the volatility of the index over that time period.
Higher level of risk:
For investors looking for exposure to gold, there are three ETFs that I've always discussed, so I'll stick with them for consistency. The basic ETF that most investors use for gold exposure is the SPDR Gold Shares (NYSEARCA:GLD). When it comes to the gold miners space, we have the Market Vectors Gold Miners ETF (NYSEARCA:GDX), and the Market Vectors Junior Gold Miners ETF (NYSEARCA:GDXJ).
Direxion's two established gold miner 3X funds, the Daily Gold Miners Bull 3X Shares (NYSEARCA:NUGT), and Daily Gold Miners Bear 3X Shares (NYSEARCA:DUST) have been trading for years and have plenty of liquidity. The stated index for these two is the NYSE Arca Gold Miners Index, but I use the GDX as a quick proxy for them, and it works well enough.
So when we look at different risk levels, the GLD aims to replicate the spot price of gold. The gold miners are companies invested in gold, so you would normally think that they would be riskier, and thus the GDX would be riskier than the GLD. It is. Then we have the junior miners, which are smaller names that should generally have even more risk. So the following table shows some key price statistics for the three over the past year, with the % of midpoint category representing the move to the high and low from the midpoint of their ranges.

So the GDX has moved more than twice as much, basically speaking, as the GLD. On top of that, the GDXJ has moved even more. So now that the junior miners have leveraged funds aimed at them, you would think they would be even more volatile than the established funds, NUGT and DUST.
These are for traders only, and maybe not even them yet:
If the fact that these are geared at the daily performance doesn't tell you anything, will some hard numbers do? Approximately half of the days so far this year have seen NUGT move by more than 5%, with about 23% of days seeing a 10% or greater move. The following chart shows NUGT over the past year.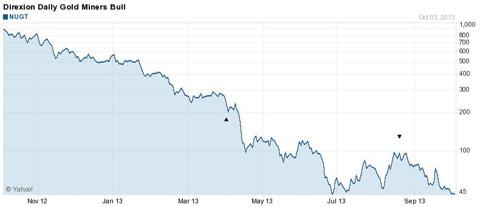 Click to enlarge
(Source: Yahoo! Finance)
Yes, there have been two reverse splits already for this ETF, a 1:5 reverse split in April and a 1:10 reverse split in August. If this chart doesn't show you how volatile these names are, and how much you can lose, I don't know what will. Don't forget, this is based off the regular miners. The new ETFs are based off the even more volatile junior miners.
Also, since these products have just recently launched, the JNUG and JDST are very thinly traded at this point, just a few thousand shares a day. I'm sure that volume will pick up in these, and I wouldn't be surprised if the average volume is in the hundred of thousand or even million shares per day by the start of next year. For now though, most traders are probably avoiding them, as the bid/ask spreads are ridiculously wide. If most traders are avoiding them, then the everyday investor should as well. Depending on the buy/sell order type and size, these funds can move 25 or 50 cents, maybe even a dollar or more at a time from their last traded price. That's too volatile for most investors, and even limit orders may not be enough protection.
Final thoughts:
There's a new risky gold play in town, and the average investor needs to stay away. Just when you thought that the normal triple leveraged funds on gold miners were risky enough, we now have two to track the junior miners. They might eventually be a good trading vehicle for day traders and short-term investors, but with thin trading volumes, they are a must avoid for now. The average investor needs to stay away, and if you are looking to play gold, please use the GLD as your main investment. Please don't lose your money in trading vehicles that are not meant for the average investor.
Disclosure: I have no positions in any stocks mentioned, and no plans to initiate any positions within the next 72 hours. I wrote this article myself, and it expresses my own opinions. I am not receiving compensation for it (other than from Seeking Alpha). I have no business relationship with any company whose stock is mentioned in this article.
Additional disclosure: Investors are always reminded that before making any investment, you should do your own proper due diligence on any name directly or indirectly mentioned in this article. Investors should also consider seeking advice from a broker or financial adviser before making any investment decisions. Any material in this article should be considered general information, and not relied on as a formal investment recommendation.