Let's make no mistake about it: Pepsico (NYSE:PEP) is a great company with market leading positions in Salty Snacks, Hot Cereal, Sports Drinks and a number two position in Juice and Carbonated Soft Drinks. In 2012, Pepsico earned $65 billion in net revenues of which 49% were coming from beverages and 51% from the snack business (65% of revenues were achieved in developed markets vs. 35% in developing markets). Pepsico has a promising product portfolio comprising of 22 $1 billion dollar brands: Brands that achieve at least $1 billion in annual sales. Surely, investors will have heard about at least some of them: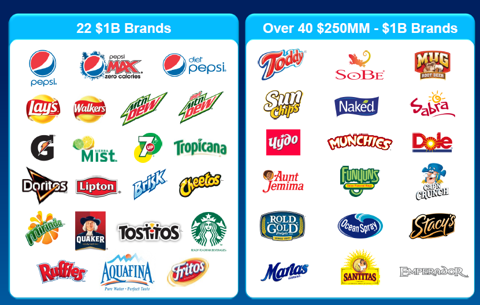 Historical free cash flows and projections
Below I have compiled the cash flows from Pepsico's latest 10k filing including the most recent three year cash flow comparison. Pepsico has pretty stable operating cash flows while investing activity showed some variation over the years. I forecast Pepsico's net borrowing to change in the amount of $2-3 billion a year including short and long-term debt items consistent with historical averages.
I estimate Pepsico can earn $7,658 million in FCFE in 2014. Given the diluted share count of 1,567 million, this translates to an intrinsic FCFE value per share of $4.89. Pepsico's most recent share price stands at $79.62 (04/10/2013), giving the stock a 16.29 multiple based on the estimated forward FCFE per share. This is a very rich FCFE multiple, given Pepsico's moderate organic revenue growth prospects of 5%, and investors pay a substantial premium for Pepsico's dividends and share buybacks. The Coca-Cola company (NYSE:KO) also trades at a substantial premium multiple, and investors looking for stable income growth can find better opportunities elsewhere in the marketplace.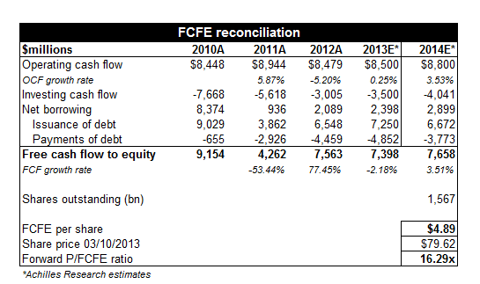 Market valuation
In terms of market valuation, the beverage sector really is not that cheap. Considering that Pepsico trades at 16x forward FCFE and Coca-Cola at 17x, it should not be surprising that the individual P/E ratios are equally high: Pepsico trades at the largest peer group P/E of 16.88, while Coca-Cola trades at 16.43. Dr. Pepper Snapple (NYSE:DPS) is the cheapest of the industry, at 13.26 times forward earnings. All companies are great companies with top-notch product portfolios, but trade at premium valuations. Investors pay a hefty markup, which restricts equity valuation growth from the outset and makes multiple expansion unlikely.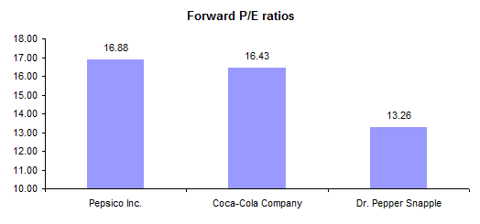 A consequence of a high share price relative to fundamental value is a low dividend yield. The chart below depicts the dividend yields for the most relevant beverage sector players: Pepsico has the lowest dividend yield of 2.85% while Dr. Pepper outperforms its peers, not only on valuation, but also on a dividend yield of 3.5%.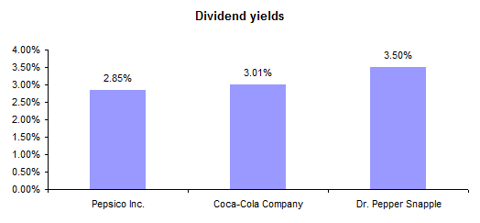 The table below summarizes the results for the companies in the beverage/snack sector. Pepsico trades at a 8.76% premium to the peer group average P/E and a 8.65% discount to the average dividend yield. Those metrics aren't too convincing for investors to pay 16 times estimated 2014 FCFE.

Conclusion
Pepsico is a great company with a strong brand portfolio and leading positions in key markets such as the United States, Russia, India and Egypt. Operating cash flow risks remain relatively low given Pepsico's historical cash flow trends. From a valuation perspective (P/FCFE, P/E and D/P), Pepsico commands premium prices which significantly reduce upside potential for Pepsico shares. Investors who still desire beverage sector exposure could take a closer look at Dr. Pepper Snapple which clearly is the underdog (in terms of valuation and share price performance, see below). Income investors also may find Dr. Pepper an interesting alternative to the overvalued large-cap companies Coca-Cola and Pepsico.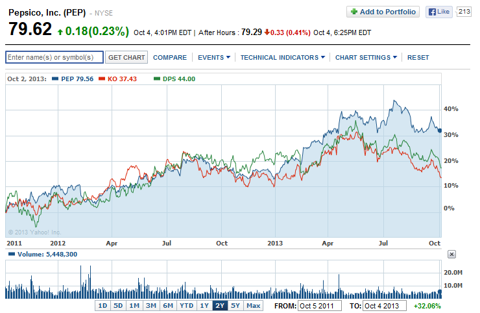 Disclosure: I have no positions in any stocks mentioned, and no plans to initiate any positions within the next 72 hours. I wrote this article myself, and it expresses my own opinions. I am not receiving compensation for it (other than from Seeking Alpha). I have no business relationship with any company whose stock is mentioned in this article.