Micron Technology (NASDAQ:MU) manufactures semiconductor devices including DRAM, SDRAM, flash memory and image sensing chips. It is an NAND flash memory innovation leader in the semiconductor industry based on its partnership with Intel (NASDAQ:INTC). Micron is exposed to a set of favorable short and long-term catalysts which warrant an investment in Micron shares.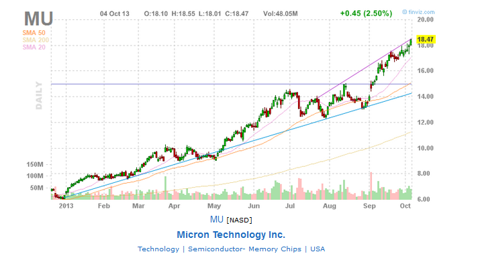 Innovative leadership
Micron commits substantial resources to come up with cutting edge technology. One area where Micron excels is process technology: The development of the 16nm NAND technology sets industry standards in terms of storage capabilities. Micron also remains an innovative industry leader in Phase Change Memory [PCM] and I/O virtualization. Technological cooperation with Intel has led to significant first mover advantages in server and SSD applications of NAND technology. Micron also gained outside recognition for innovative capabilities being featured on Thompson/Reuters list of 2012 Top 100 Global Innovators. Innovative capabilities represent competitive advantages which come in form of higher-efficiency products. Micron's innovation track record raises confidence in Micron's future product pipeline.
SK Hynix production interruption
Another catalyst that could continue to drive Micron shares higher relates to a devastating fire at SK Hynix in September which destroyed significant amounts of equipment (with potentially impacted production until November) at the Chinese semiconductor firm. With capacity off the market, the price of memory has continued to increase. Extremetech summarized the impact of SK Hynix's fire on memory pricing:
It's the company's NAND production that took the heaviest hit, but the problem here is one of scale. While Hynix is active in both DRAM and NAND production, it accounts for only about 11% of the NAND market, but roughly 25.7% of the DRAM market.

With the NAND market softening a bit this quarter, it's also easier for other companies to pick up the slack and adjust their own pricing to match. But the jump in DRAM prices is just the latest in a 2013 trend that's already seen DDR3 cost-per-gigabyte skyrocket to nearly double 2012 rates.

The fires may have caused a short-term supply drop - estimates indicate that some 60,000 wafers may have been destroyed, which constitutes a significant fraction of Hynix's output. With full factories out of commission until mid-November, prices may not come down anytime soon. The cyclical nature of the DRAM industry could ensure they don't come down for another 6-12 months, though this is far from certain.
Price impact favorable
SK Hynix's misfortune offers Micron the opportunity to fill the supply hole left by the devastating factory fire and at the same time profit from higher memory prices in the market. Focus Taiwan has just run a piece about the momentum of DRAM prices which adds to cyclical tailwinds Micron could capitalize on:
Spot market prices for dynamic random access memory [DRAM] chips rose to new highs Wednesday as one of the world's leading suppliers has informed its clients that it will be unable to deliver products on schedule in October.

Market analysts said DRAM price hikes in the global market will contribute to local DRAM makers' business turnover. As a result, share prices of DRAM makers have soared in recent weeks.

Industry sources said DRAM shortage resulting from the damage of the South Korean supplier's Wuxi plant will continue through the first quarter of next year.

The sources forecast that DRAM spot market prices and contract prices could jump to new highs in October.

U.S.-based Micron Technology Inc., a major supplier in the field, could push quotes for DDR3 2Gb chips to US$2.5 and quotes for DDR3 4Gb to US$4.5.
Prices for DRAM memory have increased since the end of last year with a recent spike reflecting worries about inadequate supply levels:
(Source: DRAM exchange)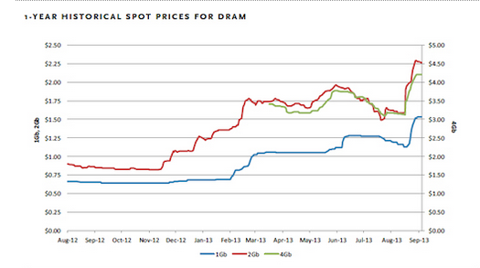 Rising prices for DRAM should benefit and strengthen the entire semiconductor sector. Projections about even higher prices in the future should also benefit Micron with its strong market position in NAND and DRAM markets, as high incremental memory prices have a good chance of trickling right down to the bottom line.
Cyclical tailwinds
Demand for semiconductors is ultimately driven by demand for high-performance technology products. Demand for storage products is expected to increase exponentially in the future with higher-efficiency products delivering better performances and gaining market share. Projected DRAM growth is expected to come primarily from tablet, mobile and server/storage end applications:
Stronger global growth is likely to benefit cyclical companies such as Micron which benefit from technology migration and higher storage needs of both companies and end consumers. Improving economic conditions should further support a long-term investment in Micron.
Conclusion
Micron's stock price seems to be highly correlated with the underlying memory prices, and share gains have accelerated since September, as the SK Hynix factory blow-up changed the short-term supply/demand picture. Micron still trades at less than 9x forward earnings. Given the multiple catalysts along the way, (innovative leadership position translating into first-mover advantages, short-term supply shortage, favorable long-term demand projections, rising prices, cyclical tailwinds), Micron still offers very attractive upside potential. At 9x earnings, investors have little to worry about overpaying for Micron's growth prospects.
Disclosure: I am long MU. I wrote this article myself, and it expresses my own opinions. I am not receiving compensation for it (other than from Seeking Alpha). I have no business relationship with any company whose stock is mentioned in this article.