In an effort to add some basic education for those investors who are seeking a more secure financial future, or retirement, buying shares of any company based on hopes and dreams is a sure fire way to ruin those plans.
If I were to tell you that a company has an SEC inquiry issue, an accounting issue that the company apparently addressed (hopefully), a share price that has tanked from an IPO price of $36/share to $29/share (and more importantly from its post IPO high of over $40/share) yet has maintained its lofty dividend yield even in the face of these issues, a merger with another company that might or not actually happen, would you buy the stock now?
Personally, I think an investor who would buy such a stock is not investing, but gambling. LinnCo (LNCO) is the stock I am referring to and many dividend seeking investors are still reading articles touting the opportunities of this company and stock. Many of these investors might even be drawn into buying shares of the company because the dividend is still being paid and has not been cut as of now (it might never be cut, but I wouldn't bet on that).
The Share Price Has Not Recovered, Why?
The facts are very basic and simple: Linn Energy (LINE) and LinnCo have responded to the accounting issues in the SEC inquiry by issuing an amended S4/A Filing which changed the accounting methods the company had been using, in the hopes of completing the merger with Berry Petroleum (BRY).
The new filing is dated 9/18/2013, and there has been no further comment by the SEC or the company on the status of either the BRY merger or the SEC inquiry. The inquiry refers to both of these issues, as the Wall Street Journal article stated back in July;
Linn Energy LLC , along with its former unit LinnCo LLC , disclosed that both companies are the subject of an informal U.S. Securities and Exchange Commission inquiry, related in part to LinnCo's proposed merger with Berry Petroleum Co. .

Linn Energy and LinnCo--which was formerly a unit of Linn Energy before its initial public offering last year--said the SEC notified the companies it has begun a "private, non-public inquiry." They said the SEC has requested the preservation of documents and communications that are potentially relevant to LinnCo's proposed merger with Berry Petroleum, and Linn Energy and LinnCo's use of non-GAAP financial measures and hedging strategy.
Just using some common sense, since the Barron's article first announced the inquiry on July 1st, and the Wall Street Journal article ran on July 2nd, and the SEC filing was entered on 9/18, wouldn't the share price have rebounded if the smart money thought the stock was now a buy, or better yet, a screaming bargain?
Here is the price chart: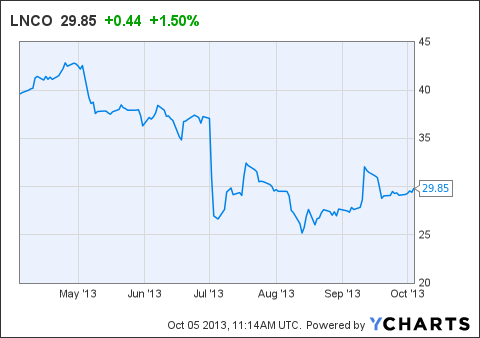 Even to the most unsophisticated investor, this chart shows how the share price has dropped from the high's of about $42/share down to yesterday's closing price of $29.85. One can also pinpoint the timing of the SEC inquiry, which placed a damper on both the company itself and the anticipated merger with BRY. That would be the straight drop from around $37/share to about $27/share at the beginning of July.
My opinion is that while some investors bought shares of LNCO at the IPO, the share price was driven up by income seeking investors who were enamored by the high yield. As a result, I believe that most LNCO shareholders currently holding shares are underwater by 20-30%.
Investors buying shares right now, are gambling on the hope and dream that all of the issues LNCO and LINE faced are now behind them, and they are truly buying a bargain.
That might or might not be the case, but several of the most respected analysts around have either dropped coverage or resumed coverage with an "unfavorable" rating. If the dividend that was announced signaled an all clear, wouldn't that have given those same analysts a positive signal?
Apparently not, since both of those analysts made their announcements on 9/28/2013. Ten days after the company filed its amended S4/A with the SEC. Did these analysts miss that filing? I doubt it. Actually they both might have seen more in the filing that led to their negative decisions!
According to Fidelity Investments, there are not enough analysts to even assign an ESS (Starmine) rating on LNCO. On the surface, this might not mean anything, but when one major company (Thomson Reuters) drops coverage, and another (Columbine Capital Services) resumes coverage with an unfavorable rating, I believe that individual investors who choose to ignore these facts, are NOT investing.
They are hoping and dreaming that the worst is behind the company and they can cash in on those delicious high yielding dividends.
Hoping is not a strategy for a retirement investment, and dreaming is better left for sleeping, not buying stocks. The lesson here has less to do with the stock, than with the mindset of the investor. Avoiding trouble if one can is every bit important (if not more so) than taking a shot at a potential opportunity.
LNCO and LINE might turn out to be just fine, but why not hold off right now and wait for the clouds to pass. Trust me, the stock will be there, and if all goes well, so will the dividend.
The Bottom Line
Retired investors should always consider capital preservation before anything else. Buying any stock based on hopes and dreams is even worse than selling a stock because of fear.
Walking into a burning building should be a firefighter's job, not an investor's.
Learn to dodge bullets. Even if the bullets are not aimed directly at you.
Disclaimer: The opinions of the author is not a recommendation to either buy or sell any security. Please remember to do your own research prior to making any investment decision.
Disclosure: I have no positions in any stocks mentioned, and no plans to initiate any positions within the next 72 hours. I wrote this article myself, and it expresses my own opinions. I am not receiving compensation for it (other than from Seeking Alpha). I have no business relationship with any company whose stock is mentioned in this article.