Introduction
In today's article, I'd like to take a look at eBay Inc. (NASDAQ:EBAY), the company behind eBay.com and PayPal. eBay was founded in California in 1995, and has since grown into an enormous auction website, selling millions of items a year and bringing in ever-growing revenues. I will be looking at eBay's revenue, earnings, balance sheet and valuation. I have chosen 2 companies to use for comparison, Overstock.com Inc. (NASDAQ:OSTK), an online retailer, and Visa Inc. (NYSE:V), a financial services corporation.
Revenue: Growing at a steady pace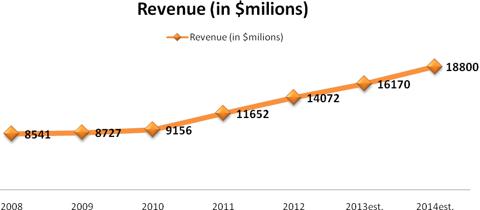 Between 2008 and 2012, eBay's revenue has grown by an average of 13.3% per year. For the current fiscal year, analysts expect revenues to reach $16.17 billion, an increase of 14.9%. For comparison, its online retail competitor Overstock.com has seen its revenues grown by 7.1% per year on average during the past 5 years. Visa's 5-year average revenue growth rate is almost the same as eBay's, at 13.5%.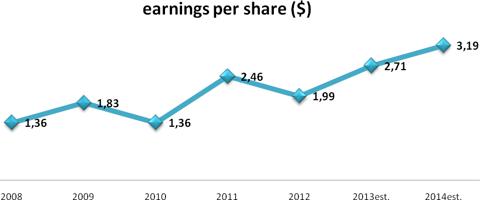 Earnings have grown at a steady pace in recent years. EPS went down in 2012, compared to the previous year. This is because 2011's earnings were increased thanks to the sale of Skype. Still, between 2008 and 2012, the average annual EPS growth was at 10.0%. EBAY doesn't pay a dividend, so where does all this money go? Let's take a look at the balance sheet to find out:
eBay's balance sheet: Swimming in cash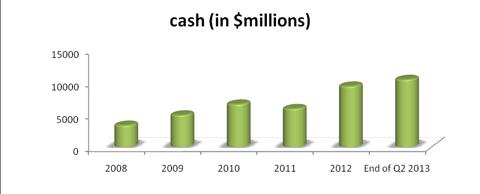 At the end of fiscal year 2008, eBay had $3.35 billion in cash. When the 2nd quarter of the current fiscal year ended, eBay reported it had a total $11.7 billion. A significant part of eBay's cash is being used to repurchase its own shares. In Q2 2013, eBay spend $466 million on share repurchases.
To further illustrate eBay's financial strength, I have added a graph showing its current liabilities and current assets over the past 5 fiscal years. The current ratio (which is divined as current assets divided by current liabilities) has grown from 1.70 in 2008, to 1.96 in 2012. This is far better than OSTK, which had a current ratio of 1.05 in 2012.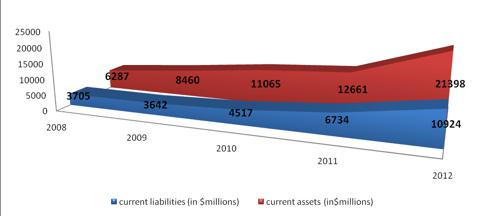 Valuation: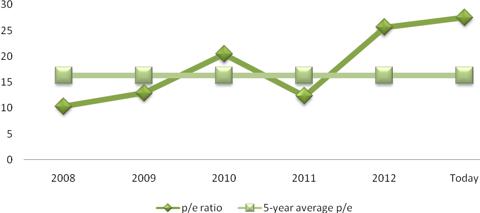 Between 2008 and 2012, eBay's average price to earnings ratio was at 16.3. At the current price per share of $55.58, eBay has a p/e ratio of 27.5. However with expected earnings of $2.71 for the current fiscal year, it's forward p/e is at a much more reasonable 20.5. eBay's competitors are trading at much higher valuations, with p/e's of over 30.
Conclusion:
At 27.5 times 2012 earnings, eBay may seem expensive at first glance. However, considering the many positive factors for eBay, such as its large amounts of cash, and its low debt, combined with great forecasted earnings both the current and next fiscal year, I believe eBay is far superior to the other 2 companies in this article, and a great stock to own for anyone looking to add a stable, reliable business to their portfolio.
Disclosure: I have no positions in any stocks mentioned, and no plans to initiate any positions within the next 72 hours. I wrote this article myself, and it expresses my own opinions. I am not receiving compensation for it (other than from Seeking Alpha). I have no business relationship with any company whose stock is mentioned in this article.