We are in the final Quarter of 2013, with the Congress on strike. I'm looking forward to the first of 2014 for my newest granddaughter's first birthday and my addition to her college fund. With 18 years until she'll need the money, I consider her a long-term investor. The consumer staples sector has been rather hot over the past year, but that is the sector I'm buying to diversify her holdings-she already holds consumer cyclical stocks. Although I hold the more traditional consumer staples stock, Procter & Gamble (NYSE:PG) she is purchasing it for growth rather than current income. The same is true when I compare it to Clorox (NYSE:CLX). I was intrigued by a recent Seeking Alpha article detailing Church & Dwight (NYSE:CHD) and it's growth prospects, highlighting potential in emerging markets, like Mexico. Therefore, I decided to run a dividend growth study to see if it would be a suitable investment. (Data from David Fish's CCC charts & Yahoo Finance)
| | | | | | | | | |
| --- | --- | --- | --- | --- | --- | --- | --- | --- |
| Stock | Date of reinvest | Div Rate | # Shares | Dividend | Drip price | # Shares pur | Total Value | Current Yield |
| Totals |   |   | 376.04 | $953.79 |   | 198.04 |   |   |
|   | 08/08/13 | $0.28 | 374.33 | $104.81 | $61.45 | 1.71 | $23,107.35 | 1.82% |
|   | 05/09/13 | $0.28 | 372.67 | $104.35 | $63.03 | 1.66 | $23,593.98 | 1.78% |
|   | 02/13/13 | 0.28 | 370.93 | $103.86 | 59.62 | 1.74 | $22,218.81 | 1.88% |
|   | 11/07/12 | 0.24 | 369.18 | $88.60 | 50.56 | 1.75 | $18,754.31 | 1.90% |
|   | 08/09/12 | 0.24 | 367.48 | $88.20 | 52.04 | 1.69 | $19,212.09 | 1.84% |
|   | 05/10/12 | 0.24 | 365.83 | $87.80 | 53.19 | 1.65 | $19,546.50 | 1.80% |
|   | 02/16/12 | 0.24 | 364.00 | $87.36 | 47.51 | 1.84 | $17,380.77 | 2.02% |
|   | 11/09/11 | 0.17 | 362.56 | $61.64 | 42.95 | 1.44 | $15,633.59 | 1.58% |
|   | 08/11/11 | 0.17 | 361.08 | $61.38 | 41.41 | 1.48 | $15,013.61 | 1.64% |
|   | 06/02/11 | 2/1 split | 180.54 | $0.00 | 40.75 | 180.54 | $14,713.92 | 1.67% |
| CHD | 05/12/11 | 0.17 | 180.17 | $30.63 | 83.05 | 0.37 | $14,993.66 | 0.82% |
|   | 02/16/11 | 0.17 | 179.75 | $30.56 | 73.05 | 0.42 | $13,161.34 | 0.93% |
|   | 11/10/10 | 0.085 | 179.52 | $15.26 | 65.89 | 0.23 | $11,843.77 | 0.52% |
|   | 08/12/10 | 0.085 | 179.27 | $15.24 | 62.06 | 0.25 | $11,140.95 | 0.55% |
|   | 05/13/10 | 0.07 | 179.09 | $12.54 | 66.6 | 0.19 | $11,939.62 | 0.42% |
|   | 02/08/10 | 0.07 | 178.88 | $12.52 | 60.57 | 0.21 | $10,847.20 | 0.46% |
|   | 11/05/09 | 0.07 | 178.66 | $12.51 | 57.4 | 0.22 | $10,267.63 | 0.49% |
|   | 08/11/09 | 0.07 | 178.44 | $12.49 | 57.27 | 0.22 | $10,231.90 | 0.49% |
|   | 05/07/09 | 0.045 | 178.30 | $8.02 | 54.48 | 0.15 | $9,721.55 | 0.33% |
|   | 02/05/09 | 0.045 | 178.14 | $8.02 | 52.5 | 0.15 | $9,360.50 | 0.34% |
|   | 11/06/08 | 0.045 | 178.00 | $8.01 | 56.17 | 0.14 | $10,006.27 | 0.32% |
The above spreadsheet shows an initial investment of $10,000 in 2008 and dividend reinvestment until August 2013. Several points stand out: First the high dividend growth rate of 45% for the last 5 years. Second, the fact that the stock split in 2011 did not change the dividend rate (it remained at $.17/quarter with twice as many shares). Third, the yield has rapidly appreciated along with the price of the stock (from .32% in 2008 to 1.82% in 2013). Finally, the stock has more than doubled in the last 5 years for 18.23% annual total return. I have graphed the results below: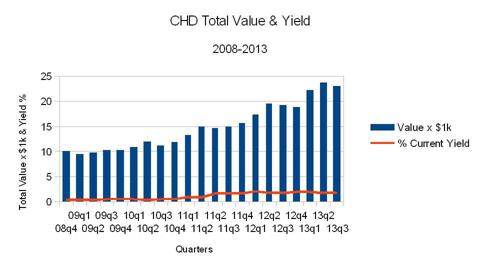 At present CHD is a little pricey with a current P/E of 23. However, the yield + 5yr dividend growth rate is 46.97 for a Tweed Factor (yield + dividend growth rate - current P/E) of 23.97. I consider it to be a good long-term buy.
Conclusion: Church and Dwight is a mid-cap ($8.31B) consumer staples stock with a good long-term growth rate: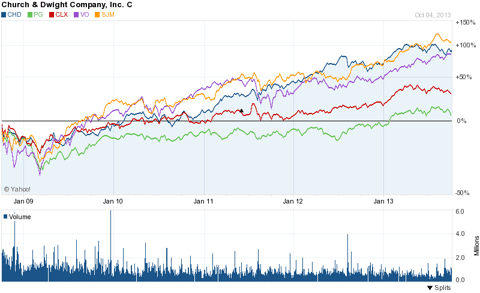 I have written on both J. M. Smucker (NYSE:SJM) and Vanguard Mid-Cap index ETF (NYSEARCA:VO) earlier and they also show similar growth to CHD. You can never start too early when saving for college. With the costs rising rapidly, it may take more than you think to get a college education. If you would be interested in starting a position in CHD, please do your own due diligence. The markets are choppy now and there are no sure things.
Disclosure: I am long PG, SJM, VO. I wrote this article myself, and it expresses my own opinions. I am not receiving compensation for it. I have no business relationship with any company whose stock is mentioned in this article.