While Amazon.com (NASDAQ:AMZN) is seen as a fast growing company, its growth rate has been plunging fast. The market ignores this and continues to price the stock for a perfection that is no longer present, but most discerning observers are keenly aware of this fact.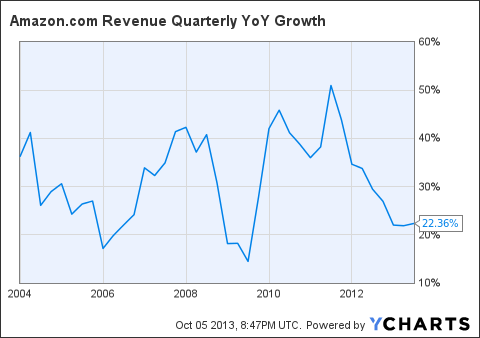 AMZN Revenue Quarterly YoY Growth data by YCharts
What is less well-known is that at this point, it's not just Amazon.com's revenue growth rate in percentage terms that's suffering. Also suffering is the absolute dollar growth in revenues from year to year. The following chart illustrates how TTM revenue increases year-on-year have been faring (green), as well as how much revenue has been added in each quarter (red), also year-on-year.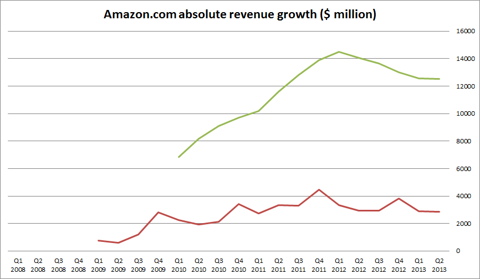 This emerging trend has significant implications for Amazon.com's future. Most significantly, the continuation of this trend is not implied in Amazon.com's revenue estimates. Indeed, below is a chart depicting how 2013 and 2014 consensus revenue estimates (in red) fit with the present trend.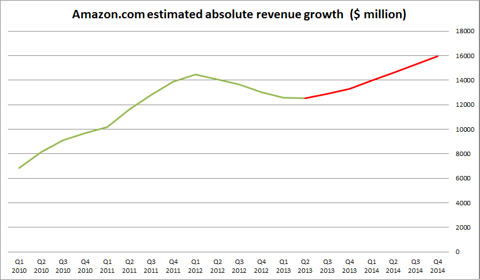 This shows that today's estimated absolute dollar growth implies a reacceleration of Amazon.com's growth. If such reacceleration does not happen, then instead of $74.39 billion in revenue and +21.8% year-on-year growth for 2013 and $90.33 billion in revenue and +21.4% year-on-year growth for 2014, Amazon.com will see $73.62 billion in revenues and +20.5% growth for 2013 (where most of it is already in the bag), and $86.14 billion in revenues and +17% growth for 2014. And even these projections are considering a stagnation of the present negative trend. If the downward trend continues, Amazon.com will fail to attain even that. This could imply an even larger miss than the already-projected $4 billion shortfall for 2014.
Another striking observation
I've already commented on how strange it was for Amazon.com to not have thrown a promotional event for the launch of the new Kindle Fire HDX. Amazon.com seemed to be penny pinching hard, and that's not a good sign for the upcoming Q3 2013 earnings release.
Now I am noticing another surprise. While in 2011 (Kindle Fire) and 2012 (Kindle Fire HD), its new tablets, quickly rose to the top of Amazon.com's best sellers' list, this time things are quite different. Even the $139 Kindle Fire HD hasn't gone higher than 3rd in that list, and the best-showing HDX languishes down in 12th. The new tablets are not yet being delivered, so that might be a factor (though the same did not happen in 2012, even without deliveries), but this development is still quite surprising.
No doubt these tablets should sell well in Q4 2013, but their launch was truly underwhelming.
Finally, an unrelated item: Inventory turnover
Since we keep on reading on how Amazon.com is so efficient turning its inventory over, it serves well to test whether this still holds as fact. The following chart shows inventory turnover for Amazon.com, Wal-Mart (NYSE:WMT) and Costco (NASDAQ:COST).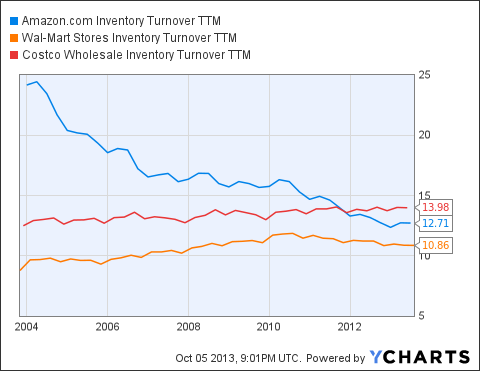 AMZN Inventory Turnover TTM data by YCharts
As we can see, gone are the days where Amazon.com was markedly more efficient in turning over its inventory. While it still beats Wal-Mart by a small margin, it now trails Costco.
Conclusion
Not only is Amazon.com's revenue growth rate quickly abating, but even the absolute growth in revenue dollars is now also declining. This stands in stark contrast with the consensus estimates both for 2013 and 2014, and thus these estimates require an inversion of the present trend for them to come true. Presently, there is no obvious source for this inversion (other than Amazon.com's accounting treatment of eBooks, that is).
Disclosure: I am short AMZN. I wrote this article myself, and it expresses my own opinions. I am not receiving compensation for it (other than from Seeking Alpha). I have no business relationship with any company whose stock is mentioned in this article.