Last month, Linn Energy (LINE) announced a major acquisition of oil and natural gas properties in the Permian Basin. In my earlier article, I had discussed the impact of this transaction to Linn Energy's DCF metrics and whether or not the company got a fair price for the assets. To summarize that article, Linn Energy did appear to get a fair price for the assets and the transaction should be mildly accretive to DCF considering the method (a senior secured term loan) the company is using to finance the purchase. However, in a recent presentation, Linn Energy provided a wealth of new information regarding this purchase.
Acquisition Overview
Linn Energy is to spend about $525M to purchase oil and natural gas properties in the East Goldsmith Field in the Permian Basin's central basin platform. The properties are located entirely in Ector County, Texas.
The current production of 4,800 BOE/D is spread across 124 wells and 6,250 net acres and is mostly oily (63%). Linn Energy would have majority operational control in this acreage, avoiding some of the difficulties seen in areas where it only held a minority stake. The company has noted that these assets are a good fit for its upstream MLP model, with very low declines, high margins, and a long reserve life.
The company also noted that the transaction, once closed, is to be immediately accretive to DCF. In addition, these assets will give Linn Energy a larger footprint in the Permian, which may result in some cost efficiencies.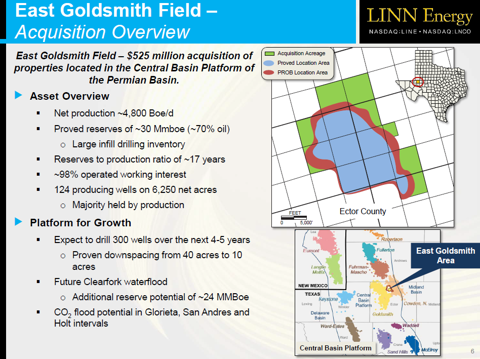 Click to enlarge
Enhanced Oil Recovery to Increase Reserves
Interestingly, Linn Energy notes that these properties will offer it a growth platform. The company has identified around 300 future oil inventory locations with around 4 to 5 years of primary Clearfork well drilling. Linn Energy plans to use infill wells to accelerate recovery from the properties and to increase reserves.
Additionally, after the infill drilling program, Linn Energy plans to use other enhanced oil recovery methods, such as waterflooding and CO2 flooding to increase reserves. The company has noted that it anticipates these methods to add a potential 24 MMBOE of reserves at relatively low costs.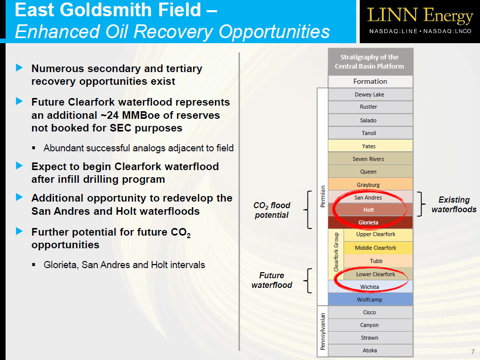 Click to enlarge
Deal Financing belies stock price weakness
The current Permian acquisition is to be funded with proceeds from a $500M senior secured term loan due 2018 at LIBOR plus 2.50%. This is frankly one of the few times I have seen a term loan used to fund an acquisition. The usual method for these upstream MLP transactions is to pay for the assets with a revolving credit facility, then to pay off the revolver via an equity issue, bond issue, or retained earnings.
However, considering Linn Energy's weak stock price, this manner of financing does make some sense. Issuing equity at current prices would most likely dilute unitholders significantly and also would wipe out most of the accretive effect to DCF. In addition, it would reduce Linn Energy's NAV, as the stock is trading well below its internal NAV estimates.
In an earlier article, I had wondered if Linn Energy's current low unit price would make financing an acquisition with equity unfeasible. Linn Energy has previously noted that it typically aims to fund its expansions with around a 50/50 equity to debt mix. Besides offering K-1 free dividends, one of the main reasons Linn Energy created LinnCo (LNCO) was as another source of financing.
In general, I believe that Linn Energy is in much stronger shape than implied by its current weak unit price. The company was able to do a relatively large and accretive transaction while still trying to complete a much larger and more complicated one. IMO, this should be read as a modestly bullish sign for the company.
Conclusion
I do apologize for not mentioning the elephant in the room -- Linn Energy's pending merger with Berry Petroleum (BRY). It is frankly anyone's guess as to if and when the merger will be completed. The most recent update provided by the company still has Berry shareholders receiving 1.25 LinnCo shares for every one share of Berry common stock. As of this writing, Berry shares are trading about $6.50 above the value of 1.25X LinnCo shares. This implies that Linn Energy may need to adjust the offer.
Q3 2013 was one where oil prices were elevated and natural gas prices were generally higher than last year. However, NGLs prices were still weak and ethane rejection continued to be a problem. It will be interesting to see Linn Energy's results for the quarter. Last quarter, the company faced some operational issues which reduced production and resulted in lower DCF.
For the sake of the entire upstream MLP sector, I hope Linn Energy is able to complete the merger without any hiccups. The company is by far the largest player in the sector, and its struggles have soured investor appetite in these names. Until the Berry merger issue is resolved, Linn Energy will likely remain a volatile stock.
Disclaimer: The opinions in this article are for informational purposes only and should not be construed as a recommendation to buy or sell the stocks mentioned. Please do your own due diligence before making any investment decision.
Disclosure: I have no positions in any stocks mentioned, and no plans to initiate any positions within the next 72 hours. I wrote this article myself, and it expresses my own opinions. I am not receiving compensation for it (other than from Seeking Alpha). I have no business relationship with any company whose stock is mentioned in this article.
Additional disclosure: I am long the upstream MLPs: VNR, QRE, and MEMP