On Monday the UK Prime Minister David Cameron announced a surprise acceleration of the 'Help to Buy' scheme.
Speaking at the Conservative party conference, Cameron brought forward the launch of the scheme from January to next week. The announcement is a major win for home owners and UK builders.
The second part of the scheme was heavily criticized by economists, surveyors, analysts, government ministers and even Barclays CEO Anthony Jenkins. It had been widely anticipated that the government would be forced to dilute or possibly even scrap the second part of the scheme.
The decision to accelerate the scheme has surprised a lot of people but it confirms what I anticipated in my earlier article. The government wants higher house prices by the time of the next election and it will do whatever it can to achieve that.
Help to Buy History
The original 'Help to Buy' scheme was launched by Chancellor Osborne in April and as I anticipated had an immediate impact on the housing market and construction industry. If you bought UK builders as I suggested, you have made around a 30% return.
The original 'Help to Buy' scheme allows buyers to buy any new build property with just a 5% deposit. Buyers of all types will be eligible for a five year interest free government loan worth up to 20% of the value of the property.
Under the second part of the scheme, buyers of properties valued at less than £600,000 will be able to borrow a deposit of just 5% of a property's price. Lenders will pay a fee and receive a government guarantee.
Unsurprisingly the second part of the scheme has been controversial. It has no direct impact on supply but will certainly fuel demand.
On top of this, the Bank of England funding for lending scheme, introduced in the middle of 2012, has provided banks with cheap funds and has pushed mortgages to record lows. Another policy which is helping to fuel prices.
Osborne Offers Token Gestures to Placate Critics
Only a few days before announcing the accelerated 'Help to Buy' Osborne sought to placate his critics by giving the Bank of England (BoE) token powers to intervene in the housing market.
Although ostensibly the Bank of England is now independent since 1998, in reality it retains many of its links to the treasury. For example the chancellor still appoints four members of the Monetary Policy Committee (MPC), the group responsible for setting interest rates.
The new powers allow the BoE to
Recommend Osborne, to reduce the cap on eligible properties, currently set at £600,000.
Recommend the treasury to increase the fees it charges to lenders for mortgage guarantees. But it will only conduct a review once every year not starting until September 2014.
These toothless powers are really nothing more than token gestures designed to placate critics so that Osborne can justify accelerating Help to Buy part 2. I expect them to have very little impact. Osborne has done the barest minimum.
The Conservative Strategy
Chancellor Osborne laid out his strategy for the next election (to be held in 2015) at the Conservative party conference. Osborne's wants the government to show a budget surplus by 2020. This hints heavily at more austerity and fiscal discipline. He will position his party as the only credible and responsible option. The decision to offer more powers to the BoE is also designed to feed into this idea.
The only way the middle classes (the key to winning any election) will accept sustained austerity is if they feel wealthier. The easiest way to achieve this is through higher house prices, hence the acceleration of the scheme.
Osborne wants house prices moving sooner rather than later to ensure they are high enough by the time of the next election. By bringing the scheme forward, in a surprise move, he also avoids months of further headlines from critics calling on him to drop the scheme.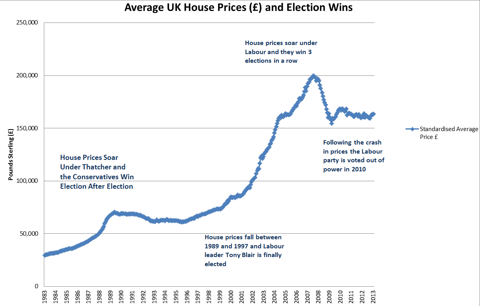 I believe what the government is doing is very dangerous but is perception that matters and home owners aren't going to complain as they watch prices rise.
Michael Coogan in the FT
'Help to Buy 2 is an electioneering attempt to be popular and get people to vote for them'
Is the Market Scared of a Labour Victory?
A week ago at its party conference, Labour promised to seize land which was not being built upon. This was an unwelcome shock and signals an extreme shift to the left. The vague policy is political posturing and I think it is unlikely to become a reality. Its legality is also highly questionable. Nevertheless, the intent it signals is unwelcoming.
Labour had previously been cautious of criticizing 'Help to Buy', aware of its popularity, although Ed Balls did recently attack the scheme at Labour's party conference.
However, Labour is no stranger to supporting and pumping up the housing market. The reality is that if Labour are re-elected, they will also try and inflate house prices. From 1997 to 2010, house prices rose 146%, even accounting for the financial crash.
A potential Labour victory at the next election in 2015 is not something I think the housing market or builders should fear even if a Conservative victory would be slightly preferable.
Implications of Help to Buy Part 2
The implications of this scheme could be huge. I anticipate it will have an even greater effect than the original help to buy scheme because it will impact the entire market not just new build homes. Banks have thus far been very reluctant to lend high LTV (Loan to Value) mortgages since the financial crisis.
The new scheme will reduce the cost of high LTV mortgages significantly and open home ownership to a much wider pool of people. Almost anyone with a job and a small amount of savings will now be able to buy a home. It will bring many first time buyers back to the market.
Like part 1, I expect the scheme to have an immediate impact as buyers rush to beat a rise in the market. UK property website Zoopla saw its traffic spike 17% after the scheme was announced.
Impact on the UK Builders
During its quarterly earnings presentation, Barratt (OTC:BTDPF) presented the table below showing the current competitive advantage new builds held over 2nd hand homes.
Secondhand (Prior to Help to Buy Part 2)
New Build (With help to buy part 1)
Max LTV
Rate Sept 2013
Max LTV
Rate Sept 2013
Halifax
90%
5.29%
95%
3.04%
Nationwide
90%
4.54%
95%
2.84%
Santander
90%
4.49%
95%
3.29%
Woolwich
90%
4.89%
95%
3.49%
RBS
90%
4.89%
95%
3.15%
This competitive advantage will be reduced by Help to Buy part 2. Second hand Max LTVs will increase to 95% and rates will be lower. Barratt CEO Mark Clare said that he still expected New Build to 'retain a material advantage'.
Overall part 2 will be very beneficial to the builders. Margins will increase as prices rise. Builders will benefit as the value of their land banks and existing inventories rise. They will also prosper from the increased market activity.
Banks' Reluctance
Most non-state owned banks and building societies are currently reluctant to participate in the scheme and perhaps with good reason. Theoretically, the scheme should be extremely profitable for banks and the government guarantee should remove most of the risk.
However, banks like Barclays are, correctly in my opinion, worried about the political risk of ever claiming such a scheme.
The only two banks to sign up for the scheme so far are the state backed banks Lloyds and RBS. Both have 95% LTV products coming out in the next few days. Here in lies yet another reason why Osborne's plans to raise prices will work. The government already controls a large part of the mortgage market.
HSBC has said it is supportive of the scheme (although it wants risks spelt out more clearly to borrowers) and is also considering launching a product very soon.
Most banks are trying to reduce their balance sheets to prepare for Basel III and they are not in any rush to get back into LTV mortgages.
However, if HSBC joins RBS and Lloyds, lenders representing 40% of new mortgages would be taking part in the scheme. And those who don't take part in the scheme will potentially lose a lot of market share. Ultimately I expect that most banks won't be able to resist the high LTV market.
Even if the scheme is not universally supported, the two state lenders alone are more than powerful enough to have a huge impact on the housing market.
Current Valuations
Housing supply remains severely constrained. Many houses are overcrowded and only around 1% of properties in the UK are empty long term.
1.7 million families are on housing waiting lists and the population is booming. More babies were born last year than at any time since 1972. Meantime planning restrictions remain some of the toughest in the world even as the government has made moves to ease them.
See more details in my earlier article.
House building is finally coming back and has grown to its fastest pace for ten years. However, as Nationwide states, the problem is unlikely to alleviate any time soon.
While there have been encouraging signs that house building is starting to recover, construction is still running well below what is likely to be required to keep up with demand. New housing starts in England were up 33% in Q2 compared to the same period of 2012, but this is still 36% below the levels prevailing in 2007, which were already below that required to keep pace with household formation.
Price and Demand
Nationwide has a UK house price to income ratio of just above 5 (peak 6.4). Lloyds has a ratio of 4.66 (peak 5.82) up only slightly from 4.49 at the start of the year. The long term average is closer to 3.5.
Although a good benchmark, this ratio doesn't take account of supply. It is simply a reality that housing costs (either through rent or mortgages) are taking up a greater portion of people's income because of the lack of supply.
Prices have risen 5% in the last 12 months according to Nationwide and 6.2% according to Lloyds. For the first time since 2007 all thirteen regions of the UK experienced annual house price rises.
House price growth although it is accelerating is not currently excessive, except possibly in London where prices are now rising at 10%. The London market is being driven by a lack of supply and overseas buyers.
The Halifax average UK house price of £170,000 remains well below the £200,000 peak in 2007 and this does not account for inflation.
BoE Not Letting Rates Go Anywhere Anytime Soon
As I mentioned in my last article, Carney will do everything he can to stick to his forward guidance promise and remain credible. Rates will not rise for the foreseeable future.
I expect rates to stay low and I go into this in more detail in my earlier article.
Conclusion
The government's determination to drive house prices up will likely cause a huge bubble in UK house prices as demand is artificially inflated. Low supply, low rates and a growing population will only exacerbate the rise. The only thing to contain prices will be low growth in wages but even these are now starting to grow. I believe we are only at the start of this bubble and prices are not currently excessive.
This is a good time to invest in UK residential property or UK builders as long as an investor is willing to constantly re-evaluate the situation. There will be a time to sell, when prices become excessively out of line and supply problems are alleviated, although I don't anticipate this happening any time soon.
Unfortunately there are no obvious UK REITs that I am aware of which only focus only on residential property. My favorite UK builder is still Barratt. However all builders Taylor Wimpey (OTCPK:TWODF), Bellway (OTCPK:BLWYY), Persimmon (OTC:PSMMF) and others should benefit. As always, I recommend using the London stock exchange as you will find better prices and liquidity.
See my thoughts on Barratt's latest earnings in my instablog.
Disclaimer: This article is intended as general information only, and is not intended to provide specific advice, or due diligence to be relied on. As such, the information presented in any article does not consider any reader's personal investment objectives or financial situation; therefore, no article makes any personalized recommendations. See full disclaimer here.
Disclosure: I am long OTC:BTDPY, OTC:PSMMF. I wrote this article myself, and it expresses my own opinions. I am not receiving compensation for it (other than from Seeking Alpha). I have no business relationship with any company whose stock is mentioned in this article.
Additional disclosure: I am long the London stock exchange versions of Barratt and Persimmon LON:BDEV and LON:PSN