We're not regular readers of The Seattle Times, but when a client saw managed futures mentioned in a recent Q&A in the investing section, they pointed us to the piece.
Here's the question that was asked:
Q: Most of our retirement is in 401(k) or Roth IRA plans managed by a large firm with a reasonable expense ratio, TIAA-CREF.

A small firm that trades in managed futures has recently contacted us. The firm's adviser uses a trend-following algorithm to govern all trades. There is a minimum investment in the low six figures. The story looks good, the returns look good (even net of fees), and it appears to be an asset class that is not represented in our otherwise fairly diverse portfolio.

What is your opinion of trading in managed futures?
Sounds like an intelligent investor, if we say so ourselves. So what does Scott Burns - an MIT grad, author, and 30+ years in financial planning - have to say about managed futures?
A: Managed futures accounts are really great for the managers and the brokerage operations that trade the commodity futures contracts.

They aren't so good for you or me. The main reason is that commodities are not an earning asset, so you are really betting that your account managers will make enough speculating on price changes to overcome a 2 percent managing cost, 20 percent of any profits, and the cumulative bid/ask spread and commissions for all the trading done. Basically, you're "playing against the house."

If you want a big, simple protection from inflation, consider buying an exchange-traded fund that is an index of energy companies, such as the Energy Select Sector SPDR (ticker: XLE; expense ratio 0.18 percent) or Vanguard Energy (ticker: VDE; expense ratio 0.14 percent).
Now, we hadn't picked a fight or had to defend managed futures from the 'different is bad' crowd in a while in this space (see our previous one "Responding to the Latest Attack on Managed Futures") but this seemed like just the thing which deserved a response. And indeed, Mike Dever of Brandywine Asset (and Jackass Investing fame) stuck up for the asset class in the comments. But we had our own thoughts:
We'll start with his second point - to use an index of energy companies such as XLE as a cheaper proxy for managed futures. Well, the investor didn't say that was why they wanted managed futures exposure; but let's assume for the sake of argument that is why they are looking at the asset class. The first thing you will see is that the XLE is way more volatile than the managed futures index, with XLE at an annualized volatility of 22% and the CTA Index at 6.8%, so roughly 3.25 times more volatile.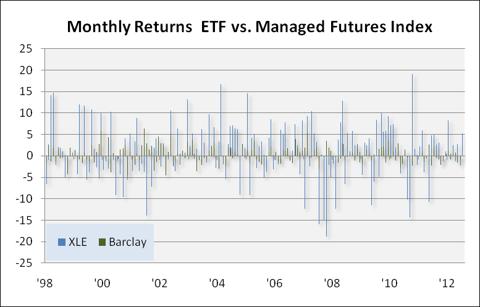 Source: BarclayHedge CTA Index
Disclaimer: (Past performance is not necessarily indicative of future results)
This means any meaningful comparison will need to normalize the volatility, which we did by multiplying the monthly profits and losses of the BarclayHedge CTA Index by 3.25, easily achieved in managed futures due to notional funding (see our newsletter "Invest at Lower Minimums through Notional Funding").
So, if you are going to consider XLE as a choice for "big, simple protection from inflation," how does XLE compare to the performance of managed futures during an inflationary period, such as the January 2007 - June 2008 period which saw crude oil rise from $61 to $133/barrel?

Source: BarclayHedge CTA Index
Disclaimer: (Past performance is not necessarily indicative of future results)
They were pretty even during that period, although we can't help but notice that managed futures (at 3.25x) did outperform by a bit, and with less of a drawdown. But let's say that is immaterial, and they are essentially the same during that period. Kudos to Mr. Burns for the recommendation, XLE is definitely easier to understand and easier to invest in than managed futures for most.
But what happens next? What happens when you're not in such a period? Glad you asked - just take a look at the XLE over the 8 months after that spike in oil happened:

Source: BarclayHedge CTA Index
Disclaimer: (Past performance is not necessarily indicative of future results)
Ouch! Two thirds of your money down the drain. Here's the thing - you won't likely know when that inflationary period has begun, or when it has ended. So while XLE may provide inflation protection, and while it may do well during a rising stock market, what about the rest of the time? Is it worth it to take on all that volatility and downside risk for your inflation hedge? Doesn't it make more sense to add an inflation hedge which doesn't double up the stock market crash risk already in your portfolio? Doesn't it make sense to add an inflation hedge with a -0.15 correlation to the stock market instead of a 0.63 correlation?
Here's a look at the full performance of XLE versus managed futures at 3.25x since XLE's inception in 1999.

Source: BarclayHedge CTA Index
Disclaimer: (Past performance is not necessarily indicative of future results)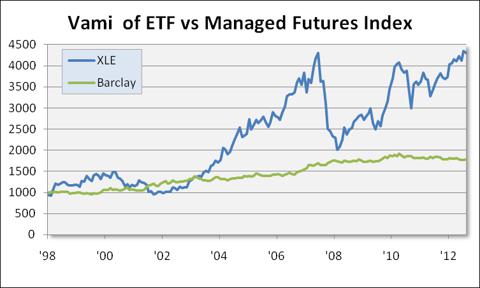 Source: BarclayHedge CTA Index
Disclaimer: (Past performance is not necessarily indicative of future results)
We appreciate your stance, Mr. Burns, but there's a whole lot more to this equation than low expense ratios and something that goes up when oil goes up. The three reasons XLE and VDE are no good as inflation hedges are they are 1. too volatile, 2. too correlated to stocks, and 3. too much drawdown for the return you get.
In the words of Obi Wan Kenobi, move along… these are not the droids inflation hedges you are looking for.
Disclosure: I have no positions in any stocks mentioned, and no plans to initiate any positions within the next 72 hours. I wrote this article myself, and it expresses my own opinions. I am not receiving compensation for it. I have no business relationship with any company whose stock is mentioned in this article.