BHP Billiton (NYSE:BHP) is a global resource company with an exploration focus on petroleum, potash, iron ore, copper, coal, aluminium, manganese and nickel. In August BHP reported a 22% decrease in underlying EBIT to $21.1 billion for fiscal year 2013 (compared to $27.2 billion in 2012). Slowing global growth, contracting Chinese demand for a variety of commodities (mainly iron ore and copper) and falling commodity prices all negatively impacted BHP's earnings and cash flows. BHP's operating cash flows have declined nearly 40% since 2011 when China's slowing demand began having a price impact on BHP's core commodities. BHP's chart reflects those cash flow concerns: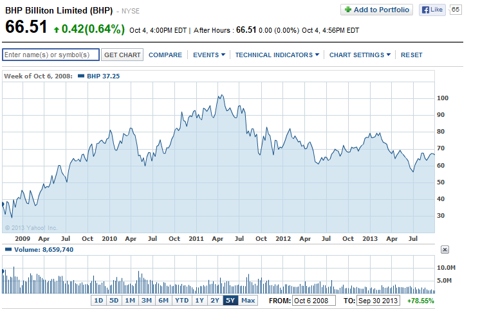 Click to enlarge
China slowdown deeply affecting BHP
I see major problems with respect to BHP's operating cash flow development. In 2011 operating cash flows stood at $30 billion and at $18.2 billion (down 40%) just two years later with deep, sequential declines. Underlying EBIT for the same period decreased from $32 billion in 2011 to $21 billion in 2013 (down 34%). BHP certainly was affected by lower commodity prices but also showed better operational performance with a $1.8 volume related increase in underlying EBIT. BHP's EPS decreased disproportionately at 52% since 2011. The table below clarifies the scale the global economic slowdown had on BHP's performance over the last three years:

Click to enlarge
The sequential decline in profits and, most recently, in revenues is worrying because BHP substantially increased production levels for almost all commodities with notable increases for petroleum, copper and iron ore.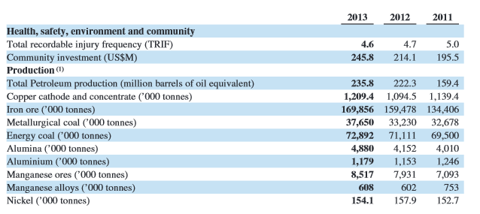 Click to enlarge
In terms of pricing outlook, BHP voiced concerns that short-term challenges in the market may persist (with its high risks for cash flows) while long-term supply/demand dynamics are shaped by China:
In the short term, increased supply is likely to exert downward pressure on prices, although a lower rate of investment growth across the industry should, in time, lead to more balanced supply and demand. The growth rates for steel demand in Asia are expected to moderate as the Chinese economy gradually rebalances. This rebalancing should support growth in demand for other industrial metals, energy and agricultural products.
Free cash flow valuation
I have posted below an overview of BHP's cash flow performance over the last three years including my estimate for 2014 cash flows. Generally, I think exploration companies are interesting investment candidates right now simply because their valuations have fallen so much. BHP, on the contrary, still exhibits a relatively rich valuation which I think isn't deserved based on its most recent three-year performance.
Some investors may take issue with the assumption that operating cash flows can achieve a turnaround in 2014; whether they are driven by a rebound in commodity prices, increased volume shipments or cost structure adjustments. I am a bit optimistic about the OCF development of basic materials suppliers because of the already substantial declines that have occurred. However, even with a rebound of operating cash flows, BHP's free cash flow to equity will largely be driven by net borrowing activity just like in 2012 and 2013. The estimated 2014 FCFE would be 44% higher than in 2013 but would still yield only $2.10 in FCFE per share: a super rich 31.74 forward P/FCFE multiple.
If investors assumed that BHP will not face significantly different macro conditions in 2014 and will just achieve the average of cash flows from 2011-2013 (OCF $24.2 billion, ICF ($22.1) billion and net borrowing $5.2 billion), the total free cash flow would still only yield $7.3 billion or $1.37 per share: a P/FCFE multiple of 49. Surely investors can find better investments than this.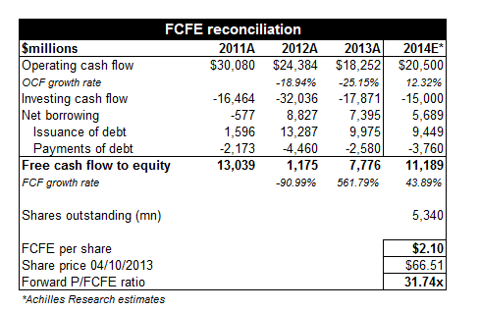 Click to enlarge
Peer Group
Compared to BHP's basic materials peers Rio Tinto (NYSE:RIO) and Vale (NYSE:VALE), BHP consistently fetches the highest valuation for a variety of metrics: BHP trades at a 39% premium to the peer group P/E of 10.60. BHP's earnings multiple is almost twice the P/E multiple for VALE which gives anti-cyclical investors decent upside potential. BHP is also much more expensive on a P/B or EV/EBITDA basis commanding substantial premiums to peer firms that I do not believe are warranted. In terms of dividend yields, BHP offers investors 3.55% a year only marginally outperforming Rio Tinto with 3.46% but substantially lagging Vale with 4.80%.

Click to enlarge
Conclusion
BHP faced serious declines in operating cash flow. Investors currently purchase BHP at a huge premium based on a free cash flow to equity approach to valuation. They also pay substantial premiums based on P/E, P/B and EV/EBITDA multiples. Operating cash flow risks persist while growth in equity valuation is unlikely given the rich price BHP trades at. Though pricing for core commodities may rebound once China finds its way back to its long-term GDP growth path, BHP's sensitivity to commodity prices is substantial. Even with increasing production rates (petroleum production increased 48% since 2011, iron ore 26% and copper 6%) the price effect hugely overcompensated the volume effect leading to an erosion of underlying earnings. Investors should not pay such a hefty P/FCFE multiple based on the most recent cash flow and earnings trends. Rio Tinto and Vale offer a much better risk/reward ratio.
Disclosure: I am long VALE. I wrote this article myself, and it expresses my own opinions. I am not receiving compensation for it (other than from Seeking Alpha). I have no business relationship with any company whose stock is mentioned in this article.