By Rohit Gupta
First Solar (FSLR), America's leading provider of solar energy solutions, is known for its thin film solar modules, which use cadmium telluride, or CdTe, as a semiconductor substrate for generating electricity. Traditionally, CdTe panels are priced lower than commonly used polycrystalline silicon panels because of the difference in their raw material prices and manufacturing cost. One of the major disadvantages of this technology is that it is less efficient in conversion of electricity, which means that the higher the efficiency, the higher the production of electricity. Therefore, the company bet on a price differentiation strategy for promoting its panels.
Chinese manufacturers, which are gradually reducing the price gap in their polycrystalline silicon panels, will likely affect First Solar's strategy. The large presence of Chinese silicon panel manufacturers has resulted in oversupply in the market, which has brought down the prices of these panels. Therefore, it is important for First Solar, to manufacturer competitive products to remain in the market.
Removal of competitor from acquisition
First Solar was the first company to adopt CdTe technology in solar panel manufacturing. The company has been facing competition from General Electric (GE), which was also using cadmium telluride ultra-thin layer technology to convert sunlight into electricity. In August this year, First Solar announced that it would acquire General Electric's assets relating to its CdTe intellectual property, effectively eliminating the competition in the thin film solar panel market. GE would receive 1.75 million shares of common stock as part of this transaction. Both the companies will pool their R&D capabilities to develop cadmium telluride solar modules with improved performance and efficiency. First Solar will also benefit from General Electric's patent portfolio.
As per Jim Huges, First Solar's CEO,
GE has over 450 issued patents and pending applications on their cad-tell technology, which effectively doubles our patent position. The combination of the company's complementary technologies and First Solar's existing manufacturing capabilities are expected to accelerate the development of cad-tell solar module performance and create significant improvements in efficiency at full manufacturing scale.
We believe that it is an important step towards market consolidation, which will benefit First Solar in dominating the CdTe panel market. GE will market and deploy First Solar's panels, thus creating an additional revenue growth opportunity. GE currently holds the record for highest efficiency rate of 19.6% in the CdTe solar cell, compared to First Solar's 18.7%. Therefore, incorporating this technology will help First Solar develop the solar panels with better average efficiencies.
Competition from Chinese Manufacturer
The price differentiation that First Solar has been betting on from its CdTe solar panels has decreased with Chinese players reducing the price gap from reduction in their manufacturing cost of polycrystalline silicon solar panels. The prices of polysilicon, a basic raw material used in these panels, have reduced considerably from $475 per kg in 2008, to the current $20 per kg. In addition, oversupply of these panels in the market has resulted in the panel price reducing to $0.70 per watt, which is close to First Solar's $0.66 per watt price. Silicon panels hold the edge with an average efficiency rate of 15% compared to First Solar's 13%. Therefore, removing the low price advantage, CdTe solar panels will now be in line with silicon panels, which generate more electricity. To counter this competition, the company acquired a small startup called Tetra Sun, which has efficiency of 21% in mono-crystalline Si solar cells. This will give First Solar more options in developing its CdTe technology with greater efficiency, and if the company is successful in incorporating this mono-crystalline Si in its manufacturing of its CdTe panels, than First Solar will reduce the low efficiency disadvantage of its CdTe panels.
China is not only the biggest manufacturer of solar panels, but is also set to be the country generating the most energy from solar power by the end of 2013. As per the Chinese government, an expected 10 gigawatt, or GW, of new solar projects will be installed in 2013, which is a 300% rise year over year. China's solar energy market is controlled by domestic players, which cover most of the market. After dominating the domestic China market, companies like Yingli Green Energy (YGE), Suntech Power (STP), Trina Solar (TSL), etc. have now increased their footprint worldwide, giving tough competition to First Solar. These three companies have the leading position in six of ten key solar panel markets, as per a NPD Solarbuzz report.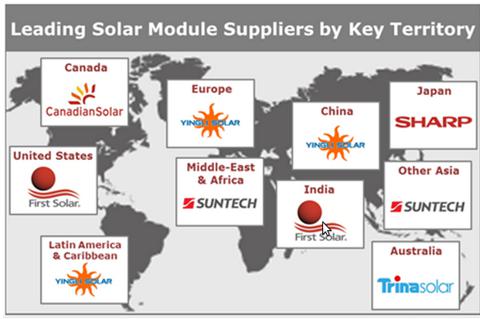 Source: NPD Solarbuzz report
These companies are currently facing headwinds from decline in the prices of silicon solar panels and anti-dumping issues in developed countries. Due to the market oversupply of silicon panels, as mentioned above, coupled with weak demand, these companies are facing top line pressure. To revive the solar manufacturing industry, the Chinese government is implementing a tax rebate strategy. The industry is known to have strong government support, and with the tax rebate in place, solar panel manufacturers will get some respite in term of reduction in the manufacturing cost. Solar panel manufacturers will receive a 50% refund of the value added tax from October 1, 2013 to December 31, 2015. Therefore, it is an important step towards promoting solar panel manufacturing. This will provide some boost to the industry, which is currently plagued with excess capacity, declining in prices, and weak demand.
Conclusion:
Acquisition of GE's CdTe technology is an important step towards what could have been a potential threat to First Solar in the thin film solar panel market. Pooling the expertise of both the companies will result in development of CdTe technology with much better efficiencies than the present thin film solar panels. In addition to this, the company is planning to use Tetra Sun's mono-crystalline Si solar cell technology in its manufacturing process. This will increase the average efficiency of CdTe panels.
First Solar may not look attractive from valuation metric, where its 12 month forward P/E is increasing to 12.26 from its trailing 12 month P/E of 10.65, which denotes a decline in earnings, but we believe that development of solar panels with better efficiencies will provide upside opportunity for the company.
Disclosure: I have no positions in any stocks mentioned, and no plans to initiate any positions within the next 72 hours. I wrote this article myself, and it expresses my own opinions. I am not receiving compensation for it (other than from Seeking Alpha). I have no business relationship with any company whose stock is mentioned in this article.
Disclaimer: Fusion Research is a team of equity analysts. This article was written by one of our research analysts. We did not receive compensation for this article (other than from Seeking Alpha), and we have no business relationship with any company whose stock is mentioned in this article.