Why is it that every time I try and defend a company that I feel good about, they go and do something frustrating for investors like dilute shareholder value? For the record, I am a fan of DryShips, Inc (NASDAQ:DRYS), and have written several articles about the company, and the turnaround in the Dry Shipping industry. So was this a smart move or just another way that George Economou has used the company as a way to rob share holders of value?
The run up of DRYS
DRYS has had a great run over the past month. The Dry Bulk shippers have seen an increase in demand originating from Chinese iron ore imports. Analysts predict the demand will continue through 4Q13, based on the need for Chinese stockpiles to be replenished and a bumper year for grain exports from the US and Brazil. While the gains were huge for the Capesize ships, the other dry bulk ships have also risen.
From this, DRYS has seen their stock double in the last three months, from a low of around $1.70 to reaching a high of $4 in the past few days.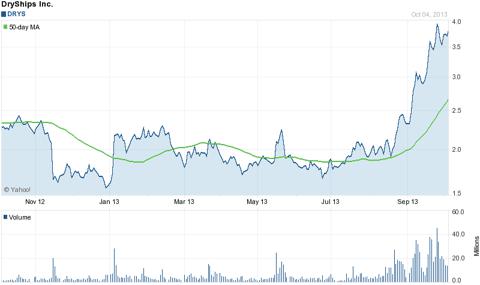 Click to enlarge
It was this stock appreciation that George sought to capitalize on in order to fund future operations.
Was there a need?
DRYS does have a lot of debt, around $4.4 Billion worth in bank debt and bonds, yet has a market cap of around $1.5 Billion. As of last quarter, they had around $500 Million in cash, but have another $70 Million in amortization due and $26 Million in new build payments due. When you throw in administrative overhead, roughly $100 Million will be needed through the end of the year to cover these costs.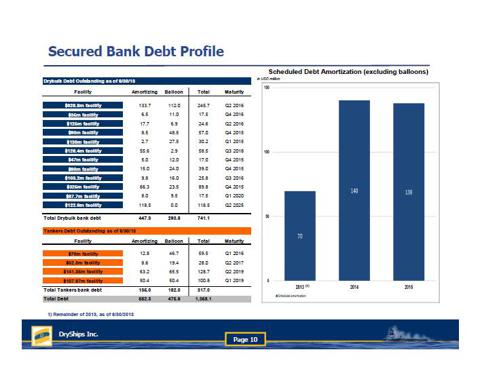 Click to enlarge
The rationale for the move
In the announcement, George stated the following:
Drybulk shipping rates and ship values have increased recently and we believe this trend will continue particularly in the larger asset classes. Given the improved market backdrop, we believe this is an opportune time to flexibly access the equity capital markets to reduce some or all of our funding needs through 2014 that we currently estimate at $150 million. In addition, we are nearing agreements with certain banking syndicates to reduce our debt service payments over the next year and adjust certain financial covenants. Finally, we are pleased to report that Ocean Rig continues to improve its level of performance. Preliminary data for the third quarter of 2013 indicates that the Ocean Rig fleet operated at a 98.5% operating efficiency on available for drilling days, which is a record for Ocean Rig.
So was this necessary?
I think DRYS would have been fine without the extra $200 Million they are projecting will be raised through this offering. The markets have been good this past month, and I believe DRYS will have healthy profits for the next few quarters that will more than cover operating expenses, and help to replenish the coffers. If George really believed the trend would continue, then diluting shareholder value would not be necessary. From his statements, he's not intending to use it to pay down debt, even though $200 Million would be a drop in the $4.4 Billion bucket. While I still feel DRYS is a good company in a sector facing a turnaround, this deal has left a sour taste in my mouth.
Disclosure: I have no positions in any stocks mentioned, and no plans to initiate any positions within the next 72 hours. I wrote this article myself, and it expresses my own opinions. I am not receiving compensation for it (other than from Seeking Alpha). I have no business relationship with any company whose stock is mentioned in this article.