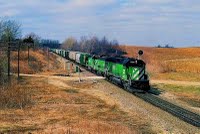 "I wish I was a headlight on a northbound train,
I'd shine my light in the cool Colorado rain" -- Lyrics from "I Know You Rider," traditional folk-blues song.
Trains played an important role in American history and culture. In the nineteenth century, they opened up the West to settlement and helped drive the Industrial Revolution across the North American continent, from the Atlantic to the Pacific. The Burlington Northern Railroad, which Warren Buffett's Berkshire Hathaway just acquired, came out of a merger between Burlington, Northern Pacific and the Great Northern, which is mentioned in the iconic Grateful Dead song "Jack Straw," and in 1993 it merged with the Santa Fe Railway to become Burlington Northern Santa Fe (BNI). Many people today look at railroads as a nuisance, as they wait at railroad crossings watching car after car rattle by. Most people who wait at these crossings do not consider the incredible tonnage of goods, particularly in regards to energy and raw food, that rolls across these steel rails. Some may even think the railroad business is a quaint nineteenth century industry, and that it is perhaps even bit old-fashioned. That is why many 21st century investors reacted with surprise when they heard that Warren Buffett's Berkshire Hathaway (NYSE:BRK.A) had bought BNI lock, stock, and barrel.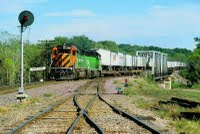 Buffett looks at the long term with his investments, even as he pushes eighty years old. Yet his investment moves make other investors prick up their ears. What is behind this move?
Well, firstly, BNI moves most of the grain crops, especially corn, that come out of the American Midwest. Secondly, coal, particularly from Wyoming and Montana, makes up half its tonnage and accounts for about a quarter of its revenue. Everyone needs food, even in economic downturns, and currently coal provides over half of the electricity in the United States, according to the US Department of Energy. In addition to these two major commodities, Burlington Northern also hauls Asian imports from West Coast ports, especially out of Seattle and Los Angeles. China's export-driven economy will assure that goods will continue to flow into US ports and onto Burlington's trains. These are the foundations on which Burlington Northern Santa Fe's business is based.
There is another element to this acquisition that also makes it look even better. Trains are the most efficient transportation system for heavy freight, offering better fuel efficiency per ton than trucks do. Edward R. Hamberger, CEO of the Association of American Railroads, says this:
(F)reight trains conserve energy. In 2008, freight trains were able to move a ton of freight an average of 457 miles on a gallon of diesel fuel, more than three times as far as a truck can move it. Just since 1980, railroads have improved their fuel efficiency by 80%. If just 10% of long-haul truck tonnage moved instead by rail, the nation could save more than 1 billion gallons of fuel annually.
So freight trains are green as well. With the Obama administration's focus on greening the US economy and making it more sustainable, railroads are certain to play an important role. With petroleum prices rising as the world stumbles out of recession, trains can haul more for less, something that will allow businesses to frugally build back up their stock of goods.
On the surface, Burlington's heavy reliance on hauling coal seems to negate the positives of rail's fuel efficiency. However, the coal that BNI hauls comes from the Powder River Basin, which has lower sulfur and ash as well as offering high electrical output. Demand for this type of low emissions coal will increase in the near term as there is no need for scrubbers to clean emissions from burning it, and alternative energy sources will take some time before they are competitive with coal. As the US depends on coal for so much of its electricity, it is unlikely that the country will cut coal production in the next few decades.
The re-emergence of the rail industry will not kill the trucking industry. Trucks are versatile, and can go where there are no rails. Rather, we will see the rise of inter-modal transport, as railways take goods on long hauls and trucks deliver goods and commodities short distances from the rail yards to the end user.
Warren Buffett has also covered one final base. In order to eliminate any element of perceived monopoly in the railroad business, Berkshire Hathaway is set to sell its shares in Union Pacific and Norfolk Southern.
In short, this is not a gamble. This is a smart, long term move to set Berkshire Hathaway into the thick of an industry that will only continue to grow in importance in the 21st century.