After the Federal Reserve announced they would not taper in September, rumors of a global currency war were reignited. But according to James Rickards, author of Currency Wars: The Making of the Next Global Crisis, a currency war is already underway. In a recent interview Rickards stated:
The Fed has printed almost $3 trillion since 2007. Now, that is without a liquidity crisis. I mean, we did have a liquidity crisis in 2008. And the first round - I would say QE1 was a legitimate central-bank response to liquidity crisis. But QE2 and QE3: we will look back over them and we will see them as enormous blunders in one of the greatest failed experiments in economic history.
Jim Rickards has continued to repeat that the fight over devaluation started when Bernanke announced continued monetary easing policies at Jackson Hole in 2010. As seen in the chart below, the major central banks have dramatically increased their balance sheets in the last decade.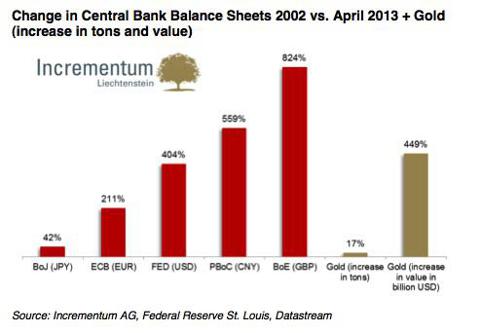 Click to enlarge
If one was to subscribe to Mr. Rickards beliefs, the question becomes how to invest for a continued currency war and eventual currency crisis. Below is a couple key points I have taken away from Mr. Rickards on how investors should act now.
First: Traditional asset classes will underperform
Equities, bonds, and cash are areas that will carry greatest risk. Obviously some equity positions will fare better than others, and short term liquidity in the form of cash is necessary. Any USD currency crisis, even for a short period, would create a spike in gold (as discussed below) and other non-traditional assets such as farmland. Non-traditional assets tend to have historical price stability and low or negative correlations to debt and equities.
As seen below, the average value per acre of farmland in the U.S. has risen substantially in the past ten years. Unlike the housing market that saw huge price drops in certain areas, farmland values accelerated after 2008. In a recent article, I recommended farmland investments that are currently undervalued.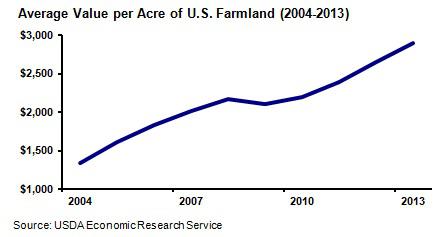 For equities that will outperform, look at agriculture, energy, and mixed commodity plays. In agriculture, I continue to like Archer-Daniels Midland (NYSE:ADM), Adecoagro (NYSE:AGRO), and Potash (NYSE:POT). In terms of mixed commodity and mining, I prefer Glencore Xstrata (OTCPK:GLNCY), Powershares DB Commodity Index (NYSEARCA:DBC), Sprott Resource (OTCPK:SCPZF), and Freeport-McMoran(NYSE:FCX). In energy, the larger oil companies continue to offer value. ConocoPhillips (NYSE:COP) with its hefty dividend yield and Statoil (NYSE:STO) are two I currently own.
Second: Buy physical gold.
Short-term ETF (NYSEARCA:GLD)(NYSEARCA:IAU) exposure is a good hedge, but long-term one should buy physical. Rickards' advises 10-20% physical gold exposure for an average investor; dependent on how aggressive an investor is and their financial situation. A recent SA article entitled "The Rational Reason To Be Bullish On Gold", argues that gold is under owned. I tend to agree with that sentiment. Gold bugs may seem prevalent to the SA reader, but the actual percentage of gold holdings is rather low. As seen in the chart below, gold's share of total financial assets is around .5% (this can vary slightly depending the price of gold).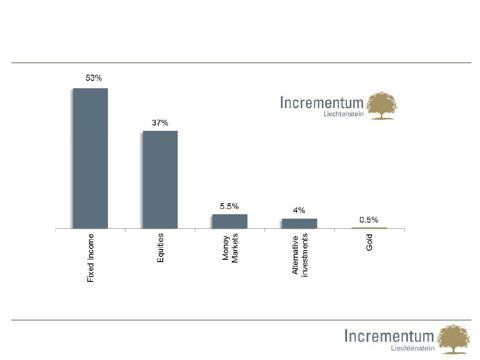 Click to enlarge
(Source: Incrementum)
To put this chart in perspective, the percentage has been as high as 2.4% back in 1980 and near 5% in 1968 prior to going off the gold exchange standard. The percentage has risen to where it stands today mostly through price appreciation.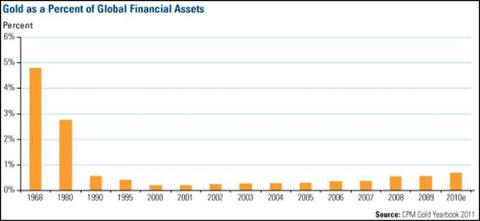 Click to enlarge
During recent currency crisis abroad (seen below), gold has played the role of measuring currency devaluation and maintaining purchasing power. We have seen a slow gradual decline in the fiat currency system as witnessed by the rise in gold.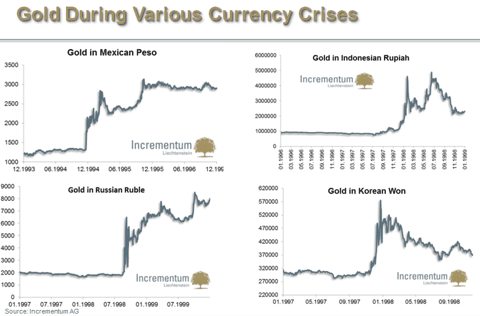 Click to enlarge
In closing, Mr. Rickards recently stated:
You can think of monetary policy as a desperate race between increasing money supply and decreasing velocity, and the Fed is printing money to offset the decline in velocity. . . . So the Fed's problem is best understood as one of trying to bend this velocity curve.
The Fed's "Operation Twist" (name given to the Fed's bond buying program launched in 2011) has exacerbated the situation. In my view, a currency crisis will bring about great opportunity for investors as we witness a return to a more stable situation. In the short to mid-term, investing in gold and other non-traditional assets with low correlations will be the key to preserving wealth in a coming inflationary economy.
Disclosure: I am long ADM, OTCPK:SCPZF, AGRO, COP, DBC, STO. I wrote this article myself, and it expresses my own opinions. I am not receiving compensation for it (other than from Seeking Alpha). I have no business relationship with any company whose stock is mentioned in this article.
Additional disclosure: I also own physical gold and silver.