Southwestern Energy Co. (NYSE:SWN) is an independent US oil and natural gas E & P company. It is a low political risk company with its assets in the US. It also has significant midstream assets (pipelines). It is another of the primarily natural gas producers that has only recently begun to engage in unconventional oil and condensate development. It has 4.018 Tcfe of reserves and a 7.1 Reserves/Production ratio as of the end of 2012. It has a record for success. It has averaged 38% annual production growth and 23% reserve growth for the last 5+ years. It has replaced 325% of its production annually at a F&D (Finding and Development) costs of $1.36 per Mcfe. SWN's lifting costs have also been amongst the lowest. The charts below give a good depiction of this outperformance.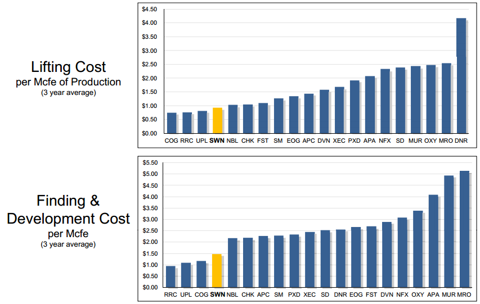 Click to enlarge
SWN ranks fourth in both F&D costs and in Lifting costs in this admittedly abbreviated list of prominent US oil and natural gas E & P companies. This is a big indicator that SWN is one of the most likely companies to survive profitably now. Plus it should become much more profitable as the price of natural gas rises in future years. The following chart shows the EIA forecast for future US Henry Hub natural gas spot prices under a variety of circumstances.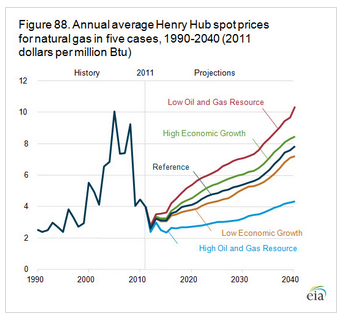 This chart may significantly underestimate the future prices of natural gas. The following chart from Risked Revenue Energy Associates shows that US demand will likely reach equilibrium with supply in 2016. After that demand is expected to exceed supply slightly. If economic growth has returned to a more normal level by then, natural gas prices should rise considerably in the subsequent years.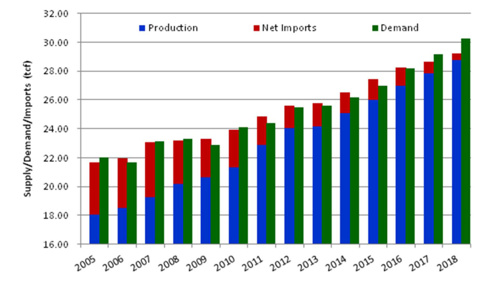 Click to enlarge
Further the above chart does not consider all of US demand. There are many other factors. Many groups are trying to push natural gas use for transportation such as for large trucks. This demand has been growing steadily. Some cities' buses and taxis already use natural gas. Chesapeake Energy (NYSE:CHK) is using natural gas for its trucks; and it is helping to establish a CNG (Compressed Natural Gas) service station supply chain. The ramp up for this use may be slow now; but it is expected to grow much more quickly in the future as the following EIA chart shows.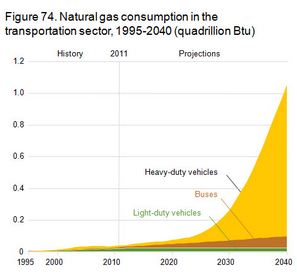 Natural gas use for electricity generation is expected to rise too. Mexican demand for US natural gas has surged 92% over the past five years; and new export projections may mean Mexico will take up to 10% of all US natural gas production in the near future (approximately 7 Bcf/d in the near term). On top of this many LNG (liquefied natural gas) export plants are currently planned to go into operation by 2020. The first, the Cheniere Energy (NYSEMKT:LNG) plant, is slated to go online in Q4 2015 with a capacity of 2.2 Bcf/d. The plants slated to follow are expected to bring the US LNG export capacity to 19.6 to 21.1 Bcf/d by the end of the decade. This will be a huge lift to demand; and the prices in other geographical areas will likely ensure that prices will be quickly brought to a much higher equilibrium point (see chart).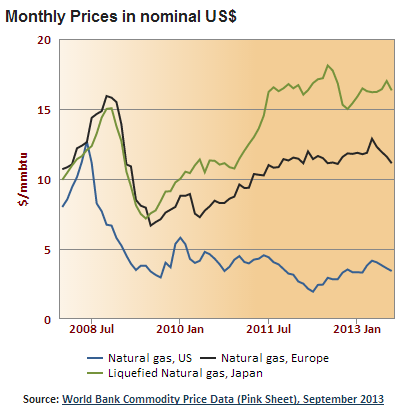 As you can see from the chart above the European prices for natural gas are approximately $11+/MMBtu. Japanese LNG prices are approximately $16+/MMBtu. These are both much higher than US prices, which are currently below $4/MMBtu. It only makes sense that a much higher US export capacity will push US prices much nearer the European prices of $11+/MMBtu. This could start to happen as soon as late 2015.
The historical ratio of oil prices per barrel to natural gas prices per MMBtu are also currently far from their historical norms. One barrel of oil is the energy equivalent of about 5.8 MMBtu. Historically the price of a barrel of oil has ranged from a multiple of 6 to 12 times the price of 1.0 MMBtu. This makes logical sense. However, as the chart below shows, that multiple has gotten distorted in the US due to the boom in unconventional natural gas in recent years.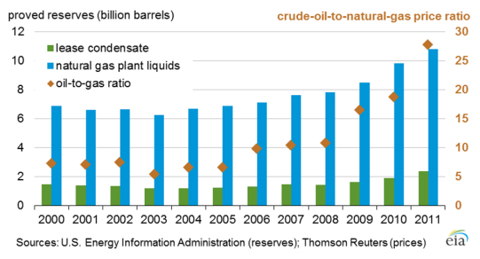 Click to enlarge
The ratio is currently about ($102.92/Nymex barrel)/($3.506/MMBtu) = 29.36 MMBtu/barrel of oil as of the close of the Nymex on October 4, 2013. Using this logic, the price of natural gas can be expected to approximately triple relative to oil just to get the energy equivalent of natural gas back into rough alignment (into the 6 to 12 multiple range) with the price of oil. The secular growth in energy demand worldwide is sure to accomplish this in the near future.
Of course some might point to SWN's huge losses last year. However, these stemmed from the write down of $2.97B in proved oil and natural gas properties due to the low price of natural gas. That caused the company to report losses per share of $14.24. Without those charges, SWN made $2.15 per share in 2012. It produced $713 million in operating cash flow. The good news is that those were accounting adjustments, not losses of actual physical reserves.
In the US reserves are calculated based largely on the price of natural gas and the economics of producing it. The reduced amount of natural gas reserves did not actually disappear; and those reserves are likely to be restored as the price of natural gas trends upward in future years.
The BP long-term energy forecast chart below shows one view of the expected growth in natural gas demand.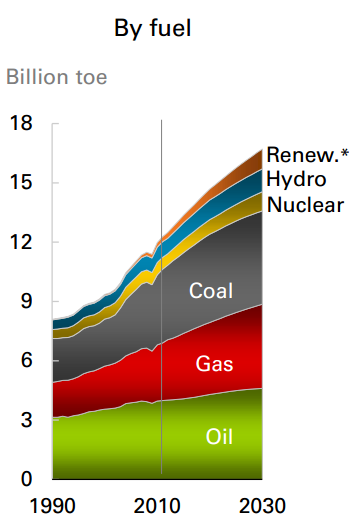 Investors can see there is huge expected growth in coming years; and the above is only one forecast. Many others see natural gas demand as growing much more quickly. Plus SWN is profitable in 2013 without the write downs of 2012. SWN made $1.06 in net income per share (or $0.96 in adjusted net income per share) for the first six months of 2013. SWN has an FPE of 16.24; and that can explode upward at almost any time as natural gas prices rise. Plus the company is growing production each year.
Fundamentally this low cost developer of natural gas is a great long-term buy. Energy is a secular growth area. The emerging market economies are seeing to this. Buying one of the most profitable, low cost producers is a no-brainer longer term. SWN's recent new unconventional field results tend to substantiate this view. With its huge land holdings, SWN is a virtual "sure thing" over the longer term. If you can afford to be patient, SWN may be a good to great stock for you. Plus it should be one that you do not have to pay a lot of attention to as long as you have a long-term view. It has a most recent quarter total debt/total capital ratio of 36.00%, which is a fundamentally sound debt ratio for this kind of company. Plus it has great assets.
The two year chart of SWN provides some technical direction for this trade.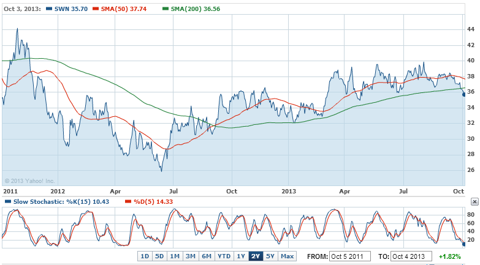 Click to enlarge
The slow stochastic sub chart shows that SWN is oversold. The main chart shows that SWN is roughly consolidating sideways at this time. It seems to be near the bottom of the current channel. This likely means it is a good buy at this time. However, the overall market has been trending downward. Energy futures also have been trending downward. It may be appropriate to average into SWN over the next year. I would think you would want to establish a good position before 2015; but you should have some time before that.
SWN is a buy. It has a CAPS rating of four stars (a buy). It appears to be a secular grower with great fundamentals that a lazy, but profit-minded, long-term investor should be interested in.
Note: Some of the fundamental financial data above is from Yahoo Finance and TD Ameritrade.
Disclosure: I have no positions in any stocks mentioned, but may initiate a long position in SWN over the next 72 hours. I wrote this article myself, and it expresses my own opinions. I am not receiving compensation for it (other than from Seeking Alpha). I have no business relationship with any company whose stock is mentioned in this article.