Historically, performance leadership amongst U.S. stock sectors has rotated in conjunction with inflection points in the overall economic business cycle. This cycle has four phases: Early-Cycle, Mid-Cycle, Late-Cycle and Recession.
Materials sector stocks tend to do best during Mid and Late-Cycle phases.
My two favorite sector names are Nucor Corp (NYSE:NUE) and International Paper (NYSE:IP).
While I believe the U.S. economy is in the Early-Cycle phase, I suggest we are close to a Mid-Cycle rotation; thereby placing Materials stocks into the limelight. If so, it's time to beat the rush. Investors cannot wait for an "all clear" signal. By that time, the sector rotation will be well underway, taking the bargains with it.
General Investment Thesis
Materials sector investments can be tricky: such stocks are commodity-based, and highly cyclical. Product differentiation is difficult. Therefore, I focus upon "best of breed" companies that possess the following characteristics:
A sound balance sheet
Demonstrated ability to generate cash throughout the cycle
Propensity for Dividend Growth
Good forward business catalyst(s)
While Nucor and International Paper operate in different industries, each possess the aforementioned fundamental characteristics.
Nucor Corporation
Nucor Corporation and its affiliates manufacture steel and steel products. The Company also produces direct reduced iron [DRI] for use in the Company's steel mills. Nucor is North America's largest steel recycling company. In 2012, it recycled approximately 19.2 million tons of scrap steel.
Balance Sheet
Arguably, NUE has the best balance sheet amid iron and steel peers. Corporate management proudly touts the firm's S&P "A" credit rating, tenaciously maintained while fighting through the recent long, deep downturn in the business.
Despite the tough climate, common equity per share has been growing. Cash and equivalents eased a bit as a result of significant capital investment; however, long-term debt has decreased over the same period.
Here's a seven-year summary graph, courtesy of fastgraphs.com, that outlines these selected balance sheet metrics: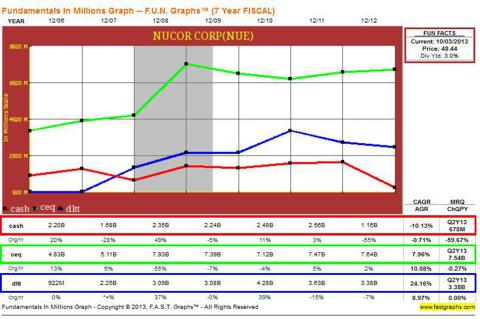 note: red=balance sheet cash; blue=long-term debt; green=shareholder equity
Nucor continues to enjoy excellent liquidity as evidenced by a current ratio of 3x, and a $1.3 billion undrawn credit revolver.
Cash Flow
Savvy investors often choose to evaluate Nucor through the prism of cash flow versus earnings. The following seven-year chart highlights cash flow and capital expenditure per share.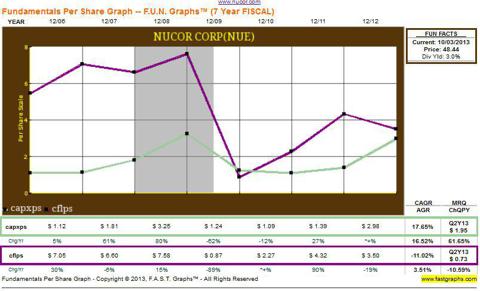 note: purple=cash flow/share; green=capital expenditure/share
NUE has managed to generate respectable, post-recession cash flows. In addition, the company has used the downturn to reinvest in the business. Capex has been rising. Investors should note that Nucor's mini-mill business model permits great capital expenditure flexibility: management can ramp capex up or down quickly.
Furthermore, it should be recognized that much of the recent business investment has been discretionary. Nucor management has elected to use soft conditions to re-invest in strategic projects that will enable the business to emerge all the strong when the industry recovers.
Recent examples include construction of a DRI (direct reduced iron) facility in Louisiana, a natural gas well venture with Encana Corporation (NYSE:ECA), and the purchase of NAFTA business Skyline Steel, a steel distribution company.
Dividends
Nucor Corporation is a Dividend Aristocrat. The board of directors has increased the dividend for the past forty consecutive years. The is a remarkable achievement for a cyclical steelmaking corporation. While recent increases have been small, the stock yields just over 3 percent today.
Business Catalysts
What distinguishes Nucor from other iron and steel companies, as well as many other Materials sector stocks, is a long-standing management focus upon flexible operations, being a low-cost producer, and an unwavering commitment to shareholders.
More specifically, NUE has used the downturn to embark upon two major projects mentioned earlier: the construction of a DRI plant in Louisiana, and a natural gas production joint venture with Encana Corp.
The Louisiana DRI facility project is the biggest of its kind. Direct reduced iron is essentially a steel feedstock. It's even cheaper than scrap steel. Here's an excerpt from a February 1, 2013 Wall Street Journal article outlining the process and advantages:
The plant uses natural gas to strip oxygen from iron ore to make high-purity pellets. Those pellets, called direct-reduced iron or DRI, can be combined with scrap and melted to make steel-at lower cost than using scrap alone. At current gas prices, DRI can generate iron pellets at a cost of $260 to $280 a ton. Scrap steel is currently trading at around $390 a ton.

When completed, the plant will mark the return of this type of manufacturing-the last DRI plant left the U.S. in 2009-and be the second largest such facility in the world, behind a plant in Iran. Nucor's Louisiana DRI plant will process 2.5 million tons of DRI pellets a year, compared with well below 2 million tons at most of the roughly 100 DRI plants around the world.
The facility is also a big bet on natural gas. Nucor management has doubled down on gas as their future American energy source. The company will help protect its U.S. iron and steel making capacity against potential future escalation in U.S. natural gas prices by taking a 50 percent working interest in onshore gas wells to be drilled and operated by Encana. The deal builds upon a smaller, 2010 agreement between the companies. The new JV arrangement is expected to supply Nucor with enough natural gas to fuel all of its North American operations.
These two catalysts have the potential to put Nucor into a dominant role as the low-cost producer of steel and steel products.
International Paper Co
International Paper Company is a global paper and packaging company, with primary markets and manufacturing operations in North America, Europe, Latin America, Russia, Asia and North Africa. The Company operates in four segments: Industrial Packaging, Printing Papers, Consumer Packaging and Distribution.
Balance Sheet
IP runs a strong balance sheet, too.
Notably, the February 2012, $4.5 billion acquisition of Temple-Inland Corporation has resulted in a relative drop in cash and equivalents, while long-term debt increased. Senior management immediately focused upon the change, having stated the company intends to pay down $1 billion in debt this year.
Overall book fundamentals remain solid. Post-recession shareholder equity remains up. While the 1.3x long term debt-to-equity ratio is elevated, the return-on-equity is well above the 15% mark.
Liquidity as measured by the current ratio is good: 1.6x. The 2013 1H annualized interest coverage ratio of 2.6 further supports there is ample cash to pay debt.
Here's a seven-year fastgraph.com balance sheet recap: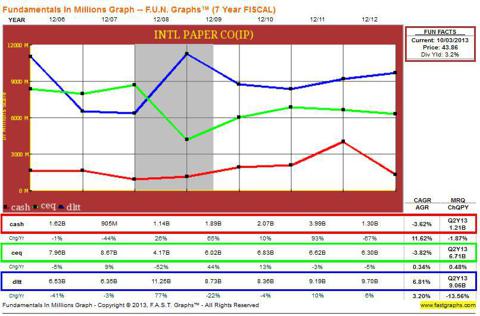 note: red=balance sheet cash; blue=long-term debt; green=shareholder equity
Cash Flow
Post-recession, International Paper management has stated their intent to run for cash. CEO John Faraci summed it up at the September 12, 2013 UBS Global Paper and Packaging conference:
The real story about International Paper is its [operating] cash flow story......In the 2007 period, we were averaging about $700 million a year. A big chunk of that was coming from land sales. We knew that was going to end, so we decided to end it quickly by selling the land.....Since the transformation plan has basically been completed, we've stepped up our capability to generate free cash flow on a smaller capital base which has enabled us to not only grow our free cash flow but to prove our returns on invested capital into the cost of capital range.
The following chart tracks the story. Operating cash flow per share (the purple line) and capital expenditures per share (the greenish line) are highlighted.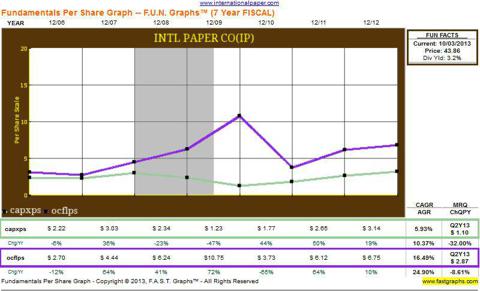 note: purple=operating cash flow/share; green=capital expenditure/share
Senior leadership has set expectations that IP will generate cash flows of over $2 billion in 2013.
Dividends
International Paper has been a great dividend story. After cutting the quarterly payout to $0.08 a share in 2009, management subsequently promised to restore the quarterly dividend to at least $0.25 share within three years. They made good on the commitment, and have continued to increase the cash payment still higher. Here's CEO Faraci's comments on the dividend at the aforementioned September UBS conference:
We talked about International Paper being a cash flow story, and then taking that cash and allocating it in a balanced way, and yesterday we announced a 17% increase in our dividend in the fourth quarter of this year to [an annualized] $1.40, and that moved us closer to our target dividend of 30% to 40% of free cash flow over the cycle, and what you see here is our free cash flow in the second quarter was about $1.8 billion annualized and $1.40 dividend puts us in the 30% range.
The current dividend yield is 3.2 percent.
Business Catalysts
The TIN merger marked a defining moment for International Paper. The 2012 deal created two significant opportunities:
It provided the platform for step-changes in top and bottom line growth;
It made IP the largest and most dominant player in the paper and containerboard industry. In a commodity business, economy of scale is key: bigger is better.
In addition, International Paper's specific geographic presence places it squarely in a global sweet spot. While over three-quarters of its business are related to North American operations, IP has concentrated overseas business in China, Latin America and Russia; all strong long-term, emerging growth markets.
Final Observations and Conclusions
Materials sector companies Nucor and International Paper have management teams that follow similar scripts:
Emphasize cash and free cash generation
Focus upon maintaining a sound balance sheet
Commit to strong and growing shareholder dividends
Invest heavily in the business during weak times in order to capitalize on the eventual up-cycle
Recognizing that cyclical Materials sector stocks ride the economic business tides, investors who believe the American economy is beginning to rotate from Early-Cycle to Mid-Cycle rotation may wish to stake early positions.
The combination of demonstrated cash generation capabilities and management's propensity to return cash to shareholders via dividends make NUE and IP likely investment choices for those expecting an eventual North American business renaissance.
Disclosure: I am long NUE, IP. I wrote this article myself, and it expresses my own opinions. I am not receiving compensation for it (other than from Seeking Alpha). I have no business relationship with any company whose stock is mentioned in this article.