An SA reader recently asked me how I find stock ideas and, as I tried to explain here, there are many ways. How I stumbled across Daktronics is an example of the more unconventional way -- natural curiosity combined with one of my character flaws (more on that later). I have to mention a few things about myself for the point to make sense. I'm originally from New York City and had been awestruck by those humongous signs in Times Square ever since I was a kid. I'm obviously interested in the stock market, thus, also in exchanges and the cool ticker boards at the NYSE (wifey won't let me get one for the living room, though I tried). I've also been an avid footballer (aka., soccer fan and player) since I was old enough to walk and I was lucky enough to attend a couple World Cup games at one of the iconic stadiums in the U.K. I'm pretty sure it was Wembley, but it was a very long time ago so I'm not even sure. Either way, they had the cool huge 'signs' too. Anyway, the point is that, partially for a reason you'll understand later in the article, I'm one of those people who sees things I find interesting and follows up on them relentlessly until I find what I want. That's where Daktronics (NASDAQ:DAKT) comes in. You can deduce the rest so I'll not bore with even more personal detail, but get back to the matter at hand of stock investing. The point is that's how I initially found Daktronics as a potential investment idea -- simple curiosity amplified by a sometimes useful character flaw.
Company Overview:
Daktronics was founded in 1968 by Drs. Aelred Kurtenbach and Duane Sander, professors of electrical engineering at South Dakota State University in Brookings, SD. The company began with the design and manufacture of electronic voting systems for state legislatures. In 1994, Daktronics, Inc. became a publicly traded company.
Daktronics is a supplier of electronic scoreboards, large electronic display systems and related marketing services, digital messaging solutions, software and services for sporting, commercial and transportation applications. The company has five business units: Commercial, Live Events, Schools & Theatres, Transportation and International Operations. See the full profile at Reuters or the company website for details.
Company Highlights:
2014Q1 EPS increased Q/Q, decreased vs. prior-year same quarter
2014Q1 revenue increased Q/Q and vs. prior-year same quarter
current 3.2% dividend yield and strong record of special dividends
notable hedge funds reported positions in June 13F filings
low trading volume with daily average of < 80,000
analysts' current consensus price target $12.50
Griffin Securities rates "buy" with a $14 price target
Needham & Co. rates "hold" without a published price target
Dougherty & Co. rates "neutral" without a published price target
Why Look At Daktronics?
First, I have to clarify the 'character flaw' reference I made above. As anyone who knows me will attest, although I've never been officially diagnosed, I'm fairly certain that I'm CDO … that's kinda like OCD (Obsessive Compulsive Disorder), except the letters are in alphabetical order, as they should be. Since you're reading Seeking Alpha, it's fair for me to assume that you're sharp enough to get that joke. Anyway, I mention that about myself because one of the things it means in the context of investing is that I spend practically every waking hour scouring financial reports, research reports, SEC filings, etc., etc.
As a result, one of the things that initially caught my attention about DAKT is that it's held by some notable hedge funds including Royce, Renaissance, Gotham and Citadel. Hedge fund ownership is an interesting factor that often encourages me to dig deeper, but I don't consider it part of an investment thesis for several reasons. First of all, hedge funds are in a different game than individual investors. That's partially because they're dealing with immense amounts of money so they only need a tiny move in a stock in order to reap substantial profits. For that reason, hedge funds often only get into a stock for a quick trade, which is not my bag. Hedge funds also tend to have access to far more and better information than individual investors. So, they can much better judge when to get in and out of a quick trade on a tiny price move that's enough to make profits for them. Finally, many hedge funds simply don't perform as well as many people think. So, it's not a great idea to follow hedgies into potentially losing trades that they're much better equipped to absorb losses from.
The point here is that significant hedge fund positions can be a worthwhile attribute, but only in combination with other more important strengths.
First, The Good News:
Another thing that drew my attention to Daktronics is that the company delivered a decent expectations beat on both the top line and bottom line when it reported 2014Q1 results. Since then, however, the average estimates for next-quarter and full-year earnings have been declining somewhat. That's not particularly surprising since, as you can see from the following chart, earnings have been pretty erratic for the company.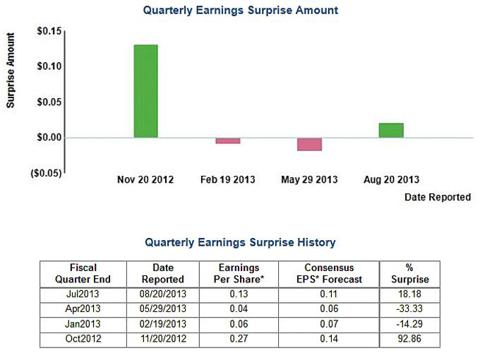 Click to enlargeSource: NASDAQ
However, Daktronics president and chief executive officer, Jim Morgan, commented on the erratic earnings issue during the most recent call:
"We are pleased with our success in booking orders during the quarter. Last year's first quarter was a record level of orders, so it is a tough comparable. We were able to achieve a higher level of sales, and also ended with a slightly higher backlog as compared to the fiscal 2013 first and fourth quarters".
Now, The Less Than Good News:
If you'd like to do your own calculations, see the graph below for metrics like the 5-year earnings growth projection of 10%. In my very conservative DCF calculations, that 10% EPS growth rate results in a fair value for DAKT that is actually slightly below the current share price. There's not enough disparity for me to argue that the stock is overvalued, but not enough to argue that it's significantly undervalued either.

Click to enlargeSource: FinViz
To be fair, I must stress that I always use very conservative Discounted Cash Flows calculations. For example, if I were to reduce the very conservative 12% discount rate that I always use to the 10% discount rate that many people use, that returns a fair value estimate slightly above the current share price. I get a similar result if I stick with the conservative 12% discount rate, but bump the 5-year EPS growth rate to 15%, versus the projected 10%. The point is I'm not arguing that the stock is overvalued - I just don't see anything to support an argument that the stock is significantly undervalued. With that said, if the 5-year earnings growth turns out to be far higher than current projections, my fair value estimates would get blown out of the water.
The 2.14 PEG ratio also implies overvaluation. However, even though I very much like the PEG ratio as a valuation metric since it's more forward looking than a P/E ratio, a drawback both ratios share is that they disregard dividends. Therefore, stocks that pay dividends often have a PEG ratio higher than the general < 1.00 target. So, I did some additional calculations to factor in the 3.3% yield and I still came up with a 1.60 PEG ratio. Especially since the EPS growth isn't projected to be especially robust, that dividend-adjusted PEG still isn't low enough to argue that the stock is significantly undervalued.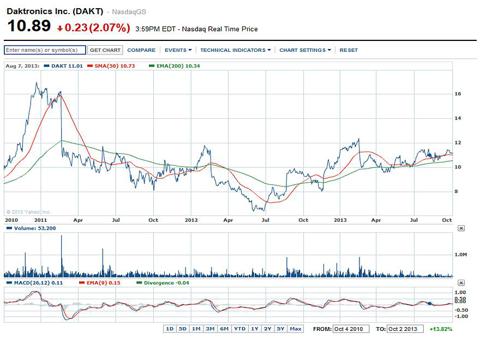 Click to enlargeSource: Yahoo Finance
Conclusion:
There have been some encouraging 'signs' at Daktronics over the past year or so and the company is clearly the leader in its industry. With a 3.2% dividend yield and track record of special dividends, the company seems at least worth keeping an eye on for income investors particularly. However, those strengths are just not enough for me yet. Considering the current valuation and erratic earnings, my current plan is to periodically revisit the stock to look for 'signs' of more sustained trends developing in bookings, revenues and earnings.
As I mentioned with the recommendations in my recent Aceto Corporation (NASDAQ:ACET) article, Ceco Environmental (NASDAQ:CECE) article and Manitowoc (NYSE:MTW) article; the Russell 2000 small-cap index is currently breaking out to new all-time highs. In anticipation of that scenario, my focus has been on small-caps for most of this year (note: Manitowoc is now a mid-cap company). I expect small-cap outperformance to continue for some time so Daktronics remains on my list and I may follow up with a buy recommendation at some point.
So, for now, I guess the main takeaway is that we're all surrounded by potential stock ideas every day … Signs, Signs, Everywhere There's Signs … if we just pay attention … and happen to be CDO enough to relentlessly chase them down and kill them.
Thanks for reading. I'll try to answer any questions you might have in the comments section and I always appreciate feedback, even if it's just to let me know whether or not you found the article useful.
Disclosure: I am long ACET, CECE, MTW. I wrote this article myself, and it expresses my own opinions. I am not receiving compensation for it (other than from Seeking Alpha). I have no business relationship with any company whose stock is mentioned in this article.