A few weeks ago I wrote an Another Good Reason To Own Shares In Digital Realty in which I introduced Digital Realty's new Investor Relations Senior Vice President, John Stewart (he started work on September 9th). In a Q&A format I asked Stewart a few questions surrounding Digital Realty's (NYSE:DLR) share undervaluation as I was hoping to gain insight into the declining price and get a better understanding of Stewart's role at Digital Realty.
I asked Stewart about the short interest and bearish contingent that has pulled the company's stock price down where it sits at $52.50 today. More specifically, when I asked Stewart if there is "any substance" to the short argument, he explained:
Well, Digital's 2Q13 results were candidly not well received by the market, and to the extent investors were disappointed by those results, there may have been some justification for the uptick in the short interest. I clearly disagree with the short thesis, however - particularly at the current stock price - or I would not be joining the company.
So clearly there has been angst in Digital's share price as investors have had to regain investors' and the public's confidence. As Baruch Lev, author of "Winning Investors Over" explains:
It is the most critical issue facing corporate executives in the early twenty-first century.
As I read over Lev's book it became clear to me that his book is "a survival kit, outlining systematically the way managers can regain and sustain investors' confidence" and so I decided that I would attempt to build my case for "dollar cost averaging" (maximizing profits to include the strategy of buying during a downtrending market and buy more as the price falls) Digital Realty shares. After all, my initial purchase price was $52.73 and I am beginning to feel like there may be continued volatility that could provide an opportunity to increase my stake, especially when I see a better "margin of safety."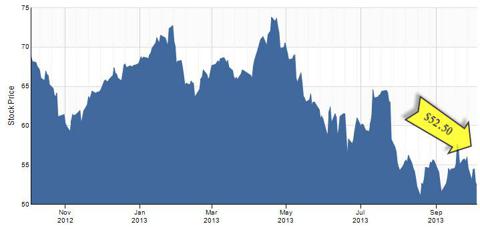 I Never Lost Trust in Digital Realty
Personally, I never lost trust in Digital Realty; however, I was glad to see John Stewart become a valuable part of the corporate management team. As Baruch Lev explains:
…perceived share undervaluation and low company visibility are the major reasons for hiring IR consultants.
Indeed Stewart came on board at a critical time after having witnessed the Highfield's short thesis - that hasn't gained traction since. Lev explained that to "win investors over" company's shouldn't "waste time and money fighting short sellers… if the fundamentals are justified, guide investors on earnings and sales and even operating data, such as expected growth."
Furthermore, Lev wrote that "disengagement from investors is not an option" and "practically every growth company sooner or later sees its core business mature and ultimately decline, and rejuvenating the growth so craved by investors is difficult."
World's Largest Data REIT
Digital Realty is one of the 20 largest publicly-traded U.S. REITs with an equity market capitalization of approximately $7.3 billion. The diversified portfolio of 127 properties (23.7 million square feet) is located in over 30 markets throughout North America, Europe, Asia, and Australia.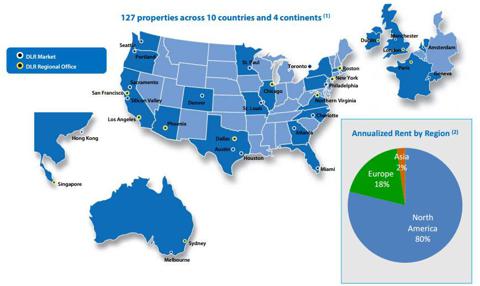 Digital's high quality tenant base - approximately 2,000 leases with 600+ tenants - includes leading global companies across various industries. Here is a snapshot of Digital's Top 10 Tenants: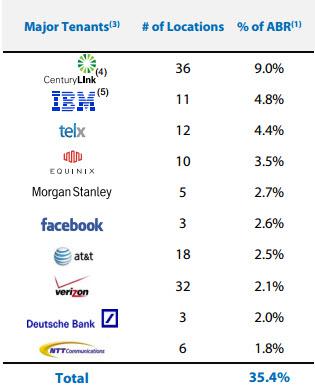 Digital has a world class tenant roster focused on a variety of customer service and IT service functions. Here is a snapshot of the tenant type based on annualized base rent (or ABR):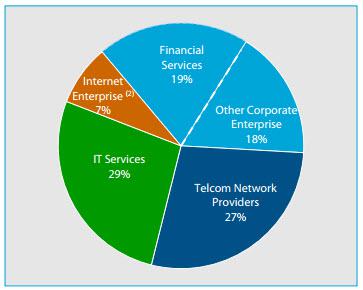 The Advantages of Scale, Expertise and Operating History
Digital Realty has a proven management team with a track record and operating history. The company has an average of 25 years of combined experience in the real estate and data center industries and Digital was the first public REIT focused on the data center space. Digital has consistently met or exceeded midpoint of initial FFO guidance since 2007.
In addition, Digital has a track record for design, development, and operational expertise. The company has developed over 3.7 million sf of data center space utilizing sales, engineering, design and construction, and asset management teams to effectively collaborate on innovative customer-driven solutions.
Digital has key relationships with utility companies and network carriers that in turn procure power cost effectively for new and existing properties. Scale results in favorable pricing for customers and Digital's global footprint offers carriers a rich environment to meet wide range of customer connectivity requirements.
Digital's Low Cost of Capital Advantage
Digital is the only investment-grade rated data center REIT (BBB) and the company's conservative capital structure, stable liquidity and cash flow provide consistent access to capital support financial strength. That flexible strategy enables acquisition and development programs to drive NOI growth and attractive risk-adjusted returns. Here is a snapshot of Digital's financial metrics: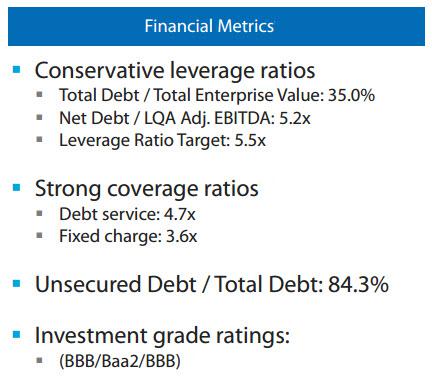 Here is a copy of Digital's current capital structure (as of August 30, 2013):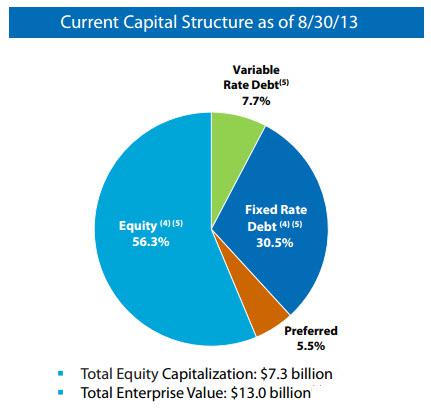 Digital has strategically financed portfolio expansion by match funding on the public equity and unsecured debt markets. Since 2008 Digital has raised over $3.8 billion of equity: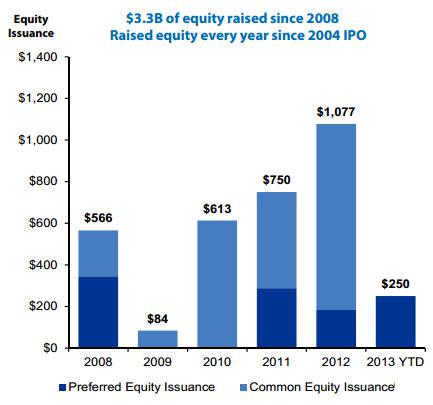 On the debt side, Digital has issued $4.18 billion since 2008 - a 196% increase in unsecured credit.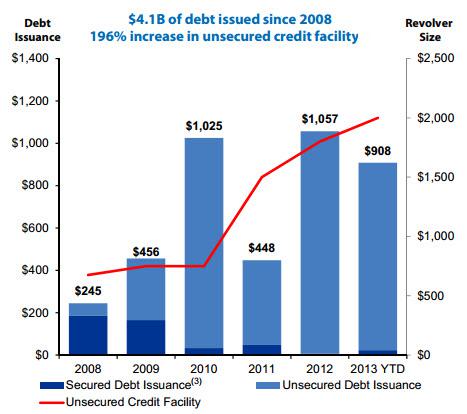 In addition, Digital has a $2 billion global credit facility: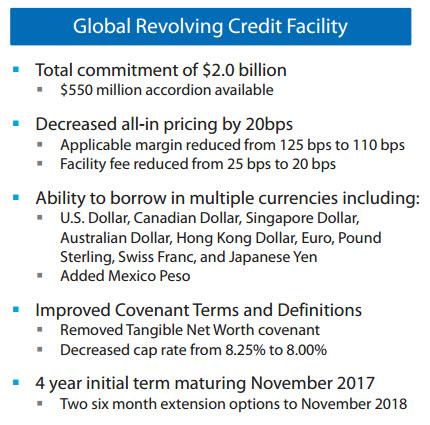 As well as a $1 billion multi-currency term loan: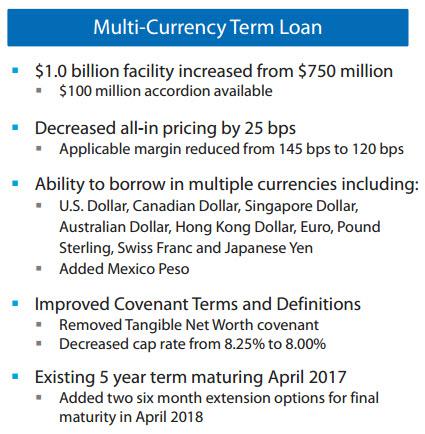 Digital also has an attractively well-laddered debt maturity schedule: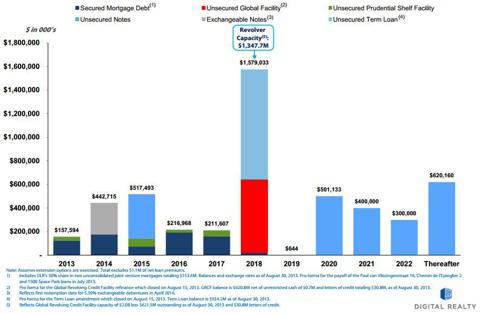 Now Let's Consider Digital's Track Record
Excluding non-date center properties, same store occupancy for Internet Gateway and Corporate Data Center facilities was 94.3% in Q2-13 (compared with 94.9%in Q1-13). Digital's average original lease term is 11.8 years and the average remaining lease term is 7.1 years.

Digital has a strong track record of consistent earnings growth as evidenced by the historical Adjusted EBITDA growth of 29% (compounded annually from 2005-2012):

Also, the growth is evident when reviewing the 18.4% annual Funds from Operations (or FFO) growth from 2005-2012:

Digital increased the 2013 common dividend to $3.12 per share or 6.8% over 2012 and the company has delivered 15.3% compounded annual dividend growth since 2005. Digital's dividend policy is to pay out a minimum of 100% of taxable income and maintain an Adjusted Funds from Operations (or AFFO) payout ratio of less than 90%. In 2012 Digital's dividends were classified as 91% ordinary income, 1% capital gain, and 8% return of capital. Currently Digital's dividend yield is 5.94%, much higher than its peers:

Here is a snapshot of Digital's AFFO, dividend payout ratio, and dividends paid (2006-2012):

So Why Should Digital Continue to Grow?
First, let's consider the growth in date usage and the evolution of IT.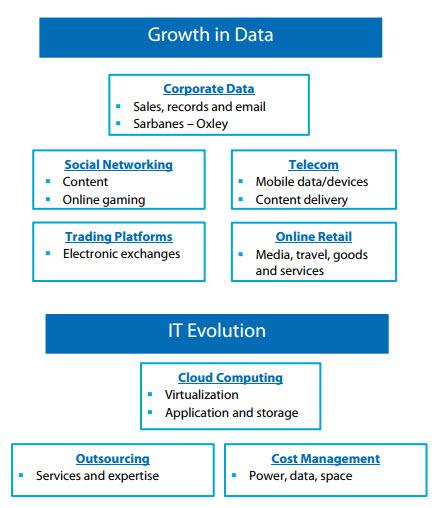 Now, let's examine the global IP traffic that is projected to grow by around 29% CAGR.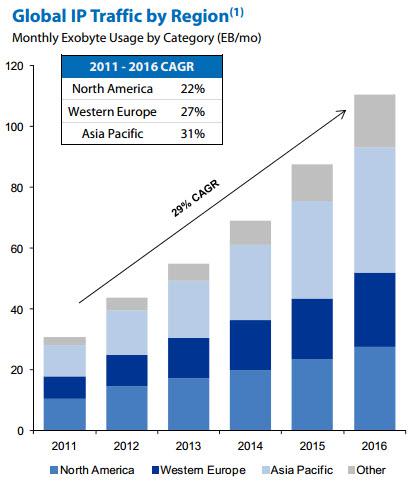 Since 2006 Digital has completed around 4 million square feet of improved data center space and the company currently has 2.8 million square feet held for development. In short, Digital has become the "go to" data landlord and its scalable development platform has become the "best in class" brand.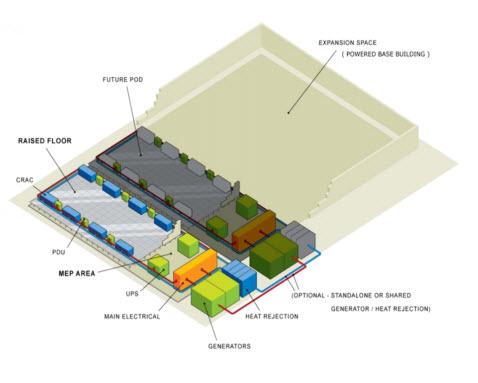 Digital's investment capital (i.e., development program) is expected to generate $98 to $120 million of incremental, stabilized EBITDA growth in 2013. Here is a snapshot of the actual (2012) and guided (2013) cap ex for the respective years: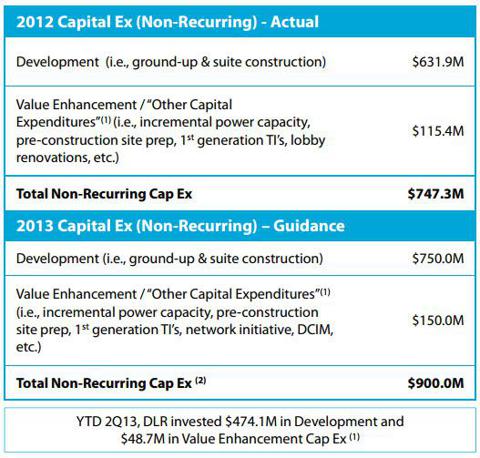 Accordingly, Digital's rigorous maintenance platform ensures reliability and prolongs the life expectancy of the company's assets: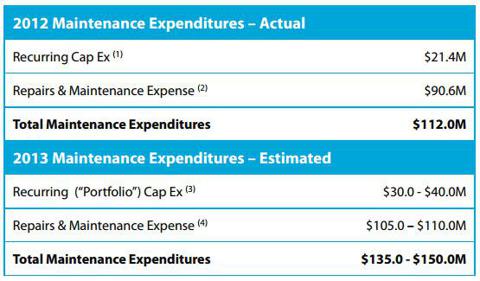 Digital has well-managed lease rollovers with in-place contractual increase and expense pass-throughs. The company has 2.5 - 3.0% annual cash rent increases on in-place leases and approximately 74% of leases with non-utility expense pass-throughs (tenants responsible for power costs).

Why Am I Nibbling at the Bottom?
As I explained in a previous article, "Mr. Market has responded as evidenced by the fluctuating price of Digital, I must stand behind by conviction that the data center leader is a STRONG BUY. As a long-term investor, I believe that the attractive pricing ($57.32) has created a window where I can buy on bad news. Digital's fundamentals remain solid and the shares are now trading at cheap valuation levels (P/FFO is 11x and below the normalized multiple of 14x)." Since I wrote that article, there hasn't been much news, with the exception of Stewart's hiring and a recent joint venture announcement with an investment fund managed by Prudential Real Estate Investors (a $369 million representing an accretive 6.7% cap rate). Let's take a look at the Fast Graph history: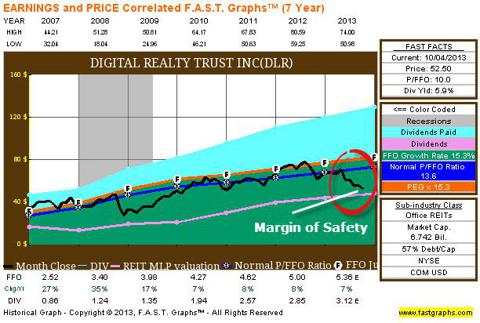 As you can, there remains a sound "margin of safety" in Digital Realty shares and the trending earnings fundamentals indicate that there is a reasonable discount associated with the current $52.50 common stock price. Now let's zoom into the 3-year FAST Graph history: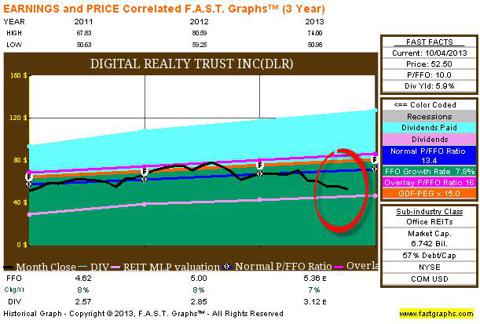 As you see, there's a strong indication that Digital is still a bargain and I see no reason that persuades me to back off of my conviction that the shares are trading at a nice discount. I'm not concerned by the low P/FFO multiple (10.9x) and, unlike the short contingent, I see no mystery surrounding the strong fundamentals. I also see no evidence that Digital is "cooking the books" and I believe that the company's convertible issue outstanding is a big part of the short selling as investors have hedged against the convertible. Digital has provided a high level of transparency in the form of a vast disclosure on the company's website that lays out capital spending in great detail (the bulk of which is new development).
Over the last twelve months Digital's P/FFO has declined by 31%, lower than the peers and most other equity REITs: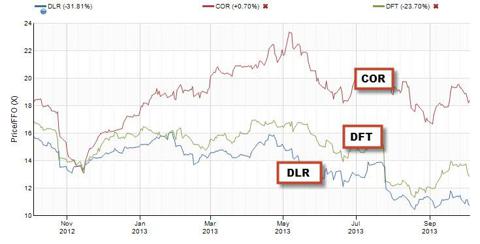 Of course, the converse feature is that Digital is now the highest paying REIT in the data sector and also one of the highest paying equity REITs today: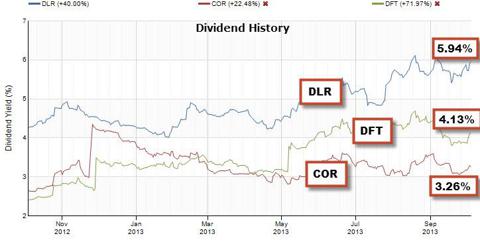 Let's put the peer group into perspective:

Now examine the peer group as it relates to the dividend history:

To sum it all up, I plan to hang onto Digital Realty. I believe that the fundamentals remain strong and I believe that a large part of the share decline has to do with "winning investors over." It took me a while to warm up to the immature asset class, but I feel as though I now have a good handle on the data sector and I'm willing to move up the curve to own a few more shares. Thanks to the new IR hire, I feel as though I have a wider "margin of safety" as the uncertainty about Digital (information risk premium) is now muted by the experience of the veteran industry expert (Stewart).
Finally, I thought this comment I found in the above mentioned book ("Winning Investors Over") would provide meaning to all readers, investors, and perhaps those reading at Digital Realty headquarters:
(IR Managers) should continually monitor Web discussions about the company. They don't need to comment on every rumor or opinion, but they should correct factual falsehoods. They should pay special attention to well-regarded discussants - bloggers with a large following and well-substantiated opinions. Managers should engage such opinion makers when their comments steer off base. The web provides a rare opportunity to speak directly to individual investors. Such investors rarely participate in conference calls, and only a few attend shareholder meetings, generally for food and entertainment. Directing simple but compelling messages about the company's strategy and the progress made to achieve its goals, via the Web, is an effective way of increasing the share of individual investors in a company's shareholder mix.


Sources: SNL Financial, FAST Graphs, Digital Realty Investor Presentation. Digital Realty's Q3-13 earnings realeas is on 10-29-13 and the earnings call is on 10-30-13.
Disclaimer: This article is intended to provide information to interested parties. As I have no knowledge of individual investor circumstances, goals, and/or portfolio concentration or diversification, readers are expected to complete their own due diligence before purchasing any stocks mentioned or recommended.
Disclosure: I am long O, ARCP, DLR, VTR, CSG, STAG, UMH, HTA, HCP. I wrote this article myself, and it expresses my own opinions. I am not receiving compensation for it (other than from Seeking Alpha). I have no business relationship with any company whose stock is mentioned in this article.