I have noticed a couple of themes emerging in dividend articles over the past year. One theme revolves around valuation, with some suggesting that dividend stocks were in a bubble or significantly overvalued. Another theme has centered on "high quality" companies, and whether investors need sometimes to "pay up" for quality.
Putting the two themes together very recently, there has been discussion about Coca-Cola (NYSE:KO) being a high quality company that never seems not to be overvalued. In the course of those discussions, it became clear that many feel that KO "always" trades at a premium valuation, so if you want to own it, you might as well accept that you'll need to pay up for it.
That got me wondering: What common dividend growth stocks fall into the same category - perpetually overvalued?
Of course, valuation has subjective elements, and no two investors may agree precisely on what a stock ought to be worth. The fair value of a stock may vary materially among investors who have different objectives and timeframes.
But a widely accepted valuation mechanism around here is that put forth by F.A.S.T. Graphs. So I decided to run the 59 most commonly held dividend growth stocks, one at a time, through that tool to see which ones seem to be always or usually trading at valuations that are higher than what F.A.S.T. Graphs presents as "earnings justified."
Clearly, the market has spoken for long periods of time about such stocks: The market is saying that they are worth more to own. This gap is easy to see on F.A.S.T. Graphs. Let's use KO as an example.
Coca-Cola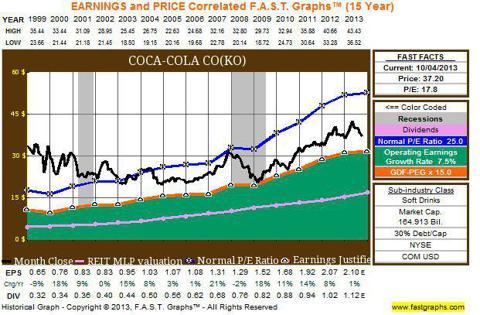 On this graph, as on all the others in this article:
· The orange line represents "fair value" as determined by F.A.S.T. Graphs, in this case by using a P/E of 15 applied to operating earnings.
· The blue line represents KO's actual average ("normal") P/E over the timeframe shown by the graph.
· The black line is KO's actual price.
As you can see, KO, for the past 15 years, has always been overvalued if your definition of fair value is a P/E of 15. Its price has never dropped below P/E 15, and indeed it has only dipped that low a couple of times in the 15 years.
It would be fair to argue that the market has spoken: That KO's fair value in actuality is represented by the blue line instead of the orange line, or perhaps by some value between them. KO's P/E over the past 15 years been 25 (see the blue band to the right of the graph), which is a full 67% higher than 15.
OK. Let's go through the 58 other popular dividend growth stocks and see which ones show a similar picture of being perpetually overvalued. It turns out that there are 13 of them (including KO).
Please note that for REITs and MLPs, I use FFO (funds from operations) as the "earnings" line rather than operating earnings. Not every stock is always overvalued as KO has been, but the following have been overvalued most of the time and are overvalued right now.
Kinder Morgan Inc. (NYSE:KMI)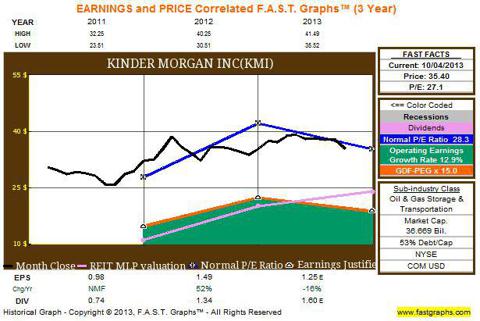 Emerson Electric (NYSE:EMR)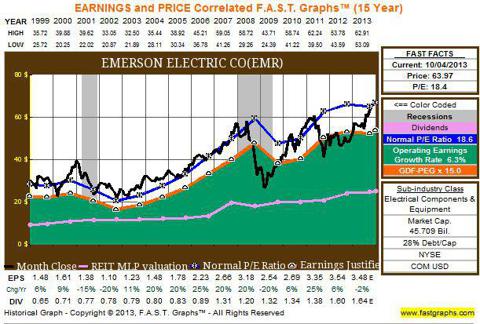 Leggett & Platt (NYSE:LEG)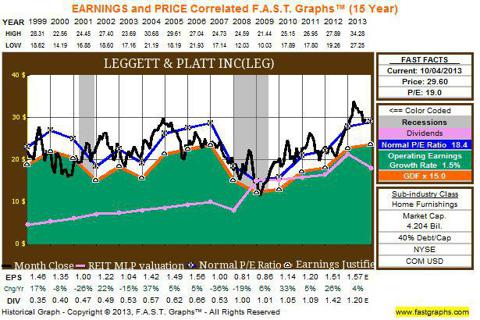 Sysco (NYSE:SYY)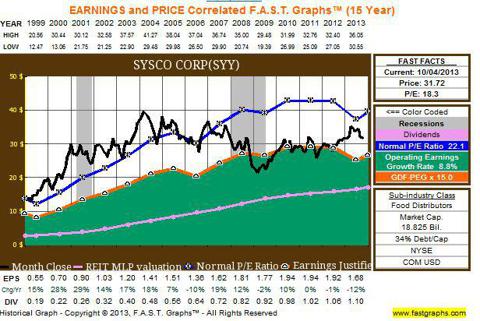 Waste Management (NYSE:WM)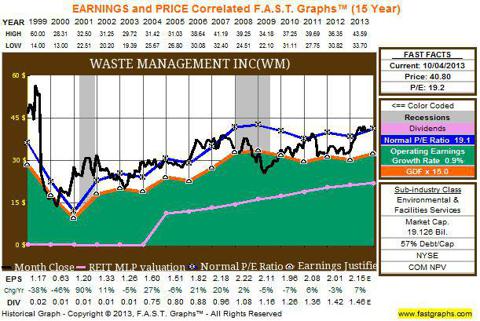 McDonald's (NYSE:MCD)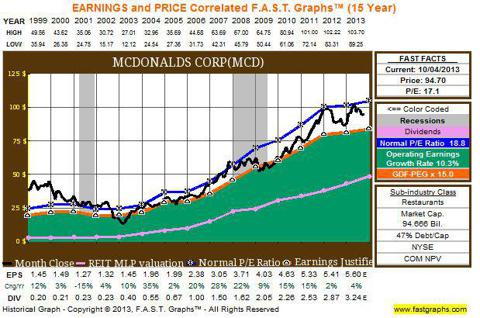 Clorox (NYSE:CLX)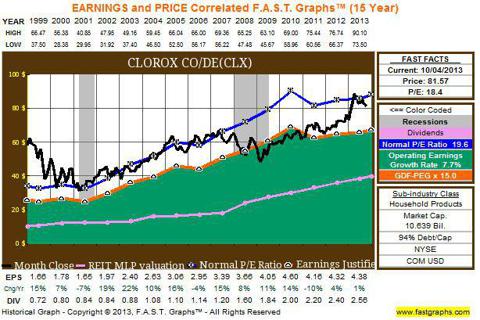 Colgate-Palmolive (NYSE:CL)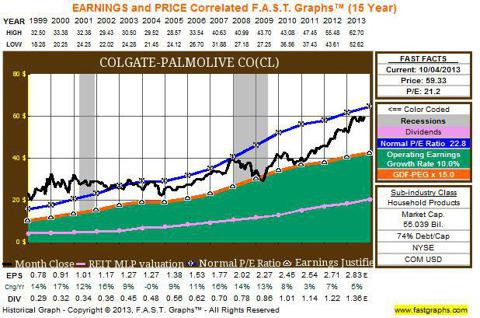 PepsiCo (NYSE:PEP)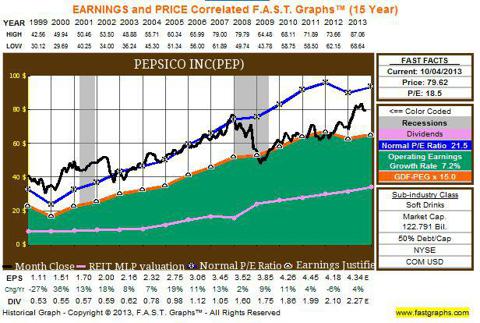 Automatic Data Processing (NASDAQ:ADP)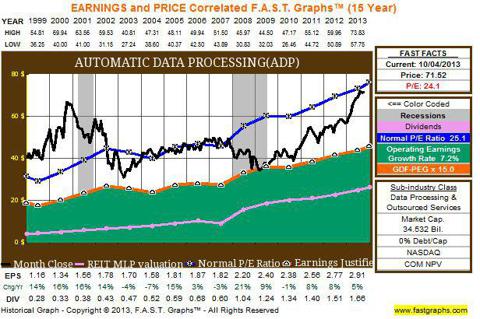 Paychex (NASDAQ:PAYX)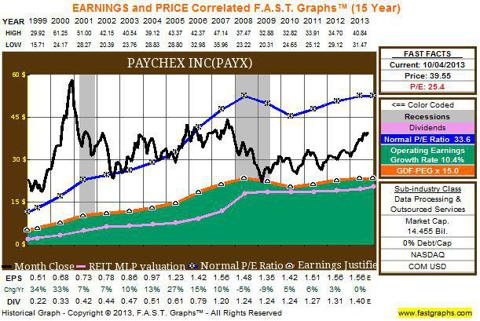 Verizon (NYSE:VZ)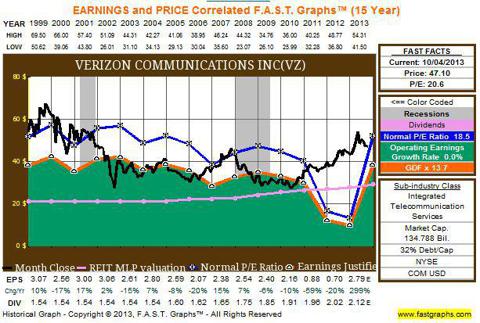 Comments and Conclusions
I used some judgment in selecting these graphs. Several other stocks displayed "normal" P/Es above 15. But I did not display them, because they have spent significant time under the orange line. My reasoning was that there have been plenty of opportunities to purchase such stocks not only below their blue-line valuations, but under their orange-line valuations too.
So merely having an historical P/E over 15, or being overvalued right now, did not qualify for display here. Probably the closest call in this regard was Verizon , which I chose to include above.
My takeaway from this is that there are some companies that are, truly, almost always overvalued by the normal precepts that I use (which include F.A.S.T. Graphs), and that if you want to own them, most of the time you will need to pay more than perhaps you would like.
I have liked KO for a long time. Shortly, I will purchase my first shares. It's time.
Disclosure: I am long PEP, MCD. I wrote this article myself, and it expresses my own opinions. I am not receiving compensation for it (other than from Seeking Alpha). I have no business relationship with any company whose stock is mentioned in this article.