Chip giant Intel (NASDAQ:INTC) has been one of the most disappointing names in the technology space in recent years. 2012 was supposed to be a great year, with high single digit revenue growth, but a terrible PC market killed those plans. Intel reported a year over year decline in 2012 revenues. As 2012 continued, it seemed as if 2013 was going to be a rebound year. We all know that hasn't happened. So now we are left to hope that 2014 is the rebound year, and the potential for that seems to be decreasing. Intel continues to frustrate investors, and today, I'll examine some reasons why Intel could soon be headed back to $20 a share.
Another forecast cut coming?
Intel's second half growth story fizzled when the company took down its guidance at the second quarter report. Intel guided to a Q3 revenue midpoint of $13.5 billion, which was below the $13.73 billion analysts were looking for. Intel also took down its full year revenue forecast and its full year gross margin forecast. Those negative takedowns more than cancelled out the positives, like Intel cutting its operating expense guidance, tax rate guidance, and full year capital spending plans. The key in the forecast was that revenues were now expected to be flat, instead of providing some growth. We saw that story play out plenty of times in 2012, and Intel has been known recently for giving below expected forecasts.
So I now have to wonder if Intel will essentially cut their full year forecast when they report Q3 results on October 15th. Actually, they probably won't give an actual full year forecast, because they will most likely only provide Q4 guidance, which you can add to the first nine months' results. So far, analysts are not calling for too much hope. Sterne Agee analyst Vijay Rakesh had a very negative Intel note recently. He stated that back to school PC demand has been virtually absent, and that Intel will have trouble offsetting PC weakness. Rakesh cut his PC sales forecast for Q4, and also believes that the Microsoft (NASDAQ:MSFT) deal with Nokia (NYSE:NOK) is actually a negative for Intel.
So when we look at current analyst estimates, the Q3 numbers aren't that bad. Analysts are at $13.47 billion for the quarter, which is below Intel's guidance midpoint, but not by a huge amount. What's more important is the full year forecast. Analysts currently are at $52.94 billion in 2013 revenues for Intel. That's a decline of $400 million or about 0.75%. Since Intel guided for flat revenues, you would almost think that analysts are expecting Intel's implied full year forecast at the Q3 report to be for "a slight decline" in 2013 revenues, maybe a 1% decline. When it comes to Intel, analysts essentially were pricing in forecast cuts at the Q2 report both in 2012 and 2013, and both times they were right. If Intel analysts lower their estimates over the next week or so as we approach Intel's report, I would be very worried about a forecast cut, or at least an implied one.
2014 looking less promising:
It's not just 2013 that analysts are starting to worry about. 2014 estimates have been coming down as well, and quite significantly. The following table shows how Intel's 2014 estimates have changed since they reported Q1 results in April.

*Growth numbers for 2014 based on the 2013 estimate at that point. As the 2013 numbers have changed, that will impact the growth number for 2014 estimates at the same revenue/earnings level.
So over the last roughly six months, analysts have cut their 2014 revenue forecast by about $1.3 billion. That's not exactly a small change. Earnings numbers have come down significantly as well, and that's a factor of two items. First, Intel's gross margin guidance coming down. Second, and I'll analyze this more in the next section, Intel is not buying back as much stock right now. When your buyback slows, your share count doesn't decline as much, and that hurts EPS.
With all of the negativity in recent years, plus an expected rebound that keeps getting smaller and smaller, is it a surprise that Intel's brand declined in value? The annual Interbrand survey is out, and Intel's brand value fell roughly 5% to $37.257 billion. Intel declined one spot to number 9 overall. Perhaps even more interesting is the fact that Intel was the only name in the top 14 to show a brand value decline in 2013, and Intel had the largest brand value decline in the top third of the 100 name list. Three tech giants in the top 8 of the rankings showed brand value growth of at least 20%. That was definitely not the case with Intel.
Capital return plans getting squeezed:
To this point, I have been one that has defended Intel in regards to the dividend not being raised. However, I have made the point that if Intel does not raise the dividend at its next payment, an effort to get back on a calendar cycle, investors should start to worry. Intel has paid out the same $0.225 per quarter dividend for six straight quarters now. Worries over the dividend were raised again recently after the recently declared payout.
It's not just the dividend though that investors need to watch closely. In recent quarters, Intel has slowed down its stock buyback plan, and quite dramatically I might add. Instead of buying back a billion or more a quarter, like they did in 2012, Intel is doing about $500 million or so a quarter so far in 2013. It will be very interesting to see how much they bought back during the third quarter. The chart below shows Intel's buyback in recent years.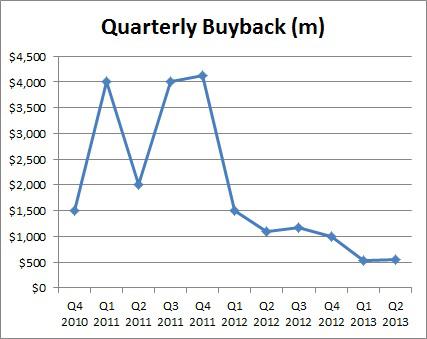 Intel did take on some debt about a year ago to fund this buyback, so at this point, they might not want to take on more debt. That is perfectly fine, although with a dividend yield close to 4% there is an argument to be made that they should add debt to buy back shares. If their after-tax rate would be less than the dividend yield, there's a nice cash flow savings that could be had.
Analysts too are starting to worry about Intel's capital return plans. Bernstein's Stacey Rasgon is worried that Intel has little headroom to raise its capital return rate, thanks to pressured revenues and increasing capital expenditures. Falling net income generally leads to lower operating cash flow. When you add in increased capital expenditures, that means free cash flow is pressured. That will have an impact on your dividend and buyback, and for Intel, that appears to be the case at the moment. As I've stated above, I have not pushed the panic button just yet, but if Intel's buyback remains slow and the dividend is not raised at the next payment, then I will be back to sound some alarms.
Technicals - the "death cross":
I don't use a lot of technical analysis in my work, but when I feel it is necessary, I include it. When it comes to Intel, the stock is approaching what's known as the death cross. This is a bearish signal generated when a short-term moving average (generally the 50-day) crosses below a long-term (usually 200-day) moving average. As you can see from the chart below, Intel is very near to the death cross.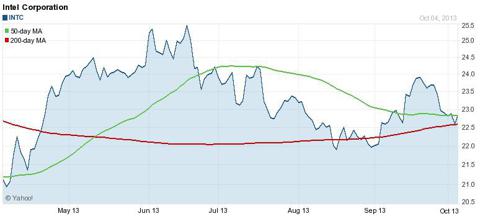 (Source: Yahoo! Finance)
Over the last couple of years, a couple of major tech names have hit the death cross. Here's some of their performances when reached:
Microsoft broke it in late 2012. The stock fell from the high $29 area to the low $26 area.
Cisco Systems (NASDAQ:CSCO) broke it in mid 2012 and the stock went from $17 to $15.
Apple (NASDAQ:AAPL) broke it in late 2012, and the stock went from $540 to $385 at its low.
Now past performance doesn't always correlate to future performance, but this is a very important technical area Intel is reaching. Should Intel cross it, there would seem to be a fair amount of downside from here. If you take a look at the chart below, the last time Intel hit the death cross, it fell from $26 to $19 with the late 2012 fall.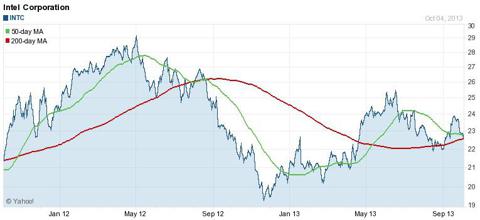 (Source: Yahoo! Finance)
Does the valuation even fit?
With a company like Intel struggling, and the possibility of a rebound being reduced each week it seems, you would think that Intel's stock would trade at a discount to many in the space. Well, you would be wrong. The following table shows some key statistics for the four top tier tech names that pay dividends. These are statistics for each name's either current fiscal year or future fiscal year, but all are periods ending in mid to late 2014.

*Non-GAAP estimates for EPS Growth and P/E.
On a forward price to earnings basis, Intel is actually more expensive than Apple! Now you might say that speaks volumes about Apple, but it also says something about Intel as well. The only advantage Intel has over Apple is the dividend yield, but Apple has the biggest buyback in corporate history. The power of Apple's buyback right now makes up for the lower dividend yield and then some. Right now, Intel's valuation is basically in line with many other top tier tech names, even if you transfer Cisco's valuation to GAAP. The key takeaway here is that Intel will definitely need a strong 2014 for the stock to rally. The current analyst average price target implies just a dollar of upside, and the median price target implies less than 1% upside. Right now, outside of Intel having a major surprise to the upside, I don't see how you can argue for that much P/E expansion, meaning Intel's upside will be based on the earnings number and not an earnings multiple. There's a big difference between the two.
Final thoughts:
Intel has disappointed on so many levels in recent years. The growth story has not played out, revenues have been stagnant to negative, and earnings have plunged. Intel's high dividend yield has been the only positive, but the lack of a dividend raise and slowing buyback has started to fuel concerns about cash flow. Intel's growth year is now expected to be 2014, although estimates continue to come down. Intel is also nearing a key technical point, which when breached the last time caused the stock to fall from $26 to $19. I don't think Intel will fall that much this time around, but there are a number of catalysts that could easily push Intel to $20 in the short term.
Disclosure: I have no positions in any stocks mentioned, and no plans to initiate any positions within the next 72 hours. I wrote this article myself, and it expresses my own opinions. I am not receiving compensation for it (other than from Seeking Alpha). I have no business relationship with any company whose stock is mentioned in this article.
Additional disclosure: Investors are always reminded that before making any investment, you should do your own proper due diligence on any name directly or indirectly mentioned in this article. Investors should also consider seeking advice from a broker or financial adviser before making any investment decisions. Any material in this article should be considered general information, and not relied on as a formal investment recommendation.