Introduction:
ACCO Brands is a company that operates in a struggling and consolidating industry. The general economic climate and the advancement of digital technology has left office supply companies competing for the overall declining sales of their products. While it may be quite unnerving to consider investing in a company that is facing consumer decline, I believe that ACCO Brands is unique and offers tremendous upside. With the completion of its relatively recent merger with Mead, it is now poised to complete its turnaround effectively and emerge victorious from this beleaguered sector. I believe that ACCO is undervalued and that it offers the patient investor an excellent buying opportunity.
History & Relevant Information:
ACCO Brands Corporation (NYSE:ACCO) was created on August 17, 2005, through the spin out of the office products division, ACCO World, from Fortune Brands (FO) and the subsequent merger of ACCO World with General Binding Corporation (GBND). It is the world's largest pure play office products company with a diverse product base. Some of the branded products in these branches include staplers, shredders, report covers, laminating machines, white boards, overhead projectors, filing systems, accounting supplies, keyboards, planners and calendars. There product mix features a number of well recognized brands such as AT-A-GLANCE® and Day-Timer®, Five Star®, GBC®, Hilroy®, Kensington®, Marbig, Mead®, Quartet®, Rexel, Swingline®, Tilibra®, Wilson Jones and many others.
On May 1, 2012, ACCO Brands merged with MeadWestvaco Corporation's Consumer & Office Products business. This merger is the single most crucial development in ACCO's recent history and will be a large focus of this article.
Valuation:
While there are many valuation metrics that seem to indicate that ACCO is relatively undervalued among its peers, there is one absolute metric that screams for attention. With a share price of ~$6.50, the company currently trades at a whopping ~20% Forward Free Cash Flow Yield- that is a lot of cash! When a company is generating that much cash per dollar invested it is imperative to make the following determinations. We must determine: a) whether this FCF run rate is sustainable, and, b) whether the company will use the cash for the best interests of the stockholders. If both of these two items check out, then investing in the equity of ACCO would seem to be the right move.
I will address the second question first. What will the company do with the free cash assuming that it is sustainable?
Management has issued guidance at the beginning of 2013 for FCF of $150 million and has clearly indicated that it will primarily be used to pay down the large amount of debt that is on the company's balance sheet.
2013 Q1 Conference Call:
Karru Martinson - Deutsche Bank AG, Research Division

Okay. And given the strong free cash flow that you guys generate here, you paid down some debt. When you look at your priorities, how should we think about cash -- free cash flow usage going forward?

Boris Y. Elisman - Chief Executive Officer, President, Chief Operating Officer and Director

The priority will continue to be to pay down debt. We would like to get to about 2.5 debt to EBITDA ratio. If we see some highly accretive or highly attractive acquisitions, we'll take a look at them but the priority remains to pay down debt.
This is really good news because even a quick glance at the balance sheet would reveal the company is highly leveraged.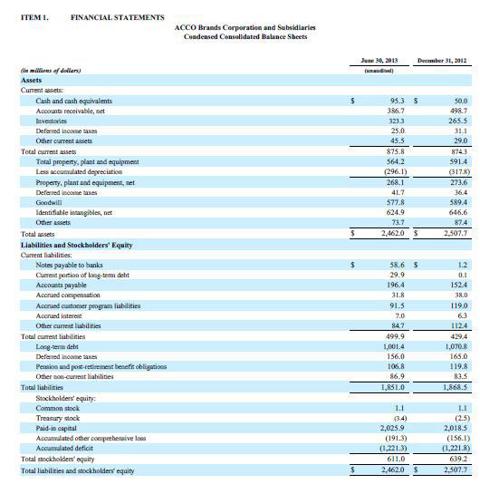 Click to enlarge
The company is loaded with debt. It has long term debt of $1.001 billion and a debt to equity ratio of 1.64x. What makes things worse is that there are virtually no tangible assets backing up the debt. Up until 2012 the company was negative equity. Currently, the company has $611 million of equity but all of it is goodwill and intangibles from the merger. The company actually sits at -$591 million net tangible assets.
The fact that ACCO intends to use virtually all of its FCF to deleverage is key. If the company is able to reach this goal of $150 million FCF per annum, it would be able to pay down a tremendous portion of its debt and easily reach the target debt ratio of 2.5x. This would mitigate the fear of a "liquidity crisis" and there would be very strong accretion to the equity side of the equation.
For the purpose of valuation I have modeled out a few scenarios going two and a half years out to get an idea of what the stock price should be if the company could maintain a run rate of $150 million FCF. I am using regular EBITDA (net of restructuring charges) for my EV/EBITDA multiple so as to add a layer of conservatism. In my second two scenarios I project some EV/EBITDA multiple expansion in year 3 which is warranted due to the deleveraging of the company. In all three scenarios I do not assume any growth of EBITDA or FCF. It is important to note that of the ~$75 million of FCF that the company has generated so far in 2013, $21 million has already been used to pay down long term debt.
Base Case with no growth and no multiple expansion and company paying down debt with 80% of FCF:
| | | | | |
| --- | --- | --- | --- | --- |
| | mid-2013 | 2013 | 2014 | 2015 |
| FCF | | 103.2 | 120 | 120 |
| EBITDA | | 250 | 250 | 250 |
| EV | 1750 | 1750 | 1750 | 1750 |
| EV/EBITDA | | 7 | 7 | 7 |
| Debt Portion of EV | 1001 | 897.8 | 777.8 | 657.8 |
| MKT CAP | 749 | 852.2 | 972.2 | 1092.2 |
| Debt/EBITDA | | 3.59x | 3.11x | 2.63x |
| Stock Price: | | 7.346552 | 8.381034 | 9.415517 |
With no growth, EV/EBITDA expansion of 8x in year 3 and company paying 90% of FCF:
mid-2013

2013

2014

2015

FCF

116.1

135

135

EBITDA

250

250

250

EV

1750

1750

1750

2000

EV/EBITDA

7

7

8

Debt Portion of EV

1001

884.9

749.9

614.9

MKT CAP

749

865.1

1000.1

1385.1

Debt/EBITDA

3.54x

3.00x

2.46x

Stock Price:

7.457759

8.621552

11.94052
With no growth, EV/EBITDA expansion of 9x in year 3 and company paying down with 95% of FCF:
mid-2013

2013

2014

2015

FCF

122.55

142.5

142.5

EBITDA

250

250

250

EV

1750

1750

1750

2250

EV/EBITDA

7

7

9

Debt Portion of EV

1001

878.45

735.95

593.45

MKT CAP

749

871.55

1014.05

1656.55

Debt/EBITDA

3.51x

2.94x

2.37x

Stock Price:

7.513362

8.74181

14.2806
The results are quite interesting. Based on this simple accretion model there should be a ~60% rise in the value of the equity triggered only by the deleveraging of the company. If we take into account that the peer average EV/EBITDA multiple is 9x and that the discount for ACCO is probably mostly due to the high level of debt that ACCO carries, then deleveraging the balance sheet would present 100%+ upside three years out. Any "bull" scenarios that would cause growth in EBITDA could obviously propel the stock price to much higher levels.
Obviously, this entire thesis is worthless if the company cannot reliably generate these or similar levels of cash going forward. That brings us to our first question.
Is the Free Cash Flow Sustainable?
While it is apparent that a no growth rate of FCF or even a slightly declining rate seems acceptable, a moderately declining rate could be disastrous. The concern is that the overall decline in the industry will lead to diminishing sales and margins which will ultimately lead to less cash flow. It is therefore imperative to have an understanding of ACCO's strategy and how they are coping with the headwinds. It is up to the potential investor to evaluate whether they believe that this strategy will ultimately prevail.
The company's first and most important move was its acquisition of the office supplies division of MeadWestvaco. This merger, which is the linchpin of ACCO's turnaround strategy, was done in the very complex form of a Reverse Morris Trust and it entirely changed the makeup of the company. In a nutshell, an RMT is when a parent company (in this case MeadWestvaco) spins off a division that subsequently acquires another company . This is done so that the merger can be tax free. Without getting into all the details of how an RMT works, there are a few salient points that must be mentioned.
It was Mead who approached ACCO with the interest of divesting its office supplies division. Although, the segment had been a cash cow, Mead wanted to focus its efforts on its core packaging business. Knowing that Mead initiated the deal can be taken as a positive sign.
The deal was truly fascinating in that it seemed to provide incredible benefit to both sides. It is not too common that both stocks jump the day that a merger is announced. The deal was a "match made in heaven" as it allowed the company to release NOLs that it had been carrying for a number of years. Since all of ACCO's interest payments were in the U.S. and could not be repatriated to the international operations segment which was 75% of the company's operations, there was nothing the company could do but sit on them. Since Mead had mostly U.S. operations, the merger allowed for the release of these NOLs. The result of this is that the new company will carry a lower cash tax basis for the next few years out.
ACCO had been unable to access the debt markets in the way in which it needed to and was receiving poor ratings from all the agencies. Through the merger, ACCO was rated on a going forward basis. ACCO CFO Neil Fenwick said the following at an executives' conference:
"In any case, pulling this transaction together … took the situation where they rated the business on a go-forward basis, we got Bb+ from S&P, also from Fitch, and a Bb flat effectively or Baa from Moody's. The net result of that was although I took my debt from just under $600 million up to just under $1.2 billion - so I doubled my debt, virtually - I actually pay less interest going forward than I did before. I think that is one of the more remarkable things about this transaction. Borrow $600 million for free as part of closing this transaction."
Due to the high cash generating power of the Mead division, the company received a nice bounce in cash flow. Neil Fenwick again:
When you look at this from a cash flow point of view… I was busy generating between $50 million and $60 million of net cash after paying interest and taxes. Mead, on a stand-alone basis, would have been adding a significant interest burden to that and paying reasonable taxes. On a combined basis I'm generating $150 million to $180 million of free cash. I've tripled my free cash flow generating ability as part of doing this transaction. As one of the rating agencies said when I finished making my pitch to them about why we should be significantly upgraded, it was something along the lines of, "Have I missed something or is this actually the sweetest deal I've ever seen?" I said, "I don't think you missed anything." It truly is something that puts us into a position where we're much larger, we have a lot more opportunities to grow as a combined business, and we generate an awful lot of cash from the go-forward basis that would enable us to [inaudible] make other acquisitions relatively rapidly."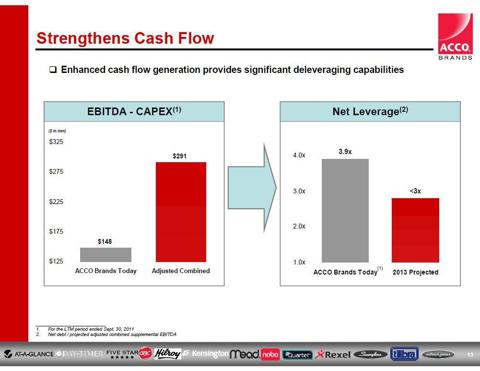 Click to enlarge
Source: Company Presentation
This deal was also a logical fit in regards to sales mix. ACCO was the sales leader in Mexico and Mead was the sales leader in Brazil and they both had unsuccessfully tried to penetrate each others' markets. Now the ability for cross-selling presents an incredible opportunity for future sales synergies. The company is very excited about the growth prospects in the South American sector (double digit sales growth YOY in Q1 of 2013) and is expecting that growth to balance out revenues and help maintain operating leverage despite the declining demand in the soft North American market. The CEO mentioned in a recent conference call that due to the fact that the Brazilian market is highly fragmented, the sale synergies are not expected in the short term at all. This may very well be an area of growth that is not being properly appreciated by investors.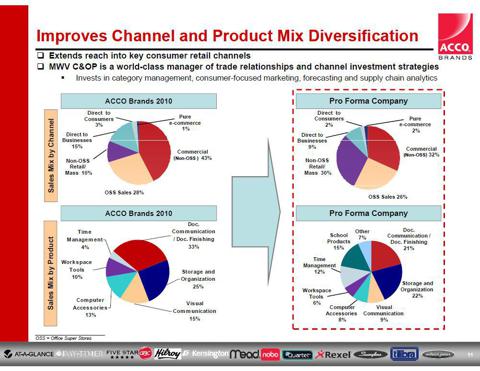 Click to enlarge
Source: Company Presentation
Possibly the most under-appreciated component of the deal is the increased flexibility in channel distribution. ACCO had historically been excellent in commercial channels and MEAD was excellent in mass channel distribution. Together they achieve a much better diversification both in product and distribution.This is a key point because of the uncertainty facing the industry. We are witnessing tremendous declines in sales at the big box retailers such as Staples (NASDAQ:SPLS) and Office Max (ODX), and it is becoming clear that customers are no longer getting their products in the same way. Rather, the end consumer is now also getting his office supplies from different places (AMZN, direct from manufacturer etc.). The diversification and flexibility that ACCO acheived through the merger should help provide stability in this shifting landscape.
Overall, the merger was vital, integral and smart. It not only gave ACCO a chance to survive, but seems to have placed ACCO in an excellent and flexible position going forward. The jury is still out, however, as to whether the company will be able to reach its synergy and growth goals. The company is still digesting this merger with continued restructurings through 2013, and has clearly stated that its goal of gaining sales synergies is "long term" in nature. Obviously, if there was clear evidence that the merger was successful, the stock would not be anywhere near as cheap as it is. My belief (and the basis of this thesis) is that there is enough reason to believe that in the long term it will become apparent that the 'fears' that investors have today are causing them to ignore the fact that this long term plan is logical and realistic.
The company generates a lot of cash and seems poised to at least maintain stability. I am encouraged by the fact that there seem to be a few signs that the company is on the right track. The company has already been successful in capturing the cost synergies that it had anticipated due to the merger. For 2013, the company anticipated ~$20 million of cost savings and has recently stated that it will easily reach $25 million of savings. In fact, this over-achievement in cost savings is what has mitigated this year's decline in revenue that was due mostly to weak operations in the Computer Products segment.
Another encouraging sign is that historically management has proven to be good at turning revenue into cash. Prior to the Mead merger (4 year avg.), the company had a CFO/Revenue ratio of ~4.2%. Mead's office division had a CFO/Revenue ratio of ~16%. Combining the two companies (~8.5% of sales) results in a run rate of ~$154,000 based on TTM revenue, and then adding on $30 million in cost saving synergies ($25 million already captured) results in ~$184 million in CFO. Calculating estimated CFO this way smoothes out the run rate for one time items. Taking the company guidance ~$35 million in Capex, it appears that management's estimation of its ability to create cash is pretty much in line with what they have been able to through all the years of this recession.
One final point that seems worthwhile to note is that ACCO's core product is a bit different than many of its competitors. A significant part of ACCO's product line is "hard products" like notebooks and staplers. Since a big part of the trouble facing the industry as whole is the growth of the use of digital technology (tablets etc.),ACCO might be a little less susceptible to this problem. This seems to present a nice advantage to ACCO over many of its competitors and in my opinion may be something that the marketplace is over-discounting.
Risks
A potential hiccup in the run rate of the FCF is the impending merger of Office Max OMX and Office Depot (NASDAQ:ODP). It seems that investors are very concerned that if this merger goes through (shareholders have voted for the plan and currently the only thing left to block would be antitrust issues) there will be terrible implications for ACCO. I don't think that there is that much to worry about. This is what the CEO had to say in a recent conference call:
"We are obviously preparing for it. We do think there'll be a -- some impact on our U.S. business. We don't think it'll be an impact on our International business because of the lack of overlap between OfficeMax and Office Depot and our international entities in the U.S. We think that about 5% of our total business is the retail overlap between OfficeMax and Office Depot. And we do think that as a result of the merger, even when that happens, they will close some stores. So it will be a -- some destocking that will happen as a result of that. It's more of a one-time shift in nature for us because the underlying end-user demand is not going to change. It's just the -- how they will be fulfilled for the demand will change probably away from Office Depot, OfficeMax and to some, potentially, some other channels. So we are preparing for some destocking, and we are preparing for them leveraging their incremental volume for a little bit of extra margin for us. We do have a good model. We went through the Staples Corporate Express merger back in 2008 so we kind of understand the playbook and we are preparing for that. We don't think it'll be a big effect in 2013. There may be a little bit from a -- just the stocking perspective, but not big we think. More of the effect will be felt in 2014."
It appears that the sales numbers shouldn't suffer too much because there is only a small overlap. The worry is margin pressure due to the new and larger company's bargaining power. However, according to SEC filings, the potential merger between Office Max and Office Depot would result in approximately 15% of the company's sales. That leaves the company roughly in the same area as a percentage of ACCO's total sales as SPLS is (13%). During the 2008 SPLS merger ACCO was able to maintain its gross margins, so I think that it is fair to believe that the company should be ok on this front.
Overall, what clearly seems to be the number one fear for investors considering ACCO is the high level of debt. I believe that this fear is overstated because even a high level of debt is not necessarily that bad, and many times the "liquidity crisis" scenario is overplayed. In order to determine whether the debt presents a true liquidity risk, two things must be checked. 1) The maturity profile of the debt and whether the company will be able to roll it forward. 2) The debt covenant ratios and if the company can maintain its ratios. Nothing else can cause a liquidity crisis.
Take a look at the maturity profile for ACCO. As result of the company's recent refinancing, there is no debt due until 2018. If the company is able to pay down a portion of its debt, rolling over the debt will only become easier. The bonds are trading above par in the market.

Click to enlarge
These are the company's covenant restriction ratios.

Click to enlarge
The company would have to dip into a serious decline in order to breach its covenants. Here is a little graph just to give an idea of what it would take for the company to break them. In this (overly pessimistic) scenario, EBITDA declines 8% yearly, the company only pays off $75 of debt ( half of this year's FCF), and yet ACCO still does not breach it's covenants until July of 2017. That seems like a more than adequate cushion.
2014

2015

2016

2017

Adjusted EBITDA at annual decline of 8%

247.5

227.7

209.484

188.5356

$75 debt paid of yearly

926

851

776

701

Debt Ratio

3.741414

3.737374

3.70434

3.718131
Summary:
Although the office supplies industry is facing a lot of pressure, ACCO's management seems to be addressing the difficult marketplace in the right way. The company is in the process of a long term turnaround plan that is focused on creating strong cash flow generation. The company has adjusted its strategy so as to increase market share, diversification, international opportunities for growth, and many cost-saving initiatives. I believe that there is a very strong probability that ACCO will be able to continue to generate a large amount of cash going forward and this should translate into a nice accretion for the equity investors. What I find most compelling about this investment is that even without any growth there appears to be tremendous upside to the equity as the free cash flow accretes. The company seems to be diverse enough that even if it cannot grow it should be able to maintain relative stability and that would be enough for this to be a worthwhile investment. What's exciting is that if the potential sales synergies result in growth over the next few years the stock could really fly.
The market seems to be focused "today" on the high levels of debt, the impending merger of Office Max and Office Depot, and the uncertainty of the industry (sales) going forward. It is my belief that down the road when all this noise passes, the market will "see" that there is a very strong cash generating machine in operation. When that day arrives, those that own ACCO will be rewarded handsomely. The stock is cheap; if you believe the story, then now would be the time to build a position.
Disclosure: I am long ACCO. I wrote this article myself, and it expresses my own opinions. I am not receiving compensation for it (other than from Seeking Alpha). I have no business relationship with any company whose stock is mentioned in this article.