It is not a surprise that the residential construction industry has been rocked by the recession of the past few years. The fall in home values was one of the dominos that set in motion what has become known as the credit crisis that affected so many other industries in one way or another. Firms like Beazer Homes (NYSE:BZH) were faced with monumental challenge of making their living off of building new homes, but the market was already dealing with a supply overhang. Residential builders halted many projects and were forced to write-down the value of the land that they had purchased near the height of the bubble.
There is no doubt that real challenges remain for the industry, and it will take quite some time for sales and earnings to return to peak levels. However, instead of relying on business as usual efforts and patiently waiting for the market to rebound, Beazer Homes recently announced that they have been busy at work retooling their sales process through the use of technology. Recently, the company announced their efforts to grab a larger piece of the recovery through a customized customer relations solution with Salesforce.com (NYSE:CRM) and an agile consulting firm Bluewolf.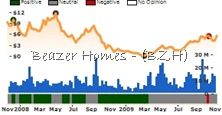 "Beazer now has a new solution that improves customer management with its robust capabilities as well as provides a user-friendly interface to fuel its adoption by users. With salesforce.com's technology and Bluewolf's services, Beazer can now capture and centralize data on potential and existing home buyers, realtors and other partners, and enhance sales performance management through easily accessible analytics and reporting.


In addition to the traditional sales process management, Bluewolf created unique functionality to provide Beazer sales representatives with an income calculator to estimate earnings through new home sales. Bluewolf OpenSupport, an ongoing customer support program, provides Beazer with continuous, proactive enhancement of the solution.


Now with Salesforce CRM, Beazer Homes is poised to take advantage of the eventual upturn in home building. The solution gives the company a 360-degree view of its customer's lifecycle, from the time they show interest in Beazer Homes to the time they sign a contract and beyond." Bluewolf Press Release 11/10/2009
Now, the point of this post is not to say that the challenges are behind Beazer and happy days are here again. Rather, the point is that companies cannot simply run in place when times get tough. This improved sales process is likely something that Beazer has wanted to upgrade for some time and should allow them to at least better identify where their strategy is failing and adjust accordingly. Overall, the trends in the industry have started to improve and the extension of the home-buyers' tax credit surely helps. However, even if slow growth persists for a prolonged period, Beazer must believe that this is a step in the right direction. If the overall industry is shrinking, market share becomes that much more important.
From a valuation perspective, we are maintaining our Fairly Valued stance on BZH as of this week's report. Earnings remain stuck in negative territory and will likely not break even for another year at least. Although the stock is undoubtedly cheap compared to historical price levels there has been a correspondent decline in fundamentals as well. Like most other firms in the industry sales have fallen greatly in the past few years to less than one-fifth of the peak fiscal 2006 levels. Clearly, Beazer needs to use technology and all other resources at their disposal in hopes of kick starting sales in the future.