I've been meaning to write an article on HCP, Inc. (NYSE:HCP). It's been around eight months since I wrote an article on the Long Beach-based health care REIT (that article generated a record of over 55,000 page views) and I recently initiated a position. Although Mr. Market was not always "in love" with HCP, many REIT investors were, as I explained in the previous article (I wrote):
Going back as far as 1985, HCP has been an extraordinary example of dividend repeatability. REITs are most appropriately valued based on the cash distributions they are capable of distributing to their stakeholders. In order to deliver an attractive level of cash distributions, a REIT must be capable of producing solid funds from operations (FFO).

Noticeably, prior to the Great Recession, HCP was able to generate a very predictable and consistent level of FFO growth… even in difficult times (during and after the Great Recession), HCP still managed to maintain a consistent level of growing dividends - an important aspect of the Blue-Chip value proposition.
In fact, the primary reason that I initiated a BUY on HCP was because of the strong fundamentals supported by the extraordinary dividend record. Here is FAST Graph that illustrates HCP's sound earnings model: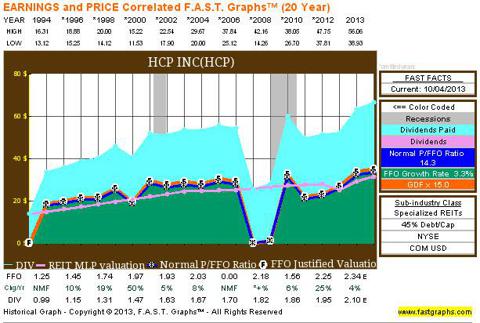 Click to enlarge
(Click to enlarge)
As you can see (above), the shaded aqua blue area represents dividends paid and, as you can see, HCP managed to maintain an incredible history of not only paying dividends, but also increasing them. Here is a snapshot of HCP's dividend history:

I added the price (black line) to the FAST Graph (below) and you can now see that HCP has been trading in the fair valuation range. The current price to funds from operations (or P/FFO) value is 16.8x - not a bargain but not overly expensive.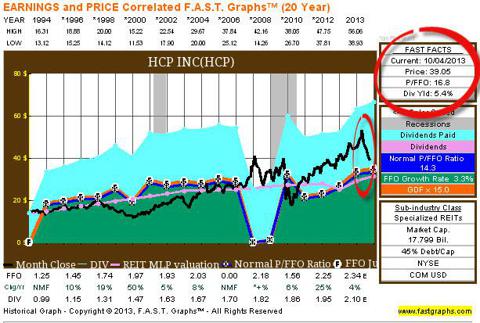 Click to enlarge
(Click to enlarge)
Now zooming into HCP's latest four year history we can see that the shares are trading at the lowest multiple in over four years and they have been trading at what I would consider to be "sound" valuation levels. As mentioned above, I initiated a position recently as I felt as though the summer sell-off had created an opportunistic "margin of safety" in the shares.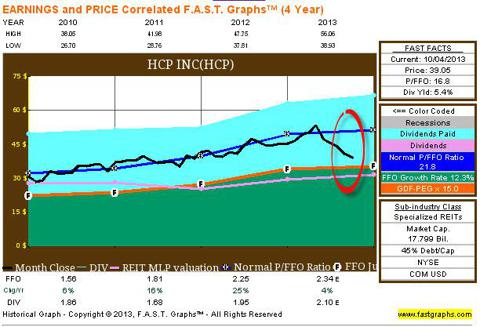 Click to enlarge
(Click to enlarge)
It's Time to Put the Truck in Reverse
On Friday HCP announced the termination of its Chairman and CEO James "Jay" Flaherty III, and the splitting of the titles to enhance corporate governance. The new president and CEO is Lauralee Martin, a board member for five years and previous CEO of Jones Lang LaSalle's Americas (NYSE:JLL). During a conference call on October 3rd, HCP's new nonexecutive Chairman, Mike McKee, explained (source SNL Financial):
I would say that the headline is that this is not about a new direction or new strategy, but it's about leadership. Over a number of months, and with due deliberation, the board realized that it had lost confidence in Jay's leadership and his leadership style.
During the conference call, Martin and McKee sought to emphasize Martin's experience in commercial real estate and knowledge of HCP's operations gained during her tenure as a company board member. As McKee explained:
I would say that Lauralee's style and temperament, if you want to use those words, were very attractive to us.
By the tone of the call, it appears that the decision was not stock or business performance-based, but rather a view that the board lost faith in Mr. Flaherty's management style. The termination was not for cause, and as such Mr. Flaherty will be paid severance as dictated in his agreement. It seems that this change came out of the blue, and according to the new Non-Executive Chairman, was a function of a loss of confidence by the board in Flaherty's management style. McKee said that the change's timing was a function of the strength of HCP's operation, and that the timing was right from that perspective.
It's clear that Flaherty is a tough guy and that translates into a reputation and track record for winning. It's because of that winning record that I have invested in HCP and his business acumen is well acknowledged. His reputation for reporting earnings have been a standard for REIT-dom and his "take it or live it" approach is likely the reason he is no longer in charge. Like any business, I expect the leader in charge to be a shrewd negotiator no matter the personality.
Alternatively, HCP's new CEO is not an established "deal maker". Based on her track record she is a people-oriented leader with no experience at sourcing health care deals. In addition I see little connection between managing a brokerage network (Jones Lang LaSalle) and running an $18 billion diversified health care REIT. Arguably, I have more experience than her and that's not good.
As in most corporate shake-ups there will likely be more instability as certain key executives may follow Flaherty or depart due to the new culture. McKee described Martin as having the right "temperament" to move the company forward. That's great, I'm not interested in having a "temperamental" CEO, I'm interested in having a "tough as nails" leader with a track record of "protecting my principal at all cost".
I'm Dumping Shares in HCP
I have a rule. When someone gets fired, I want an answer. I believe that HCP's board should have provided investors with a better answer than "it was not stock performance or business performance. I think one of the things that struck us was that we think this platform right now is in very good shape." Give me a break.
The higher the uncertainty about the REIT, the larger the information risk premium. I simply don't like "murky" board dialogue and I'm not interested in the excess returns that may be generated by information risk. These days it's totally irresponsible not to be socially responsible and offer answers on how much, where, and when. It stands to reason that I'm dumping my shares in HCP.
The legendary real estate developer, Donald Trump, has said:
I mean, there's no arguing. There is no anything. There is no beating around the bush. "You're fired" is a very strong term.
Rightfully so. That's why I'm firing HCP. As I explained, I believe there is uncertainty risk as it relates to the lack of information (disclosed to investors) as well as the inexperience of Martin as the CEO of a health care REIT. That's enough to make me back the truck in reverse.
Alternatively, I plan to buy more shares in Ventas, Inc. (NYSE:VTR). Not only is the CEO, Debra Cafaro, a proven CEO with health care experience, she has transformed the company into a stalwart REIT of excellence. There is no uncertainty as it relates to creating value and I intend to park my dollars with a CEO that I trust and who is aligned with the pursuit of long-term growth.
Warren Buffett imparted profound business acumen with some of his principles when he said that some of the best managers think like and "walk in the shoes of owners". I believe that Debra Cafaro is a prime example of a "leader" that I trust. (see my latest article on Ventas here).
Ventas has a market capitalization of $18.09 billion and a dividend yield of 4.3%. The shares are trading at $61.70 with a P/FFO multiple of 16.7x. Although the dividend yield is less than HCP, I am confident that shares will perform without the distractions and drama associated with the competing peer. In addition, I am removing HCP from my "sleep well at night" (SWAN) portfolio (see my newsletter here) and I'm maintaining a "waiting on the sidelines" position. Oh yes, I'm hiring Debra to run by diversified health care REIT exposure so I can "sleep well at night".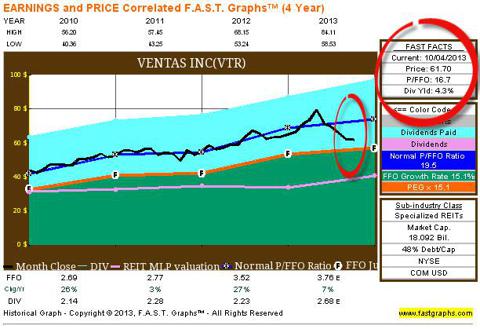 Click to enlarge
(Click to enlarge)
Source: SNL Financial
Disclaimer: This article is intended to provide information to interested parties. As I have no knowledge of individual investor circumstances, goals, and/or portfolio concentration or diversification, readers are expected to complete their own due diligence before purchasing any stocks mentioned or recommended.
Disclosure: I am long O, ARCP, GPT, UMH, STAG, HTA, VTR, CSG. I wrote this article myself, and it expresses my own opinions. I am not receiving compensation for it (other than from Seeking Alpha). I have no business relationship with any company whose stock is mentioned in this article.