This article is a follow up to "A BDC Investment Philosophy And 4 Portfolios," where I discussed what BDCs are and why I see them as good investments as well as different approaches to investing in BDCs and I have decided to add the 'Total Return' portfolio as well. This portfolio is for investors that want a blend of regular and special dividends as well as long-term capital appreciation from increased stock values. The returns from this portfolio will most likely be higher and have more favorable tax treatments while requiring less turnover. However many of the higher return BDCs are overpriced with correspondingly lower dividend yields and may involve more risk due to higher amounts of equity investments needed for net asset value ("NAV") per share growth and the potential for realized gains to pay special dividends.
Disclaimers: This portfolio is not for the average income oriented BDC investor and uses various assumptions to project total return. I will try to address these assumptions and point out potential variances. Many of the tables are oversimplified and investors should perform their own detailed due diligence before investing. For more detailed analysis on total return for some of these BDCs please see the following articles (most of them require Pro access):
This article does not cover as much as I had originally intended and will need a couple of general follow ups and focus articles for the BDCs not covered in the links above.
Currently, the BDCs that I consider to be the best for a portfolio with the highest potential for total returns are Main Street Capital (NYSE:MAIN), Fidus Investment (NASDAQ:FDUS), New Mountain Finance (NYSE:NMFC), Ares Capital (NASDAQ:ARCC) and Hercules Technology Growth Capital (NASDAQ:HTGC).
Other BDCs Considered: While trying to come up with this portfolio there were other companies that I considered including American Capital (NASDAQ:ACAS), Triangle Capital (NYSE:TCAP), TICC Capital (NASDAQ:TICC), KCAP Financial (NASDAQ:KCAP), and Golub Capital BDC (NASDAQ:GBDC). I will discuss my reasons for not including them (at this point) throughout the article.
Out of the 25 BDCs that I follow, I have picked five for each portfolio type (with the exception of the general portfolio) along with recommended weightings. The other four types of portfolios are:
I consider investing in BDCs as an investment in the overall market with risk levels similar to other equity investments. I do not consider BDCs as simply a financial sector investment but take into account the sector diversity of each portfolio. Each investor has different needs and allocations but I believe that BDCs deserve a large portion of the overall stock allocation. BDCs can be volatile and affected by interest rates in the short term but I believe they will benefit from rising rates given the high amounts of variable rate investments and fixed-rate borrowings.
The chart below shows the performance of this portfolio over the last three months compared to the S&P 500 and has historically performed better during minor downturns.
The Total Return BDC Portfolio
The following allocations for the Total Return BDC portfolio are used for the remainder of the information in this article, and all metrics are weighted accordingly. Currently they are all weighted evenly because only ARCC and NMFC are relatively underpriced but have lower projected total return than MAIN and FDUS. That leaves HTGC as potentially warranting a smaller position than the others. Near the end of the article I will discuss timing and prices for each of these BDCs given the market volatility potential in the coming weeks.
Total Return
Total return accounts for income and capital appreciation. Income includes distributions or dividends and capital appreciation represents the change in the value of the investment.
In the Payout Category of my rankings table I account for many factors beyond the current dividend yield such as dividend sustainability, consistency and growth, as well as NAV per share growth rates and total return. NAV growth per share (or at least NAV stability) is an important indicator for many reasons including the demonstration of growth or preservation of investors' capital. BDCs are usually priced based on NAV multiples, so a growing NAV per share usually leads to incremental capital gains. Dividend coverage from net investment income ("NII") is also an important indicator but in many cases BDCs will use realized capital gains for coverage. BDCs that rely on unrealized gains to cover dividends are considered "Bad BDCs" in my articles but NAV stability is key, and if a company can continue to pay a healthy dividend while maintaining its value per share this will be accounted for in total return.
There are a few ways to calculate total return but I use a method that ignores general changes in market multiples unless the company is responsible for the specific changes in the multiples that investors are willing to pay. I use changes in NAV per share and EPS as a measure of potential capital appreciation instead of actual stock price changes. When evaluating potential dividends I look at current dividends, dividend growth history, and projected EPS to cover dividends and possibly grow or pay special dividends.
Profit
When evaluating BDCs, it is important to understand if the dividends are sustainable, ideally through NII and special dividends covered by realized capital gains. Most of these BDCs have recently been raising capital through debt and equity offerings, making it difficult to normalize EPS to get a run rate of expected NII per share. The table below shows the current regular dividends and projected EPS for the calendar Q4 2013 for each BDC:
Total Return by BDC
Projecting total return for BDCs is more of an art than science due to the quarterly fluctuation in one time earnings and investment values. I tried to take into account both historical and recent trends as well as indications from the company for upcoming changes. The key criteria for deciding which BDCs to include in this portfolio were:
Regular dividend yield and sustainability
Dividend growth potential
Special dividend potential
NAV per share growth
Below is table that attempts to assess dividend coverage from projected EPS in calendar Q4 2013. I have not done my own analysis on each BDC and used First Call estimates for most of them. However I have done projections for MAIN, Medley Capital (NYSE:MCC), TCP Capital (NASDAQ:TCPC), THL Credit (NASDAQ:TCRD) and Prospect Capital (NASDAQ:PSEC), so the EPS estimates shown are either at or below my current projections. For BlackRock Kelso Capital (NASDAQ:BKCC) I use an average EPS due to the annual expenses that hit Q4. Also included in the table is the last twelve months actual growth in regular dividends paid.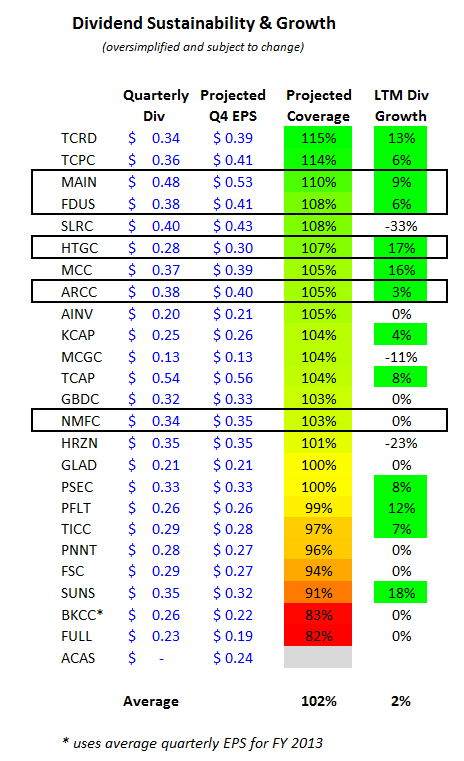 As you can see the BDCs included in this portfolio have higher average projected coverage levels and growth rates. KCAP recently cut its dividend due to a lack of coverage but is expected to cover the reduced distributions by Q4. At this point I am not convinced this will happen so it was not considered for the portfolio. TICC has fallen short in the past but is projected to almost cover.
Out of the 25 BDCs that I follow only six of them pay "special" dividends including MAIN, NMFC, FDUS, ARCC, TCPC and TCRD, giving this portfolio the potential for much higher likelihood of special dividends in the near future.
On the most recent earnings call, the CEO of MAIN explained: "During the course of our last conference call, I referenced our spillover taxable income of over $40 million at March 31. As of June 30, we estimate that our spillover taxable income is $46 million. In order to reduce this amount, stay in compliance with a regulated investment company tax rules and reduce the 4% federal excise tax payable on the spillover amount that carries over into 2014, we expect to ask our board later this year to declare our next semiannual supplemental dividend of at least $0.20 a share payable on or around year end. We continue to expect that we will pay semiannual supplemental dividends going forward for the next few years in addition to our regular monthly dividends."
Another key consideration was the potential for NAV per share growth. The table below shows the quarterly growth rates in NAV per share for each BDC as well as identifying the ones with three years or less of being a public company.
As you can see the quarter to quarter differences in growth rates are mostly lumpy without much consistency. There are many reasons for this that are individual to each company and complicated. Most of the asset values of BDCs are "Level 3" valuations based on "inputs that are unobservable and significant to the overall fair value measurement". Most investments are debt or equity positions in private companies with very little detail and no method of calculating a 'market' value. This is one of the key risks of investing in BDCs but there is potential upside for companies that undervalue non-performing assets or improved valuations from realizations which has driven much of the returns for ACAS. Both FDUS and NMFC are relatively newer BDCs but I have included them in this portfolio due to recent growth and growth potential.
ACAS is undervalued and has the highest average NAV per share growth that has been slowing as discussed in "American Capital: Is It Time To Get Out?" and shown in the chart below (and above):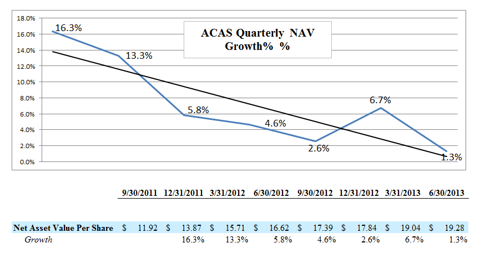 GBDC is one of the newer BDCs, a component in my general BDC portfolio, and has been showing promise for this portfolio but I would like to see another quarter of positive results before considering it. Both TCAP and TICC were serious contenders but recently have shown less NAV growth than in the past. KCAP's growth has been larger than most but is very inconsistent and with the lack of historical dividend coverage it will take at least two more quarters of positive results before considering it but, as shown in a later table, it has the potential for very high total returns.
Much of the appreciation in NAV comes from having equity participation in the portfolio companies as discussed in "Fidus Investment: Higher Total Returns?". FDUS is starting to realize gains from its equity investments in approximately 88% its portfolio companies, with an average fully diluted equity ownership of almost 9%. These gains can be distributed as special dividends or invested in other income producing assets for a higher NAV per share and income for dividend growth. MAIN has equity positions in 93% of its LMM portfolio companies with an average fully diluted equity ownership of approximately 33% and is the primary driver behind approximately $3.30 per share of gross net unrealized appreciation and its cumulative NAV growth per share.
The table below is a simplistic view of the potential total return for each BDC. It uses the current regular dividend yield, plus an annual growth that is similar to the last twelve months, plus special dividends and NAV per share growth (using last twelve months for projection purposes) to come up with total projected return from income and capital appreciation. Obviously there are many assumptions used and history does not necessarily indicate future returns. It also depends on what time frame is used. Many of these BDCs have less than three years of information and some of the older companies have been growing NAV at a slower pace such as ACAS, TCAP and TICC.
The average projected total return for this portfolio is almost 16% but could be much higher given the potential for some of the younger BDCs to have higher growth rates or start to realize considerable gains as recently announced by FDUS that might start to pay larger special dividends. Most BDCs (not ACAS) are regulated investment companies and required to distribute at least 90% of capital gains, dividends and interest to shareholders to avoid taxation at the corporate level and 98% of net investment income to avoid paying a 4% excise tax.
Risk
In a continuing series of articles, I take an in-depth look at the relative risk levels of each BDC. Specifically, I focus on portfolio credit quality, investment asset classes, diversification, non-accrual rates, portfolio yield, fixed/variable rate loans, leverage, interest rate sensitivity, volatility ratios, market capitalization, insider ownership and trends, institutional ownership and trends, and management/operational history for each BDC. The following chart shows the most recent relative risk ranking with a weighted average rank of 6.0 for this portfolio (a rank of 10 implies the least amount of risk).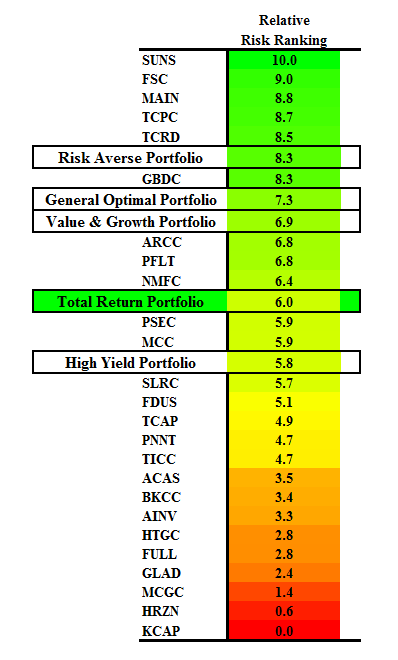 Many of the BDCs in this portfolio have a riskier asset class mix, as discussed earlier, and this is what provides the potential for higher NAV per share growth and special dividends.
In my article "BDC Risk Profiles: Part 6 - Interest Rate Sensitivity" I focused on the interest rate sensitivity for BDCs considering fixed vs. variable rate investments compared to the amounts borrowed to fund those investments. This portfolio has a weighted average 64% of debt investments with variable rates and a higher than average debt-to-equity ratio of 0.72.
I believe that most BDCs will benefit from rising interest rates given the high amounts variable rate investments and fixed-rate borrowings. Both ARCC and HTGC are two of the best positioned BDCs with higher amounts of variable rate investments and lower weighted average floors along with higher amounts of fixed rate borrowings as discussed in "Ares Capital: Ready For Rising Rates?".
I consider BDCs as an investment in a variety of sectors and look at the type of businesses contained in the underlying portfolios. The breakdown by sector for this portfolio is adequately diversified as shown in the chart below and compared to the 'General' BDC portfolio has a much larger portion of healthcare. HTGC, NMFC, and ARCC, all have larger amounts of healthcare companies as a percentage of portfolio investments but I believe the overall diversification is still better than most individual BDCs. Currently most analysts have "overweight" recommendations for the healthcare, consumer discretionary, and industrial sectors, which account for 54% of the total return portfolio.
Valuation
Below is a table using my relative risk rankings to categorize each BDC into valuation levels and appropriate multiples of NAV, LTM EPS and 2013 EPS:
Currently the average NAV per share multiple is 1.07 (excluding ACAS as an outlier) and P/E multiple is 10.9 using LTM EPS (with the exception PSEC which I normalized for impacts from the Gas Solutions sale). The "standard deviation" statistically measures the variation of pricing compared to the average, with 68% of BDCs priced within one standard deviation from the average or between 0.92 and 1.21 times NAV per share and between 9.1 and 12.6 times LTM EPS. Ideally, each BDC would be priced along a valuation curve with investors paying a premium for favorable risk to reward ratios. The chart below attempts to price each BDC based on risk levels using the current averages and standard deviation of multiples.
As you can see most of the BDCs included in this portfolio are overvalued using this methodology. However, as discussed earlier, these BDCs are priced higher than the others most likely due to superior NAV per share growth, excellent history of dividend coverage and dividend growth. Investors tend to pay higher prices for consistency and higher growth rates.
Rankings
These are the five general criteria I use to evaluate BDCs followed by my most recent BDC ranking table. I have included the portfolios in the chart indicating how a portfolio with my recommended weightings would compare to the other BDCs.
Profitability (dividend coverage, NAV and EPS growth)
Risk (portfolio quality, rate sensitivity, diversification, volatility)
Payout (sustainable, consistent, growing)
Analyst Opinions (outlook, price targets)
Valuation (NAV, P/E, growth rates)
The table below does not actually contain whole numbers and the totals might be different (by 1) due to rounding:
As you can see the total return portfolio has a much lower ranking for the valuation category than the other portfolios due to HTGC, MAIN, and FDUS, all having higher multiples than the average BDC most likely because other investors are paying a premium for future dividend and NAV per share growth. The payout category is lower as well because, even though it takes into account total return, it is currently weighted more toward dividend yield and many of these BDCs are higher priced with correspondingly lower yields. Potential special dividends are not weighted as heavily either because they are not as predictable as regular distributions.
Keep in mind that the "total" rank is a simple average of the categories and does not imply that it is 'the best'. Each investor should weight the categories appropriate to investment needs.
Summary
This is a portfolio for investors that want it all: steady sustainable and growing regular dividends, high likelihood of incremental special dividends, and share price appreciation, without having to babysit their investments. Another key consideration is the tax treatment of the returns which I will cover in future articles. For 2012 MAIN announced: "Main Street paid dividends totaling $1.725 per share that are attributable to 2012, with approximately 43% of such distributions representing long-term capital gains, 3% representing qualified ordinary income dividends and 54% representing non-qualified ordinary income dividends. Long-term capital gains and qualified ordinary income dividends qualify for favorable tax treatment under the Internal Revenue Code and, for 2012, will generally be subject to the maximum 15% U.S. federal income tax rate."
Timing and prices: given the current uncertainty in the markets due to political issues there could be volatility especially with interest rate sensitive sectors such as BDCs. This should be seen as a buying opportunity similar to the 2011 debt debates and discussed further in my "The Debt Ceiling Debate And Interest Rates" article.
I will provide pricing updates for all my portfolios later this week. In my weekly newsletter I track the performance of the 25 BDCs that I follow. Recently the Fed statements have signaled a top of some kind but it obviously depends on the statement itself.
Investors should only use this information as a starting point for due diligence. See the following for more information:
Disclosure: I am long MAIN, ARCC, PSEC, TCPC, TCRD. I wrote this article myself, and it expresses my own opinions. I am not receiving compensation for it (other than from Seeking Alpha). I have no business relationship with any company whose stock is mentioned in this article.