Microsoft (NASDAQ:MSFT) recently purchased Nokia (NYSE:NOK) in a smart technological and product alliance based on a longstanding relationship. BlackBerry is the has been which is being left behind and we believe potentially sold off for scraps.
"There are 1.3 billion people using a Nokia phone today," said Microsoft Vice President of the Operating Systems Group Terry Myerson. "In some markets, the word 'Nokia' is synonymous with 'phone' - and we aspire to live up to that brand as we welcome customers of these products into our Microsoft family."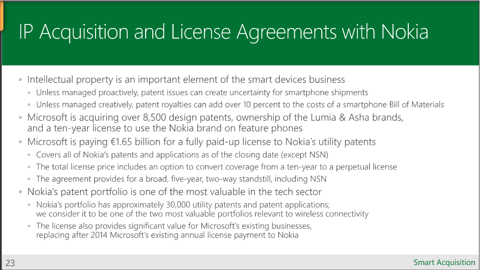 Click to enlarge
(Click to enlarge)
We believe interest in BlackBerry (NASDAQ:BBRY) from Microsoft would just be cosmetic in order to inspect the books of BlackBerry before any other competitor potentially takes them over. Microsoft is looking to integrate what it purchased from Nokia into various sales and production strategies and definitely does not need BlackBerry or it's completely incompatible technology systems. Microsoft has already found a partner with a lot of patents and compatible technology systems. Why would they want another one? Many analysts are also proposing that BlackBerry is currently worth less than the current share price: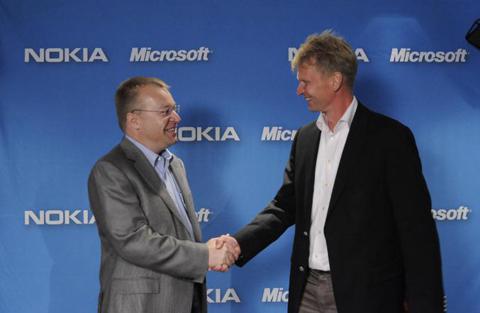 Click to enlarge
(Click to enlarge)
"Some would argue that if the Fairfax bid does not close, the shares will fall to $5 - roughly equal to cash on books," Mr. Monga said. "While the immediate market reaction of a failed bid would undoubtedly be severe, we believe that distressed-asset investors could become even more interested at that point."
Veritas figures there is a 75-per-cent probability that Fairfax's offer will succeed, but the stock remains highly speculative for investors, he said."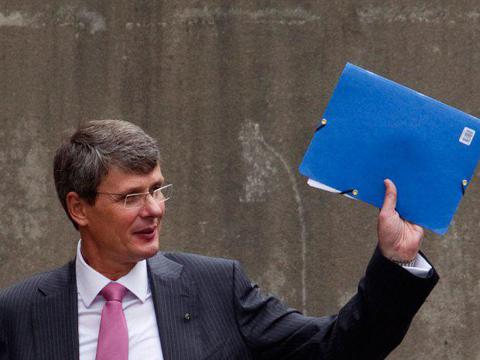 Click to enlarge
(Click to enlarge)
The chances we believe of Microsoft actually purchasing BlackBerry at this point are almost nil. Microsoft is one of the largest patent owners and licenser in the world and do not need patents from BlackBerry. It is more the other way around. Why? There would be major technical hurdles which would be a waste of Microsoft time, energy, money, and resources:
"But engineers who worked at both companies have long cautioned that a Microsoft-BlackBerry alliance would be technically challenging. BlackBerry's hardware and software products - built at a time when there were essentially no other players in the smartphone industry - were never designed to play well with outside systems. This is partly why the company had such a hard time integrating technology from its subsidiary QNX into the core BlackBerry operating system, leading to multiple delays in the launch of the BlackBerry 10 devices. To integrate BlackBerry into the Windows ecosystem, Microsoft would have likely faced similar technical hurdles."
BlackBerry has had a busy weekend (mostly negative):
"The lawsuit comes amid reports that several tech companies are sizing BlackBerry up for a takeover. Reuters reported on Friday that Cisco Systems, SAP and Google are among the companies looking to buy out all or part of BlackBerry.

Other parties would certainly want to have a chance to kick what's left of the tires at BlackBerry and get a look at the books as part of any competitive bidding process that might result from a $4.7 billion buyout offer by its largest shareholder, Fairfax Financial. Fairfax's offer allows for a go-shop period, and it's as yet unclear how Fairfax would finance such a deal in the first place.

Spokespeople for Cisco and Google didn't immediately respond to messages seeking comment. Jim Dever, a spokesman for SAP, said the company doesn't comment on "rumors and speculation."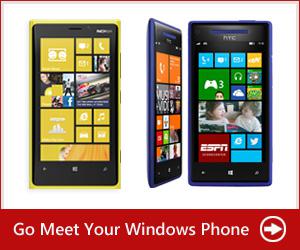 Could BlackBerry survive when in a major launch city such as Dubai they are offering huge discounts to get rid of the products? We believe likely not.
Nokia and Microsoft have had a longstanding partnership, like a marriage but BlackBerry has little to no cooperation with Microsoft:
"Nokia and Microsoft worked closely together on the company's Lumia 1020, and Microsoft made core changes to its Windows Phone operating system as a result. Sources familiar with Microsoft's Windows Phone work have revealed to The Verge that Nokia was left frustrated by some Windows Phone restrictions on its Lumia 1020 camera software. Specifically, the restrictions made it difficult to store the large image files and make them easily accessible to phone owners.

These secrets secrets and frustrations will no longer occur, and the collaboration appears to have helped Microsoft realize its priorities elsewhere. A Bluetooth file sharing feature is particular popular in developing countries, but Microsoft wasn't aware as US consumers don't typically use it. "We didn't even have that feature, and we didn't even understand or appreciate the degree to which it was critical," says Belfiore."
In conclusion, we believe Microsoft has absolutely no real interest in BlackBerry except marginally for BlackBerry patents as a defensive measure to prevent competitors from getting access to them. It would be a better move to simply give money back to shareholders in form of a larger dividend rather than a crapshoot for a failing business model in the form of BlackBerry.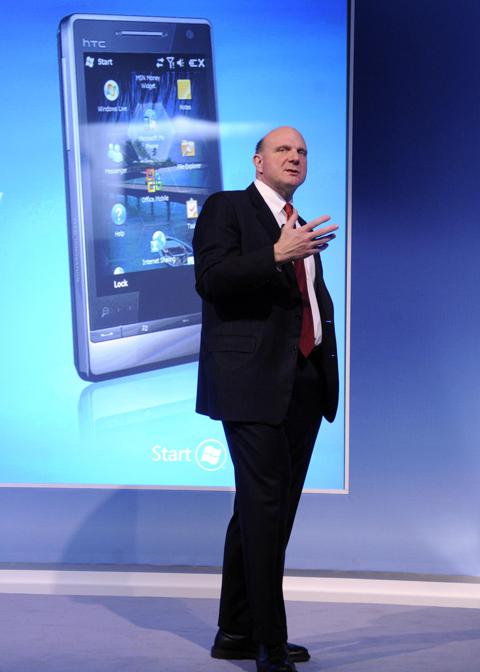 Click to enlarge
(Click to enlarge)
Disclosure: I have no positions in any stocks mentioned, and no plans to initiate any positions within the next 72 hours. I wrote this article myself, and it expresses my own opinions. I am not receiving compensation for it (other than from Seeking Alpha). I have no business relationship with any company whose stock is mentioned in this article.