Sometimes one has to be confused as to why we end up where we do. We found ourselves asking the question of why we are where we are as a country after we saw the recent unanimous vote in the House of Representatives to give furloughed government workers back pay for the days they were not working. It seems hypocritical to U.S. that the same lawmakers who claim to be fiscally responsible and such would shut down the government only to then pay those same workers not to work. In our view that goes against everything they stand for and would most certainly throw a wrench into their argument that they cannot vote for anything against their principles.
As absurd as that vote was to U.S. because of the breakdown in how the voting occurred, it did show U.S. one thing. That is, the House of Representatives can agree on stuff and that maybe more of the legislation that passes through should be small, simple bills rather than the crazy packaged 1,500 page bills that the representatives pass without reading.
We were disappointed to not see anything accomplished this weekend, and so too were the world markets. There is red across our screens this morning and U.S. futures are following suit. It appears we might have more of a pullback now which will open up many more buying opportunities.
Chart of the Day:
Both Rasmussen and Gallop polling show the President's approval rating is falling, and the detailed data from Gallop shows that President Obama now has the second lowest rating of recent presidents at this time in their tenure, excluding Richard Nixon's outlier 29% which was caused by other issues. The President, currently with a 45% approval rating, is now approaching former President George W. Bush's 41% rating at this time in his term. This might be enough to get him to the negotiating table, because if not the approval ratings for both the President and Congress will fall along with U.S. Debt on any default.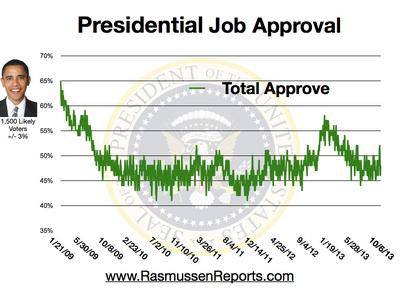 Source: Rasmussen
We have economic news today and it is as follows:
Consumer Credit (3:00 p.m. EST): $11.8 Billion
Asian markets finished lower today:
All Ordinaries -- down 0.87%
Shanghai Composite -- CLOSED
Nikkei 225 -- down 1.22%
NZSE 50 -- down 0.07%
Seoul Composite -- down 0.13%
In Europe, markets are lower this morning:
CAC 40 -- down 0.88%
DAX -- down 1.05%
FTSE 100 -- down 0.86%
OSE -- down 0.68%
CEO Watch ...
It seems that Ford (NYSE:F) might have a serious issue on its hands with CEO Alan Mulally and the potential for him to take the CEO position over at Microsoft as Steve Ballmer exits. The official word out of Michigan is that all parties see no turnover through 2014, which would take Mulally out of the running for the position, but there seems to be an awful lot of smoke regarding these rumors. They say where there is smoke there is fire, and we would only add that where there is a worried board there is usually a CEO close to leaving.
Our view is that Ford stock is headed higher, either with Mulally or without. Make no mistake however, it goes higher much faster with Mulally at the helm than without.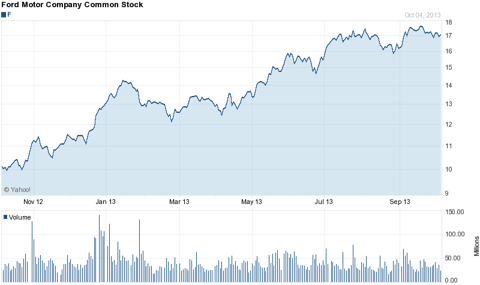 Click to enlarge
(Click to enlarge)
Source: Yahoo Finance
Bloomberg reported over the weekend that the board of directors at Ford was going to discuss Mulally's plans and begin planning a contigency plan just in case he did leave (see article here). In our opinion it seems that Mulally is the top name for the job, and he is either being set up to get the job or set up to decline the offer so Microsoft can say they targeted a big name but had to settle for their second favorite (and less well known) candidate. Both make sense, so we will have to watch how this one plays out.
Hedge Funds Adding Risk in Greece...
The hedge fund titans are at it again, adding exposure to risk assets in Greece that is. Many will remember the rush to buy up Greek debt a few years back and that some lost their shirts while others made the trades of their careers. Well it seems that hedge funds are back in the country and this time looking to profit handsomely from investing in the Greek banking sector. National Bank of Greece (NBG) has seen an uptick in shares recently and even ended Friday's session higher by nearly 10% on above average volume, but this will not be the only name hedge funds purchase. They will buy some of the smaller names that one must go to Athens and buy on that exchange, something U.S. investors can only get exposure via the pink sheets and face securities which are illiquid.
Are hedgefunds indicating that the coast is now clear to make safe long-term bets in the Greek banking sector? It has been smoother sailing in recent months.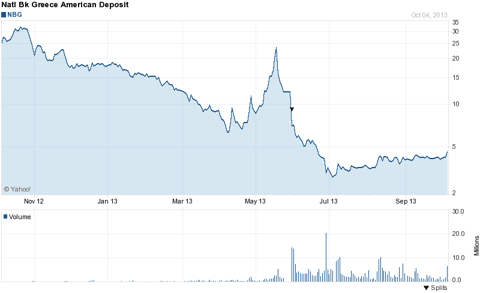 Click to enlarge
(Click to enlarge)
Source: Yahoo Finance
Due to the risk and illiquidity in many of the names here in the U.S. we would forego this trend and stay on the sidelines looking for the next big thing stateside rather than trying to go overseas and compete with the big hedge funds. We did find this news interesting this morning however as it might very well mark a low in the banks and the beginning of a turnaround in the sector now that investment capital wants to rotate back into these names.
Alibaba IPO Helping Social Media ...
Realize for a second what the Alibaba IPO has done for Yahoo (NASDAQ:YHOO) over the past year since Marissa Mayer began hinting that she knew how to monetize the asset and get top dollar for shareholders. Now also look at what the ramp up in excitement for the IPO as done for shares in the past few weeks and it is easy to understand what is going on within the entire social media sphere right now, especially with Twitter also exciting the internet stocks. Not only is Yahoo rising on speculation as to the valuation of their holdings, but so too are names such as Renren (NYSE:RENN) and even Pandora (NYSE:P) - a name we have never really considered a social media stock but still gets lumped into the conversation by the talking heads and numerous mainstream media outlets. When these stocks can rise 4-6% on news about IPOs, one knows that there is a lot of excitement in the market with the animal juices flowing strongly. It is the epitome of a bull market and these IPOs will go a long way in sapping up some of this excess demand we have right now and provide for a smoother ride over time in these names. We would not be surprised to see some more IPOs or even secondaries from those already listed trying to cash in on the craze. Right now though all investors in the sector need to be watching Alibaba and Twitter (NYSE:TWTR).
Disclosure: I have no positions in any stocks mentioned, and no plans to initiate any positions within the next 72 hours. I wrote this article myself, and it expresses my own opinions. I am not receiving compensation for it (other than from Seeking Alpha). I have no business relationship with any company whose stock is mentioned in this article.