Thesis
Rogers Corporation (NYSE:ROG) offers valuable and innovative technologies to companies from a multitude of different industries. With a golden strategy for growth, a rebound from struggles in 2010, and a fair share price, Rogers looks like a strong buy.
Company Overview
Rogers Corporation designs, manufactures and distributes specialty materials and components across the globe. But what does this really mean? Overall, companies use Rogers' products to improve the quality of their products. For the most part, Rogers creates products that act as complements to larger ones created by other companies. Its products are designed to make things smoother, more efficient, faster, more effective, etc. For example, it creates circuits that allow certain components of technologies such as collision censors, satellites and missile guidance systems to operate more effectively. Rogers Corporation creates its products to enable other companies to improve the quality of their own products, one small step at a time. In today's competitive economy, businesses are always looking for an edge that will help them to create more value for customers, whether it be by making their product safer, faster, more efficient, lighter, etc. They turn to Rogers when it is time to make these improvements.
Where Do They Currently Stand?
Rogers has been in the process of a recovery since it suffered drastically reduced revenue and net income as a result of the 2008-2009 recession, as shown by the chart below.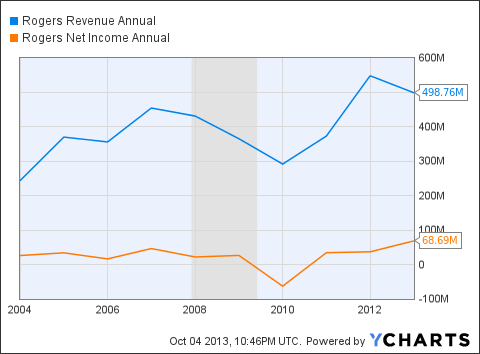 ROG Revenue Annual data by YCharts
In fiscal 2009, sales decreased by about 20% from $365.4 million to $291.8 million. In response to these struggles, the company initiated aggressive cost cutting measures, which included reductions in workforce as well as strategic examinations of the company. The rebound finally began in the second quarter of 2009, and it has been steadily regaining ground since. Net income is currently at an all time high, and revenues are close to their high as well. Although fiscal 2012 gave the company a slight drop in sales, as shown by the graph, they are starting to get back on track. In its most recent 10-Q, it reported a 5.7% increase in revenues to $132 million.
An interesting point, though, was that operating income was down about 10% to $8.1 million. This really doesn't concern me all that much because the money was put toward investments within the company. For example, R&D expense jumped 40% to $6.25 million. This is an inspiring sign as the company pursues greater innovation and expands plans for the future. Also, "restructuring and impairment charges" related to streamlining the company and improving employee retirement programs increased from less than $1 million to $4.5 million. These expenses will grant Rogers greater success in the future, and so the decreased net income should not pose much of an issue to shareholders.
Clearly, it's been a rocky road for the company in the last few years. But what's more important is where the company is going.
Insight For The Future
When a new, innovative industry comes along, there are often billions of dollars to be made as growth accelerates and companies are rewarded for their contributions to society. This is where the huge profits are made; when a group of companies is bold enough to lead the world into a new era of technology. A core part of Rogers' strategy revolves around what it calls megatrends. A megatrend is a long lasting and global change in thinking that greatly affects companies, organizations and industries. There are three megatrends that Rogers is focusing on contributing to:
Internet and mobile devices
Clean energy and technology
Mass transit
With a significant amount of resources directed toward these three areas, Rogers will be able to provide value to both society and shareholders. The focus on the megatrends should be highly profitable for Rogers. On the company website, it is stated that "mobile data traffic is expected to double every year through 2014, while Internet traffic will expand 46% annually." In response to the recognition of this megatrend, Rogers created products that will capitalize on the opportunities presented. Rogers is a market leader in printed circuit materials for 3G and 4G infrastructure. Its PORON High Performance Urethanes offer increased protection and sealing for smartphones and tablets. Also, it provides high speed circuit materials for wired internet. Rogers aims to capitalize off of the other two megatrends as well, as they are constantly becoming more prominent in society, and Rogers can help improve the quality of the products involved. This idea of providing complementary technologies to improve already existing ones is a brilliant strategy that Rogers will profit from as the three megatrends expand and flourish, resulting in increased demand for the company's products.
Competitive Position
Below is a comparison of Rogers and two competitors, Park Electrochemical Corp. (NYSE:PKE) and Vesuvius plc (OTC:CKSNF).
| | | | |
| --- | --- | --- | --- |
| | ROG | PKE | CKSNF |
| Revenue | $511.74 million | $171.88 million | $2.41 billion |
| Net Income | $76.86 million | $21.76 million | -$8.84 million |
| Operating Margin | 11% | 15% | 8% |
Overall, the competition matches up pretty well with Rogers on paper. But there are two reasons why Rogers' competitive environment is a bit better than it appears to be. First of all, Rogers offers a multitude of specialized products and technologies. The competition for these products varies greatly, and these three companies do not compete directly in all lines of business. Secondly, Rogers is truly a superior company. It has been in operation for an amazing amount of time, as it was founded in 1832. It has been led down a long road in history, and has consistently delivered innovative, high performing, reliable products. It is likely that companies will continue to look toward Rogers for design improvement in the future.
Valuation
Let's compare these three companies again, this time in terms of valuation.
| | | | |
| --- | --- | --- | --- |
| | ROG | PKE | CKSNF |
| P/E | 13.21 | 26.63 | 2.15 |
| P/B | 2.14 | 1.84 | 0.83 |
| P/S | 1.98 | 3.32 | 1.45 |
Rogers stacks up quite nicely against Park Electrochemical. The extremely low numbers for Vesuvius can be expected for a stock with an average volume of only 1,231. This type of miniscule volume can have odd effects on a stock. In general, though, Rogers has decent valuation numbers. It is hard to put a real "industry average" type of statistic on a company like Rogers, as it offers so many products that have so many different applications. Overall, though, for an innovative company that is constantly developing new and advanced technologies, these numbers seem quite attractive.
Disclosure: I have no positions in any stocks mentioned, and no plans to initiate any positions within the next 72 hours. I wrote this article myself, and it expresses my own opinions. I am not receiving compensation for it (other than from Seeking Alpha). I have no business relationship with any company whose stock is mentioned in this article.