On Sunday, October 6, Chevron (NYSE:CVX) announced it plans to restore operations to a normal operating level at platforms in the northern Gulf of Mexico and return non-essential workers following the passing of Tropical Storm Karen, which has been weakening. In the wake of today's announcement, I wanted to highlight a number of reasons behind my decision to remain bullish on shares of Chevron.
No. 1 - Recent Performance and Trend Status
On Friday shares of CVX, which currently possess a market cap of $226.97 billion, a beta of 0.82, a P/E ratio of 9.57, a forward P/E ratio of 9.57, and a current dividend yield of 3.39% ($4.00), settled at a price of $118.13/share. Based on their closing price of $118.13/share, shares of CVX are trading 4.16% below their 20-day simple moving average, 3.37% below their 50-day simple moving average, and 0.05% above their 200-day simple moving average. These numbers indicate a short-term, mid-term and a sustainable long-term downtrend for the stock, which generally translates into a moderate selling mode for most traders.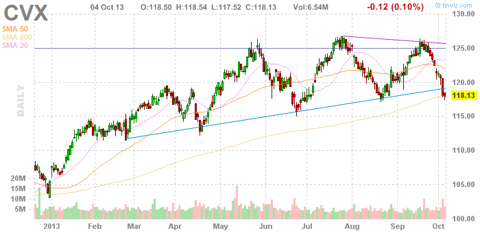 No. 2 - Moving Closer to a Ukrainian Shale Deal
On Friday October 4, it was announced that a second regional council in Ukraine on Thursday approved a government draft for a $10B shale gas production-sharing agreement with Chevron (CVX), clearing the way for it to be signed. Deputies from both the Lviv region as well as the neighboring Ivano-Frankivsk region, whose approval also was necessary, approved the deal last month. According to a number of estimates Chevron's Ukrainian-based spending would include about $350 million to assess the production potential of the reserves located at the Olesska site and around $10 billion over the life of the project.
Not only does the project allow for Chevron to share in the revenues that are generated, it also allows the Ukraine to potentially minimize its dependence on Russian natural gas.
No. 3 - Recent Dividend Behavior
Since November 14, 2008, the company has increased its quarterly distribution six times over the last 60 months. The company's forward yield of 3.39% ($4.00) coupled with its ability to continuously increase its dividend on an annual basis, make this particular oil & gas stock a highly considerable option, especially for those who may be in the market for a sustainable stream of quarterly income.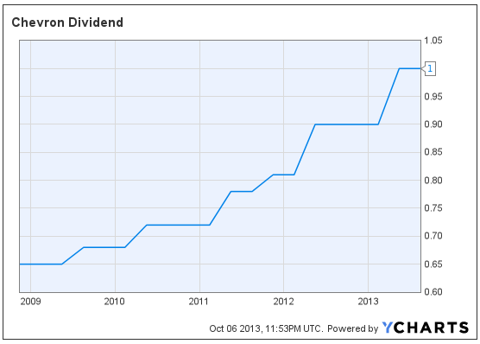 A Few Risks to Consider
According to my SA colleague Dividend Monk, there are a number of risks associated with a long-term income-driven position in Chevron. For example, it was noted that "there is an ever-present risk of an environmental catastrophe, which can lead to up to 10-figure lawsuits. Chevron is still dealing with the nearly $20 billion litigation risk related to operations in Ecuador, which were part of the Texaco acquisition in the 90s. Recent court decisions have generally favored Chevron on these matters. On a another notes, the company must also deal with more commonplace instances of litigation, changing oil prices as well as the prices of other commodities, and managing its oil and gas reserves in a competitive environment driven by scarcity."
Although Dividend Monk touches on the company's previous and ongoing legal matters and a number of environmental risks, we must note that any domestically-based economic disruption could also play a factor when it comes to oil prices and the impact on shares may not be all that favorable. For example, if the U.S. maxes out its credit limit and a serious market correction (or possible depression) ensues, oil prices could face significant pressure and shares would see a significant sell-off.
Conclusion
For those of you who may be considering a position in Chevron, I'd keep a watchful eye on a number of catalysts over the next 12-24 months as each could play a role in the company's long-term growth. For example, near-term investors would want to focus on the company's recent performance and trend status, while long-term investors should pay close attention to any changes in the company's dividend behavior as well as any developments with regard to the company's global operations.
Disclosure: I am long CVX. I wrote this article myself, and it expresses my own opinions. I am not receiving compensation for it (other than from Seeking Alpha). I have no business relationship with any company whose stock is mentioned in this article.