Fellow Seeking Alpha contributor Achilles Research recently published a bear case on Procter & Gamble (NYSE:PG). I'd like to add a different perspective on the company to the discussion.
P&G cultivates a competitive advantage of economy of scale with its line-up of consumer branded products. I admit the company did post terrible margins over the last two years. But there is no reason why it can't return to the healthy margins of 19%-20% before that. The three main reasons I disagree with the bear case:
Dividend or cash returned to shareholders
Growth rate
Margin restoration
Business Summary
The Procter & Gamble Company, together with its subsidiaries, manufactures and sells branded consumer packaged goods. The company operates through five segments: Beauty, Grooming, Healthcare, Fabric Care and Home Care, and Baby Care and Family Care.
Brands
Head & Shoulders, Olay, Pantene, SK-II and Wella
Braun, Fusion, Gillette, Mach3, Prestobarba
Always, Crest, Oral-B, and Vicks
Ace, Ariel, Dawn, Downy, Duracell, Febreze, Gain, Iams, and Tide
Bounty, Charmin, and Pampers
1. Dividend
I like a company that pays a dividend. It is returning cash to shareholders on a regular basis. That forces discipline on management.
Earnings calls where you are the one to announce dividend cuts are rarely enjoyable events. Achilles research is not impressed with the P&G dividend policy:
Investors who seek a stable dividend stream that is secured by sufficient operating cash flow might very well find that PG is a suitable investment. They need to know, however, that they pay a substantial premium to the underlying intrinsic value. Since the dividend prospects are not too exciting, investors are better advised putting their investment dollars somewhere else.
On the other hand I'm quite satisfied with management's plans to return cash to shareholders as laid out at the Barclays Back to School Conference.
We expect to deliver another year of around 90% free cash flow productivity. We'll pay over $6.5 billion in dividends and repurchase $5 billion to $7 billion of our stock, continuing to deliver on our commitment of cash return to shareholders. On our market cap of about $215 billion this equates to an effective shareholder yield of approximately 5% to 6%.
Earnings and Valuation
Achilles Research's concern with the earnings and valuation levels are understandable. A P/E ratio of around 20 is not easy to justify, especially when considering P&G is a large cap marketing branded goods to consumers.
Procter & Gamble's market valuation contains a rich multiple based on earnings and based on free cash flow.
Compared to competitors Colgate-Palmolive Company (NYSE:CL) and Unilever PLC ADR (NYSE:UL), Procter & Gamble's PE ratio is average.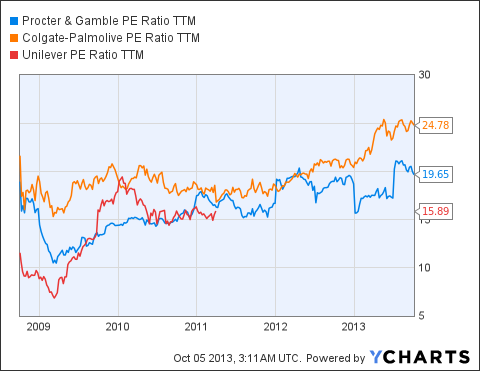 PG PE Ratio TTM data by YCharts
To justify a P/E of 20 a decent growth rate needs to be in the cards, even taking into account all the value P&G plans to return to shareholders with dividends and stock buybacks.
2. P&G Growth Rate
Ten-year net income growth has been 8.11% annualized. Given that the company maintained a payout ratio of ~50% over this period, that is an accomplishment. To be fair, recent performance has not been stellar with net income dropping an annualized -3.31% over the last three years.
It is perfectly understandable investors put a question mark on a P/E of 20. Over longer periods of time P&G did produce solid returns though. .
3. Earnings
Earnings growth can materialize in different ways. Revenue growth is one way, margin growth is another. Lately preserving margins under pressure has shown to be a challenge for P&G. The strategic choices that weighed on margins:
The company's focus on mid-to -low priced product segments
the company's increasing focus on developing markets
Because of the slow economy the company shifted some focus to mid and low priced products. It is harder to capture large margins with low priced products. In defense of management - at least revenue is back at the 2008 level.
The increasing focus on developing markets hurt margins in two ways.
It makes sense that consumers are less cash flush and it's harder to charge premium prices.
At the same time, P&G brands are not yet as established as they are in the U.S. or Europe. That means expenses to build brands are higher per unit sold. The economy of scale, that is P&G's main competitive advantage, is not as strong yet.
Margin Pressure is a Temporary Condition
The margin pressure that is weighing down earnings is a temporary condition. Maintenance of a brand is expensive and it can even result in destruction of capital. Building a brand is even more expensive.
P&G is capable of monitoring the brand building process. It will build brands in a way that creates value for shareholders over the long term.
When the company's brands become more established in emerging markets, the economy of scale advantages P&G enjoy in the U.S. will start to materialize.
The CEO recently spoke at the Barclays Back to School conference:
In developed markets, we have taken a blank sheet of paper look at supply chains, designing from the shopper and customer back. We're studying options that will significantly reduce the number of manufacturing plants and distribution centers. We will build capabilities and drive synergies across categories, reduce cost and inventory all while improving customer responsiveness and service.

This will require investment but will generate very attractive returns. We will redesign and strengthen our go-to-market operations in North America and Europe to be more effective and more efficient. In Europe, we look to scale operations across all of Europe and across fewer larger country clusters.

We will evaluate organization design options to improve effectiveness and efficiency in developing markets. And we will move from a large centralized support staff model to leaner business unit based on functional support with floated work from more shared sector and company services and more outsourced partnerships. We will improve marketing ROI through greater message clarity, optimize media and greater efficiency of non-media spending.
This shows that the company is focused on improving its margins.
Effect of Restoring Margins
During 2012 operating margins dropped to 15.9%. To place this in historic perspective, look at operating margins in recent history:
| | | | | | | | | | | |
| --- | --- | --- | --- | --- | --- | --- | --- | --- | --- | --- |
| Year | TTM | 2012 | 2011 | 2010 | 2009 | 2008 | 2007 | 2006 | 2005 | 2004 |
| Operating Margins % | 17.2 | 15.9 | 19.2 | 20.3 | 20.4 | 20.5 | 20.2 | 19.4 | 19.3 | 19.1 |
It is obvious there is a real possibility for recovery. Management should be able to return margins to 19%. That would translate to an earnings growth of ~12% right there.
Conclusion
P&G returns a lot of cash to shareholders through dividends and buybacks. The company is focused on restoring margins to levels that have been standard in the past. The company is driving growth in emerging markets. This may result in a short-term drag on margins, but it is also where allocated capital can be expected to have the highest rates of return on the medium to long term.
P&G is not the most exciting stock to buy but it is not overvalued.
Disclosure: I have no positions in any stocks mentioned, and no plans to initiate any positions within the next 72 hours. I wrote this article myself, and it expresses my own opinions. I am not receiving compensation for it (other than from Seeking Alpha). I have no business relationship with any company whose stock is mentioned in this article.