Recently a boutique PC shop, OriginPC, made waves in the tech press by contacting various tech journalists and having those journalists run a piece regarding Origin dropping Advanced Micro Devices' (NYSE:AMD) GPUs, but only the GPUs.
Prior to this, Nvidia (NASDAQ:NVDA) had also contacted tech journalists to have them run stories regarding issues with AMD GPUs pushing either 4K (higher than HD resolution) monitors, or three 1080p displays simultaneously in an Eyefinity configuration.
The timing of both of these instances struck me as odd given the proximity to AMD's new GPU launch, among other things.
From the 10,000 foot view, it seems incongruous that stories regarding a sliver of the gaming community (those that use Eyefinity/4K monitors or 3x1080p monitors in Eyefinity), or that a boutique PC manufacturer that I had never heard of deciding to drop AMD, were able to garner so much attention.
In this article I will offer my point of view regarding the timing of this negative press, as well as a parallel as to how Nvidia has been shifting its GPU strategy to more mimic AMD's.
How Many Users are Affected By Multi-GPU Setups or Greater Than 1080p Resolution?
Below is a screen capture taken from the Steam Hardware Surveys depicting the percentage of gamers at 1080p and above.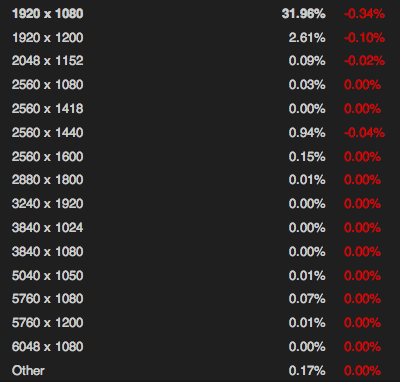 Of the gamers that use Steam, 1080p is the mode for screen resolutions. The issues that were pointed out regarding AMD crossfire solutions typically take effect at resolutions greater than 1440, which you can see account for ~.25% (~.4% if the "other" category is included) of gamers that submitted hardware surveys to Valve.
Regarding SLi/Crossfire, 1C Publishing ran a poll, and of users that responded, only 30% used multi-GPU solutions.
According to TechReport,
For its part, Nvidia called together several of us in the press last week, got us set up to use FCAT with 4K monitors, and pointed us toward some specific issues with their competition. One the big issues Nvidia emphasized in this context is how Radeons using dual HDMI outputs to drive a 4K display can exhibit vertical tearing right smack in the middle of the screen, where the two tiles meet, because they're not being refreshed in sync.
So unless I am misreading this quote, Nvidia contacted the press a week or so before AMD announced new GPUs, and pointed the press toward an AMD problem that affects a minimal amount of consumers.
Note that AMD has recently addressed some of these issues with their beta drivers. And, again, according to TechReport, will continue to address problems this fall. To give examples of how AMD intends to fix these problems, the company is changing the way data is passed between GPUs in Crossfire.
Image courtesy of WCCFTECH:
AMD has also worked in developing a new VESA (Video Electronics Standards Association) standard in order to improve 4K experience. Panasonic has launched a Viera 4K display that uses this new standard.
To sum it up, it seems Nvidia worked with press members to drum up negative press surrounding AMD for issues that AMD is actively working on, and for issues which affect a minimal number of users.
Origin Dropping AMD
At first I had to re-read the headlines. Origin is also the name of EA's online client service, so at first I was wondering if the news was regarding Dice backing out of Mantle. This is not the case.
To follow the breadcrumbs, the story regarding OriginPC (the PC maker that is unaffiliated with EA) was originally posted on Engadget, quickly followed by several other sites.
I felt it was extremely odd that a PC manufacturer that I had never heard of went out of its way to contact press regarding dropping AMD while simultaneously promoting Nvidia:
This decision was based on a combination of many factors including customer experiences, GPU performance/drivers/stability, and requests from our support staff. Based on our 15+ years of experience building and selling award winning high-performance PCs, we strongly feel the best PC gaming experience is on NVIDIA GPUs.
A week or so prior to the announcement of OriginPC ousting AMD, there was another press release regarding OriginPC releasing "Military-Grade Gaming", 4K "BattleBoxes." For the record, I have no idea what "Military-Grade Gaming" is.
Image Courtesy of OriginPC:
I was not the only one that found the timing and wording of OriginPC's statement to Engadget peculiar. Legit Reviews published an article regarding OriginPC's decision in which the author seemed hesitant regarding OriginPC's motives. Both PC World and Semi-Accurate published articles that were a little more straight-forward in questioning the motives behind the announcement.
One article I would like to address specifically is from GameFront.com. Devin Connors of GameFront notes his sources had relayed to him that the launch of Battlefield 3 drummed up $1B worth of PC upgrades at launch. Because I have no way to verify this number, I will refer to hardware sales related to BF3 as "a lot." To me, this added to the peculiarity that a small PC retailer denounced the target hardware for Battlefield 4 a few weeks before the game debuts. It flies in the face of logic to limit consumer choice, especially given that there is a high chance Battlefield 4 will lead to a lot of revenue regarding PC upgrades.
Lastly, there was an interesting debate with various tech writers and OriginPC's CEO on Twitter. Essentially, paraphrasing for the CEO of OriginPC, reasons for dropping AMD included a higher-than-Nvidia failure rate of GPUs and a lack of support from AMD.
I have asked Mr. Kevin Wasielewski, CEO of Origin PC, for clarification on the communications issue, and will update this article if I receive a response.
However, the answers given by Mr. Wasielewski made sense, so in the end I am simply confused by the need for Origin PC to publicly denounce AMD, but my mind does not first run to foul play as a reason.
Nvidia Offers Free AAA Titles With New GPUs
I have seen comments before on Seeking Alpha criticizing AMD for "giving away" free PC games via the company's "Never Settle" promotions. In my view, I feel these promotions worked last quarter to help AMD gain marketshare. According to Jon Peddie Research, AMD's discrete GPU marketshare edged up to ~38% from ~35% from the prior quarter. This is a noteworthy achievement given that AMD gained marketshare with an aging, soon-to-be-replaced line of GPUs.
In my opinion, price cuts, better drivers, and the Never Settle promotions aided in driving the increase in marketshare. And as AMD has been gaining traction, Nvidia is now offering free games such as Splinter Cell and Batman: Arkham Origins with select GPUs.
Conclusion
In summary, AMD has received much positive press as of late regarding their GPU launch. The articles surrounding the collaboration between Dice and AMD on "Mantle" were somewhere on the order of magnitude between "big news" and "industry changing." Given the previous statement from GameFront regarding Battlefield 3 generating $1B in PC upgrades and the press received from AMD's partnership with Dice, AMD has found itself in an envious position.
To combat some of this positive press, we see negative press cropping up regarding problems with AMD hardware that affect a very small percentage of users, and AMD is actively pursuing solutions to these problems. We also see Nvidia starting to "give away" games, which was a point of criticism for AMD when compared against Nvidia.
Given that there are two major players in the discrete GPU market, a slot won by AMD represents a slot not available to Nvidia. Based on information from the Jon Peddie Research article linked to earlier, we can see AMD has ~38% of the discrete GPU marketshare at the time the report was published.

AMD reported GPU revenues of $320M during the Q2 conference call. $320M was a drop of ~5% from the prior quarter. The 5% drop was stated as being due to lower console royalties coupled with a lower ASP of various GPUs. Given that the new "R" series GPUs from AMD are primarily a rebrand and price reduction of the 7000 series, with the exception being the Hawaii GPU, I expect we may see a further increase in volumes, coupled with a slightly lower ASP for discrete GPUs.
Other catalysts regarding AMD's GPU segment not discussed in this article include AMD winning the spot in the MacPro, which is most likely a very low volume but high margin win. Going forward, this segment will also include revenues from the Playstation 4 and Xbox One, so it may be more difficult to decipher discrete GPU sales specifically in the financials.
I am not looking for increased GPU sales during Q3 to alone act as a propellant for AMD's share price. At this point, it will take a holistic effort on AMD's part to ensure the turnaround remains on tract.
What I am most concerned with specifically regarding GPUs is the trend of GPU market share when Jon Peddie releases the next report, along with the language regarding GPU sales during the next earnings call for AMD. Keeping in mind AMD's higher priced R9-290X will be launching for retail available in Q4, if AMD can maintain or grow marketshare in the discrete GPU segment in the near term, the higher ASP of the R9-290x can offset the lower ASPs of the rebranded parts going forward, leading to a more profitable fourth quarter for AMD. The next report by Jon Peddie Research should be available sometime in November, and AMD's next conference call is scheduled for October 17th.
Disclosure: I am long AMD. I wrote this article myself, and it expresses my own opinions. I am not receiving compensation for it (other than from Seeking Alpha). I have no business relationship with any company whose stock is mentioned in this article. I may initiate a small short position in NVDA. I am long both shares and contracts in AMD, and actively trade my AMD position. I may add to or liquidate my position in AMD at any time.