Felix Salmon is skeptical about the ability of average investors to protect themselves from major economic risks:
[T]here really isn't an easy or obvious way for an investor to be highly risk-averse in this market, not when one of the biggest tail risks that people want to protect themselves against is inflation. Big investors can try taking the Taleb approach of buying large numbers of out-of-the-money options and reckoning that a bunch of them will pay off when the next crisis hits, but that's not a strategy available to most of us. There's only downside and no upside in lending money to the US government or your local bank at near-zero interest rates, and buying gold at $1,100 an ounce looks like a crazy speculative momentum play more than a flight to safety.
Of course, anyone with a few hundred dollars and a frown can buy a cheap put option that will pay out big if another crisis hits. But I take it that Felix's point is that any options strategy that offers genuine protection will be too complex, impractical, or costly for the average retail investor to implement. I understand why that view is so prevalent, but it isn't true. An ordinary investor with minimal knowledge of options can implement a highly risk-averse strategy to avoid the impact of major economic crises, and without giving up too much upside in the interim.
My hypothetical ordinary investor knows what calls and puts are, and that they may be bought and sold, and that is all. She holds $90,000 in SPY, the exchange-traded fund that tracks the S&P 500, and has $10,000 in cash with which to protect herself against a crash or crisis. The most obvious approach will be to buy some far out-of-the-money, long-dated put options on SPY, which are among the most liquid options in the world.
Starting a new portfolio today, she'd have about 800 SPY shares at $110.15. If she doesn't want to bother with options every month or even every quarter, she can buy 16 SPY put contracts that will expire in December 2010 with a strike price of 80 at the current asking price of $3.15, for a total premium of $5,040. The 80 strike represents about a 25% decline in the index from current levels – hardly a Talebian ornithological event, but still something that would cause investors pain. Why 16 put contracts, rather than eight? Since each put contract gives her the right but not the obligation to sell 100 SPY shares at $80, buying eight of those contracts effectively stops her from losing any more money if the index is below that level at expiration. That might be insurance enough for some – paying 2.5% to know that no matter what happens, no more than 26% of the portfolio can be lost over the next year – but by buying an extra put for each 100 shares, an investor can gain some additional protection plus the opportunity to be profitable if things really collapse.
I'll demonstrate the effectiveness of those added puts in a moment, but just to be clear about the rules of this strategy, they are:
Given the current value of the equity portfolio to be hedged, determine the greatest loss tolerable over the next 8-12 months. Example: 25%
Determine the value of the equity portfolio in SPY shares, e.g. a $90,000 portfolio currently equals about 800 shares.*
Buy put options expiring in whichever SPY December series is at least eight months away at the strike price corresponding to the maximum tolerable loss. With SPY at 110, a 25% tolerable loss means one would trade the strike closest to 82.5. Buy one put contract for every SPY-equivalent 50 shares.
Sell the put contracts in the July prior to expiration and repeat the steps above.
* For portfolios with substantial exposure to small-cap, emerging market, or other high-beta stocks, a higher estimate of SPY shares may be appropriate.
The table below compares the values of the hypothetical hedged (SPY shares plus put options) and unhedged (shares only) portfolios at various index levels on two different future dates. I'm ignoring returns on cash and commissions.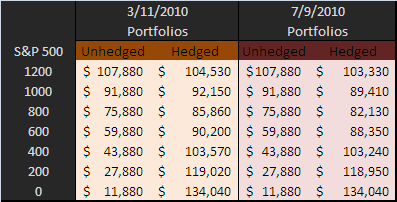 For the graphically-inclined (click to enlarge):

[source: thinkorswim]
The green and blue lines correspond to the two dates in the table, and show the profit and loss of the portfolio on those dates at various index price levels. I haven't included much upside here, since the value of the hedged and unhedged portfolios can't be different by more than the cost of the puts no matter how high the index goes. I selected the dates that I did because, while the cost of this put insurance is about 5% if held to expiration, much of the decay in the value of the option occurs within the last few months; by exiting the Dec 2010 option sometime in July or so and buying the next available December series, the investor can reduce her costs.
Consider one variation. In the event our investor is extremely risk-averse and just a little bit clever, she could sell eight Dec 2010 calls, selecting whichever strike level is priced most closely to twice the cost of the puts ($3.15) without going over. In this case, that'd be the 120 calls for $5.55 each. This caps the upside potential of the hedged portfolio at about 7%, but also limits the downside exposure to about 13%. The eight offsetting puts and calls constitute a position commonly known as a "collar," and they're a great next step for any investor who is already comfortable trading covered calls. A risk profile for this variation is below. (Note that an investor who isn't actually long SPY shares but a varied basket of equities instead will face an additional margin requirement for this trade.)

The levels of tolerable loss and exposure to gains in the event of a catastrophe can be varied easily and intuitively. A trader who is indifferent to ordinary bear markets but wants large returns amidst a worst-case scenario can reach for lower strikes and nearer expiration cycles. Someone who can't stand even a 10% decline and doesn't care about any "black swan" profits could follow the same steps as above, but purchase at-the-money puts instead. The details aren't as important here as the notion that if someone – anyone, no matter how small – is genuinely averse to risk-taking, they can forgo some portion of future profits in return for real, liquid, counter-party-free protection.
There are better ways to hedge a stock portfolio than the methods described above, but I've assumed as little knowledge and expertise as possible. Notice that none of the above required any discussion of spreads, the greeks, or implied volatility. I kept the implied volatility in the options constant in the above examples, but if we factor in the negative asymmetry between stock returns and implied volatility, we'll see dramatically better results for the hedged portfolios in the loss area of the risk profile (between 110 and 45), since a market decline and concomitant rise in implied volatility will increase the value of the long puts.
Conversely, current equity implied volatility levels are still slightly above historical averages, and traders who buy long-term protection when volatility is lower and a crisis is the last thing on anyone's mind (cf. 2005-6) can see even better performance. The problem isn't that the tools for protecting against tail risks aren't available to small investors; it's that small investors aren't educated about those tools and that, historically, they become risk-seeking and risk-averse at exactly the wrong times.
I've been looking at options on the S&P 500 because retail investors are usually more concerned about protecting their stock portfolios than anything else. But anyone concerned about massive inflation can apply the same general ideas to the currency or commodity markets, replacing puts with calls where appropriate, i.e. buying call options on gold on the assumption that gold will rise in price during periods of high inflation (a somewhat contentious assumption). A risk-averse option buyer is paying a premium for the possibility of non-linear payouts in case of a dramatic move in the underlying asset, and in every market with listed options there are traders who are willing to sell those puts or calls at a reasonable price.
For those with a little more knowledge, there are more strategies and products available. I'm developing a program that aims to provide disaster protection at a significantly reduced cost by using exchange-traded volatility derivatives, which continue to gain in popularity.
Most importantly, any hedging at all is better than none. Even diversification across asset classes pretty nearly counted as "none" in 2008. But a thoroughly fearful equity investor who learns to quantify and reduce her risk with options is an investor who can – and will have reason to – adopt a more balanced attitude. While individual investors didn't cause the financial crisis, their (understandable) panic certainly didn't help. I don't know whether helping average investors become calmer, more informed, and better-hedged would be a good thing for the financial services industry, but it would surely be good for the stability of the financial system.

Disclosure: Option positions in SPY and GLD.