Earlier this week, I published an article that highlighted three high yield oil and gas stocks worthy of additional due diligence by investors seeking a steady stream of income and long-term capital appreciation. Although these companies were trading at a slight discount to their intrinsic value, these stocks were not ideal candidates for a short-term trade. They were intended for investors with a long-term mindset that capital gain would be available once the market price of these securities coincides with their intrinsic value. But after evaluating feedback from readers, it seems income investors are more intrigued by the potential for higher capital appreciation in the short-run. With that being said, I did some more digging and came across Hugoton Royalty Trust (NYSE:HGT), which is an oil & gas trust with excellent short-term upside potential. Just like Pacific Coast Oil Trust (NYSE:ROYT), New Source Energy Partners (NSLP) and Breitburn Energy Partners (BBEP), Hugoton offers a competitive dividend yield as well, but the main different that distinguishes its upside potential from the other companies lies at the heart of its valuation and technicals. Given Hugoton's market value is just above $7 per share, it's trading at a severe discount to its fair value and its technicals have become increasingly more attractive than ever before, thus the distressed state of its valuation presents a feasible opportunity for investors to capitalize on an investment with a shorter horizon.
How Exxon Mobil, XTO Energy, & Hugoton Are All Intertwined
Established on December 1st, 1998, Hugoton was created so XTO Energy Inc. could convey 80% of its net profits interest in gas-producing properties to the trust. Although XTO Energy was founded in Fort Worth, Texas in 1986, interestingly enough, XTO Energy is actually a subsidiary of Exxon Mobil (NYSE:XOM). For the sole purpose of maintaining a competitive advantage in natural gas industry, the two companies merged in 2010 and combined their expertise. Today, XTO Energy is one of the largest holders of natural gas reserves and also has the highest success across the industry for drilling. Its properties cover a vast landscape stretching from the Great Plains to Apalachia. XTO Energy owns interest in approximately 40,000 producing oil and natural gas wells across the nation. Here's an overview of its properties: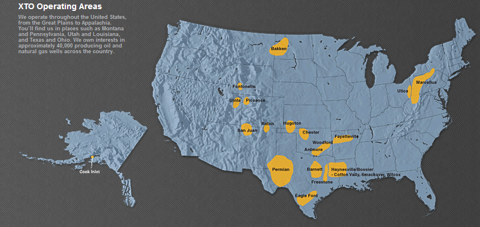 (Source: XTO Energy's Company Website)
Hugoton's Net Profits & Dividend Schedule
As previously mentioned, Hugoton benefits from XTO Energy's net proceeds. These proceeds are then calculated by deducting production expenses, development costs, and overhead from the revenues derived from the underlying properties that are owned by XTO Energy. In the case where monthly costs exceed revenue from the properties in any state, the excess cost must be recovered, with accrued interest, from future net proceeds of that state. For the purpose of analyzing its net proceeds, it's important to view each state as its own entity. Therefore, excess costs and interest paid on excess costs in one state cannot decrease net profits in another state. Typically, Hugoton is not faced with excess costs except for when the price of gas experiences a decline across the board and/or during periods that exhibit an abnormally high level of development activity. Additionally, it's important investors understand that the net profits interest are Hugoton's only asset, aside from the cash held for Hugoton's expenses as well as distributions to shareholders. One of the main benefits Hugoton provides investors with is a monthly dividend distribution. The net profits Hugoton receives on the last business day of each month is calculated and paid by XTO Energy based on net proceeds received from XTO Energy's properties in the previous month. Then, a dividend distribution is paid to investors who are month-end unit-holders of record within ten business days.
Valuation, Technicals, & Investor Concerns
Right now, Hugoton is trading at right above $7 per share, which is only 12.15x its forward earnings per share. With 40mm shares outstanding, its market capitalization is relatively small standing at about $291mm. Recently, Hugoton has seen improvement in its profitability. On a quarter over quarter basis, its earnings per share and sales have increase by 43.8% and 35.7%, respectively. Furthermore, Hugoton's return on invested capital and assets is quite favorable as well. Currently, its return on invested capital is 22%, while its return on assets is 21%. Over the past three quarters, its return on equity has been about 22%, and at a minimum, investors should expect this trend to continue.
From a valuation standpoint, I would conservatively say Hugoton is trading at a discount of about 30% to its intrinsic value. And based on its EV/EBITDA multiple, the discount seems even more severe. For a good comparison, I have also included Pacific Coast Oil Trust in the graph below. Despite that Hugoton may appear to be valued at a 30% premium to Pacific Coast Oil Trust based on its enterprise value multiple, Hugoton has historically displayed an enterprise value multiple consistently higher than its peers. Therefore, it's more important to recognize the gradual decline both companies have experienced in this multiple over the last five months, and you will see that Hugoton's decline was slightly steeper.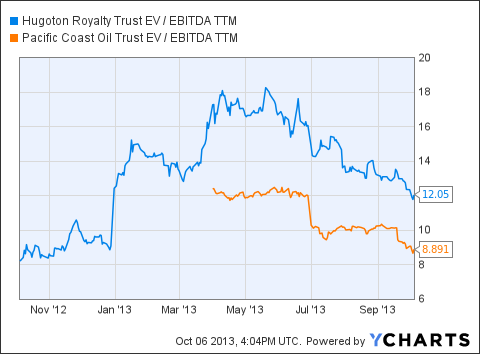 HGT EV / EBITDA TTM data by YCharts
The short-term upside potential for Hugoton is significantly higher than the companies I highlighted in my previous article. Its high dividend yield of 13.58% is quite attractive and is very comparable to its peers. Furthermore, its relative strength index (RSI) indication of 28.75 suggests the stock has been heavily oversold. An RSI indication ranging from 20-30 suggest the stock has been oversold and a strong indication that there is a high probability of an upward trend in its security price. In terms of market risk, for a company whose profitability is linked to the revenue derived from oil and gas production, its level of volatility is considerably low. To provide investors with an accurate measure of this, I quantified its firm-specific risk with respect to the returns of the overall market. Using its monthly holding period returns for the last two years, I computed a firm-specific beta of 0.95, which is extremely low given the market has a beta of 1.
The Bottom Line
Overall, Hugoton offers a adequately balanced risk versus reward opportunity for income investors seeking additional upside potential in the short-run. Its operations are profitable and are positioned to benefit share holders more than anything. The high yield provided through its dividend is ideal for investors seeking income, and it also serves as downside risk protection of its own. The underlying technicals exhibited through Hugoton's market price offer a feasible entry point, and most importantly, it's not too late for investors to take advantage of this simple arbitrage opportunity.
Disclosure: I am long XOM. I wrote this article myself, and it expresses my own opinions. I am not receiving compensation for it (other than from Seeking Alpha). I have no business relationship with any company whose stock is mentioned in this article.