Cytokinetics (NASDAQ:CYTK), a biopharmaceutical company developing novel first in-class molecules that modulate muscle function for the treatment of disease, has seen its stock battered since the release of Phase IIb trial data of omecamtiv mecarbil (OM) in acute heart failure (AHF) patients early last month. The recent drop of almost 35% leaves Cytokinetics markedly oversold and undervalued. Here, I illustrate why the stock decline is unjustified and why Cytokinetics could reward patient investors with big returns.
ATOMIC -HF Phase IIb Trial Results were Expected and Encouraging
The results of the ATOMIC-HF trial which has been the catalyst of the recent sell off have been misconstrued by Wall Street. The Phase IIb trial, partnered with Amgen (NASDAQ:AMGN), was designed to evaluate the safety, pharmacokinetics, pharmacodynamics and efficacy of intravenous 48 hour exposure of OM in AHF patients. The study enrolled 613 patients with approximately half receiving placebo and the other half divided into three dose escalation cohorts. Importantly, the lower doses of OM were known to be sub-therapeutic. The results illustrated that OM was behaving as expected in AHF patients with systolic ejection time increasing in a concentration dependent manner. In addition, in the higher therapeutic dose of OM there was a 45% reduction in the 7-day incidence of worsening heart failure, compared with the 17% rate in controls. OM was also well tolerated in AHF patients with no proarrhythmic effects. In fact, investigators were excited to find that there was a 50% reduction in the incidence of supraventricular tachyarrhythmias, compared with placebo. All current drugs with favorable clinical outcomes reduce heart rate as seen in this OM trial.
Wall Street has focused on two outcomes of the trial that has been the root of the stocks exaggerated fall. First, was the trial's failure to meet the endpoint of dyspnea (shortness of breath) relief. When the low, intermediate and high dose OM treatment groups were pooled together, there was no difference in dyspnea response rate compared to the controls. However, this result was expected and management had been telling investors for months before the results were released that the study was not intended to reach this endpoint. Dr. John R. Teerlink, Professor of Medicine at UCSF and principal investigator of the study, echoed these statements when he said the study, "…was not powered or designed around the efficacy endpoint." It was expected because the lower doses were known to be sub-therapeutic. Nonetheless, there was an evident dose related trend in dyspnea relief when observing the pooled controls to the individual OM dose cohorts.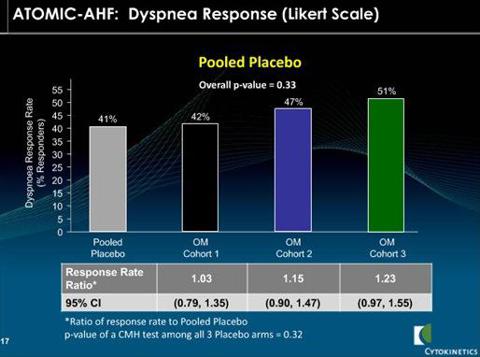 Click to enlarge
In fact, when comparing the matched control to the higher therapeutic dose cohort there was a 51% rate of improvement in dyspnea, significantly better response than the 37% rate in matched placebo-treated controls (P = .03). This would be the dose range targeted for a Phase III study.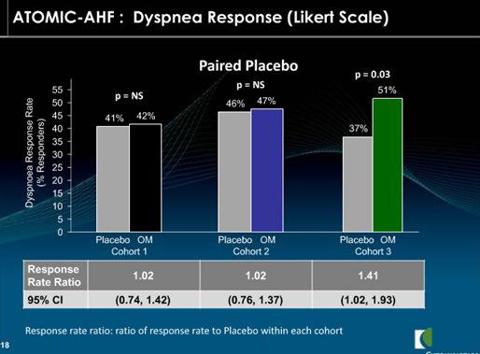 Click to enlarge
Second, was the report that there was a higher incidence of myocardial infarctions in the OM treatment groups compared to the controls. Data further detailing the myocardial infarctions was released September 23 at the Heart Failure Society of America (HFSA) Annual Scientific Meeting where it was revealed that OM was likely not responsible for the myocardial infarctions as most occurred long after the drug was administered. The data was elegantly explained recently in a Seeking Alpha article by Smith on Stocks. The revelation that OM was likely not responsible for an increase in myocardial infarctions went largely unnoticed by Wall Street. Therefore both factors Wall Street and the press have focused their attention on are not huge concerns for those familiar with the data and should not hinder further development of the drug.
Omecamtiv Mecarbil Will Advance into Phase III Trials
Numerous cardiologists have voiced their approval of the results, including Dr. Teerlink who stated "I personally believe this drug has continued to demonstrate its promise all along the way. It could replace milrinone and dobutamine in the hospital to improve cardiac performance." Dr. Theresa A. McDonagh, cardiologist from Kings College, went so far as to call OM the "Holy Grail" in heart failure treatment. The decision to move into Phase III ultimately lies with those paying the bills. Investors should feel confident that Amgen was pleased with the trial results as they invested an additional $25 million to expand OM licensing rights to Japan after reviewing the data, bringing their total investment in the OM program to $150 million. Cytokinetics and Amgen are also conducting a Phase II trial called COSMIC-HF which is a dose-finding study of the oral form of OM in heart failure patients. This data along with the ATOMIC-AHF data will determine the course of action for a Phase III trial. The stock will see considerable upside if the COSMIC-HF data is favorable. The COSMIC-HF trial will be looking at the safety, tolerability and pharmacokinetics of the oral form of the drug. Since there is no endpoint like dyspnea response being investigated, there is very little risk the data could be perceived as negative like the ATOMIC data. There are several possibilities for Phase III studies and approval depending on the outcome of the COSMIC-HF. Obviously the ideal situation is for patients to begin OM intravenously when admitted to the hospital and then be moved to the chronic oral form once released. However, Cytokinetics and Amgen could also decide to just move forward with the acute IV form or only the chronic oral form.
OM has been in development for over a decade and Cytokinetics and Amgen have designed the clinical trials carefully and methodically which gives OM a high chance of moving into Phase III studies and potential future commercialization. This advancement into Phase III will result in significant milestone payments for Cytokinetics. Entry into Phase III trials will send the stock soaring.
Tirasemtiv for Treatment of ALS is another Potential Catalyst
Cytokinetics is developing the novel compound Tirasemtiv for treatment of Amyotrophic lateral sclerosis (ALS) also known as Lou Gehrig's disease. There currently is no treatment for the functional impairment seen with ALS and therefore Tirasemtiv has been given orphan designation and fast-tracked status by the FDA. It has the potential to be the first treatment approved for ALS in the last 20 years. Similar to OM, Cytokinetics has taken its time and performed several Phase I and Phase IIa trials to study the safety and tolerability of the drug and determine how best to structure the current Phase II trial. To date, Tirasemtiv is the first drug ever to demonstrate an increase in functional rating in ALS patients during a Phase II study. The current ongoing Phase II study will analyze 680 patients over 12 weeks of Tirasemtiv treatment with the goal of observing a decrease in functional decline over this longer period of time. This data should be available in early 2014. Due to the lack of current treatment, the devastation of the disease, and ALS foundations lobbying for approval, this drug has a high chance of success if the ongoing Phase II trial has even a hint of the benefits shown in the previous study.
Strong Partnerships with Amgen and Astellas
Due to the novelty and potential success of Cytokinetics compounds they have been able to build strategic alliances with Amgen and Astellas to help fund the development of their clinical programs while retaining the commercial rights of the drugs. As discussed previously, Amgen has paid Cytokinetics $150 million to date for exclusive rights of OM. Amgen is also funding the clinical trial program of OM. Cytokinetics can gain another $650 million in milestone payments with a good chunk of that related to entry into Phase III. This close relationship has resulted in Amgen obtaining an over 7% ownership in Cytokinetics.
Cytokinetics also has a strong partnership with Astellas for its skeletal muscle compound program worth a potential $450 million with $40 million upfront. Similar to the Amgen deal, Astellas is responsible for the costs associated with product development and clinical trials. Between the Astellas and Amgen deals, Cytokinetics has over $1 billion in potential milestone payments with $500 million due in payable in pre-commercial events. Together, these partnerships allow Cytokinetics to leverage the experience and deep pockets of Amgen and Astellas while maintaining the ability to make significant revenue if the products are commercialized.
Additional Commercial Opportunities
Cytokinetics first in class novel compounds directed towards treating impaired muscle function provides an enormous amount of commercial opportunity for several different disease states. For example, Tirasemtiv which is currently in clinical trials for ALS could potentially be used for multiple sclerosis and muscular dystrophy. These additional diseases which impair muscle function could provide additional sources of drug development potential and new partnerships. If the Phase II trial for Tirasemtiv is positive, I wouldn't be surprised to see Cytokinetics also partner for its commercial development.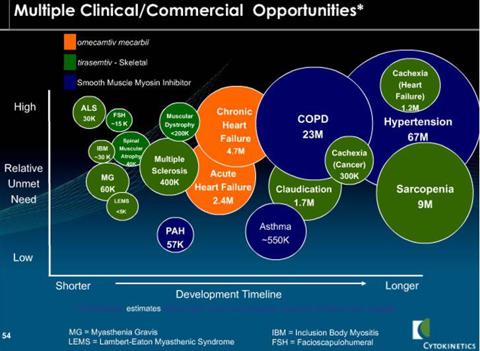 Click to enlarge
Conclusion
Cytokinetics novel approach for the treatment of diseases associated with impaired muscle function such as heart failure and ALS has resulted in significant advances in drug development and partnerships for the company. With a healthy pipeline anchored by two very strong drug candidates in OM and Tirasemtiv and $90 million in cash and cash equivalents, enough to fund the company for close to two years, I believe the stock is extremely undervalued and oversold. The fact that Wall Street has misinterpreted the OM Phase IIb data and discounted OM as a failure, represents a significant investment opportunity. With very little downside at current levels, I have been adding heavily to my position. As Warren Buffett said, "When it's raining gold, reach for a bucket, not a thimble."
Disclosure: I am long CYTK. I wrote this article myself, and it expresses my own opinions. I am not receiving compensation for it. I have no business relationship with any company whose stock is mentioned in this article.