By Ivan Y.
Allied Nevada (NYSEMKT:ANV) is one of the dozen or so mining stocks that I follow. I took an initial look at it a few weeks ago while I was searching for a deep value mining stock. At that time, ANV was trading around $5 but I came to the conclusion that it was too risky even at a seemingly cheap price. I made a note that I would reconsider an investment in this stock if it went below $4. So that is where the stock is at now after a brutal selloff the past 2-3 weeks.
Betting On A Short Squeeze?
The short interest in ANV has more than tripled since the summer and currently stands at about 17% according to my calculations. Speculating on stocks with a high short interest can be hit or miss. While stocks like Tesla (NASDAQ:TSLA) and Netflix (NASDAQ:NFLX) have flourished this year and crushed the short sellers, BlackBerry (NASDAQ:BBRY) has been decimated.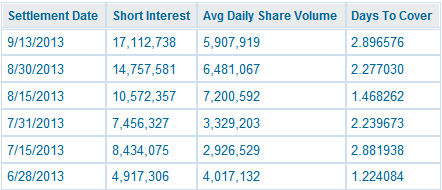 ANV's short interest has risen due to the fact that their expansion plans on the Hycroft mine has been delayed due to this year's gold crash. Specifically, construction of the new mill has been halted. Currently, investors are waiting for the company to give an update on a revised cap-ex and timeframe for the expansion. In addition to the state of limbo their expansion plans are in, the company needs further financing to complete the project if and when they decide to continue the construction of the mill. As of June, the company had spent $715.9 million out of the projected $1.24 billion for the expansion. That leaves $524 million more that needs to be spent. But where is that money going to come from? After an equity financing in May, they had $385 million in cash at the end of June. In addition, they have an undrawn credit facility of $120 million. That leaves them short of what they need. The company already has amassed $550 million in total debt so they are already highly leveraged. On the bright side, $380 million of that debt is not due until June 2019, but they are paying a rather high 8.75% interest.
At this point, there is only one catalyst that I see for a possible short squeeze, and that is a sustained higher gold price. Like other gold miners, ANV is at the mercy of the big players who control the direction of the COMEX gold futures price. And right now the gold price is stuck in mud. You would think that gold would be rallying up to the October 17th debt ceiling deadline. That's what happened in the summer of 2011 when gold rose by $150 in the 5 weeks prior to the raising of the debt ceiling. But in 2013, the debt ceiling is less than 2 weeks from now and gold still has not responded positively. If gold can't rise now, then when will it? Gold is running out of catalysts.
Looks Cheap
From a resource valuation perspective, ANV looks very cheap. The Hycroft mine has one of the largest gold resource base in the world and is expected to produce for a minimum of 19 more years. The gold equivalent resource base, which is about 50 million oz., is the 6th largest in the world according to the company. With about 104 million outstanding shares, that works out to about half an ounce of gold for each share.
Conclusion
Though the stock looks cheap and there is a potential for a short squeeze, the rewards do not outweigh the risks enough for a conservative mining investor like myself. The stock at current levels may be suitable for a more speculative mining investor, but at this point I am still not willing to take an outright long position. If I do take a position in the future I would hedge it with options either by selling covered calls at the $5 or $6 strike to reduce costs, or just sell the naked puts at the $3 strike and settle for small gains.
Disclosure: I have no positions in any stocks mentioned, and no plans to initiate any positions within the next 72 hours. I wrote this article myself, and it expresses my own opinions. I am not receiving compensation for it (other than from Seeking Alpha). I have no business relationship with any company whose stock is mentioned in this article.