Barrick Gold (NYSE:ABX) is a senior gold mining company with exploration projects ranging from Peru to Tanzania and Australia. The entire gold sector caused huge value destruction for shareholders over the last two years with near gradual declines in share prices. Barrick Gold lost 61% of its market capitalization, Goldcorp (NYSE:GG) lost 46%, Anglogold Ashanti (NYSE:AU) 68% and Newmont Mining (NYSE:NEM) 57%. Most notably, hedge fund manager John Paulson, known for his wager on sub-prime mortgages in 2007, bet big on gold back in 2010. His gold fund posted significant losses over the course of the last three years with investors fleeing his fund as his gold investments were ill-conceived. He also held positions in a variety of gold companies such as AngloGold Ashanti and NovaGold Resources (NYSEMKT:NG) that did not turn out too well given the contraction in metals prices over the same time period. The chart below indicates that share prices of senior gold producers have severely contracted and may now be offering great opportunity for contrarian investors.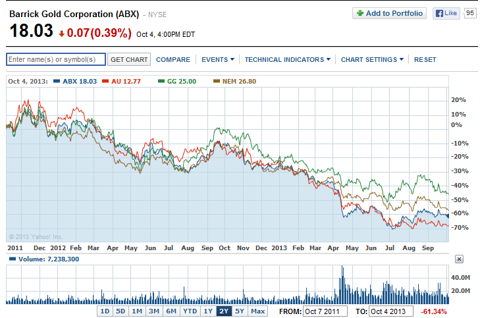 Click to enlarge
Background
I want to counter three issues that bears usually bring forward against an investment in gold miners: Lower gold prices, tapering of the Federal Reserve and governance issues at Barrick Gold in particular.
The most important factor affecting the share prices of gold mining firms obviously is the underlying gold price which has been declining since its September 2011 high of around $1920 per ounce. Lower output prices immediately effect the bottom line of gold miners and hurt shareholders. Lower current gold prices also tempt market participants to extrapolate current price trends into the future. On September 12, 2013 Thomson Reuters reported on forecasted gold prices in an update to its Gold Survey 2013:
In an update to its Gold Survey 2013, Thomson Reuters GFMS said the market could beat a retreat below $1,300 towards the end of 2014 as U.S. monetary stimulus is withdrawn, fuelling talk of rising interest rates.

The consultancy expects prices to average $1,350 next year, down 7 percent from $1,446 in 2013, with support seen between $1,200 and $1,250.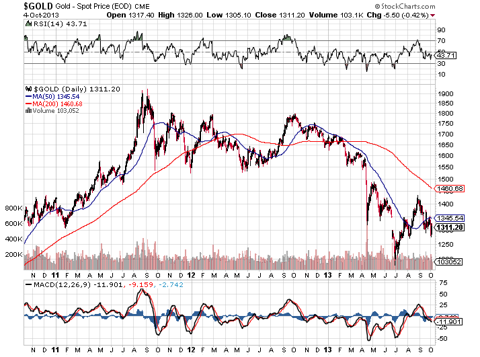 Click to enlarge
Gold prices, however, will be positively affected by an increase in Chinese and Indian jewelry demand. Long-term growth prospects for emerging markets particularly for China and India are very strong. More prosperous societies in emerging markets will ultimately drive jewelry and gold demand in the long-term. Investors who believe that Asian economic dominance will continue to grow over the next decades could very well profit from an exposure to gold mining firms such as Barrick Gold who suffer because of depressed short-term gold prices.
Secondly, fundamental economics dictate that an increase in money supply (such as the bond buying programs of the Federal Reserve) will lead to inflation which is a key driver of metal prices. Both industrial as well as precious metals like gold and silver are said to make fairly decent inflation hedges. The unprecedented expansion of the FED's balance sheet so far has not led to inflation to any meaningful extent. Eventually, inflation will be felt in the real sector of the economy when economic conditions improve. It remains questionable how efficient the FED will be in extracting excess liquidity from the markets. This is not an easy process. I believe that inflation will eventually occur due to expanding GDPs in both developed and developing countries supporting gold prices.
In terms of governance issues the critics are clearly right. Barrick Gold paid co-Chairman John L. Thornton a total compensation of $17 million dollars including an $11.9 million signing bonus. Rightly so, this caused outrage from institutional and retail investors alike who see this compensation as unjustified based on pay-for-performance principles. Institutional investors led by Canadian pension funds staged a revolt against Barrick's pay practices and the compensation committee of the company is addressing this issue. Since then the capital market has send a clear message to Barrick that it expects the company to follow best governance practices. While Barrick's mis-guided compensation policy is embarrassing (and a PR disaster) chances are that the company has learned its lesson and will adjust its governance policies to accommodate the concerns of the investor base. After all, this is a fixable short-term issue hanging over the stock price.
Bottom line
Long-term gold price drivers should support a recovery in the gold price, inflationary pressures also are almost guaranteed to persist in the long-term with global GDP growing and Barrick's governance issues are annoying but clearly fixable. These are convincing reasons to take a closer look at Barrick's valuation and consider an investment.
Peer group valuation
The companies in the peer group (Barrick Gold, Goldcorp, AngloGold Ashanti, Newmont Mining) have taken serious hits to their market capitalizations. Consequently, there are good chances that the market has driven their valuations too low. Barrick Gold for instance can now be purchased for just eight times forward earnings which translates to an earnings yield of over 12%. AngloGold Ashanti also remains comparatively cheap at 10.90 forward earnings.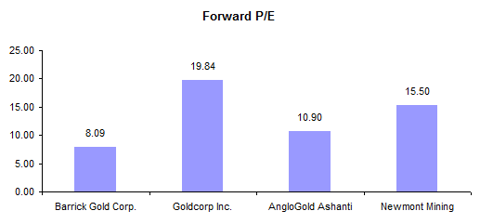 Click to enlarge
Dividend-seeking investors might find Newmont Mining a good deal with a dividend yield of 3.73%. Barrick Gold would not be the most attractive candidate for investors who desire dividends from the gold mining sector. The dividend yield is the lowest for the peer group at 1.11%.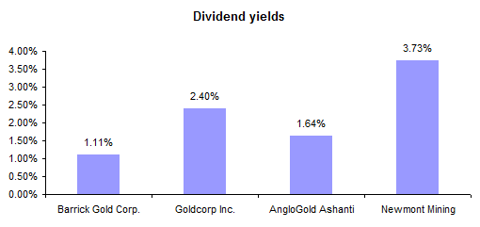 Click to enlarge
Summary of valuation results
The most relevant market-based valuation metrics for major mining companies of the gold sector are provided below. Currently, Barrick Gold can be purchased at a 40% discount to the average peer group P/E. Barrick Gold is by far the most attractive company from a valuation perspective.

Click to enlarge
Recent developments and catalysts
On October 1, 2013 Barrick announced the divestiture of three mining Yilgarn South mining assets as part of its portfolio optimization program to improve free cash flow. The announcement read:
The Yilgarn South assets are comprised principally of the Granny Smith, Lawlers and Darlot mines. In aggregate, these mines produced 452,000 ounces in 2012 at all-in sustaining costs (AISC) of $1,137 per ounce and 196,000 ounces in the first half of 2013 at AISC of $1,145 per ounce. Yilgarn South contained proven and probable reserves of 2.6 million ounces, measured and indicated resources of 0.6 million ounces and inferred resources of 1.2 million ounces as at December 31, 2012, respectively.

Barrick maintains its 2013 gold production guidance of 7.0-7.4 million ounces at AISC of $900-$975 per ounce, which are the lowest costs of its senior peer group.
As a result of continued progress to improve Barrick's free cash flow outlook, Deutsche Bank ugraded Barrick Gold to Buy the following day:
Deutsche Bank issuing ratings for several miners but upgrades only Barrick Gold, to Buy from Hold with a $30 price target (from $20), taking on faith management's follow-through to respond to corporate governance concerns, cut costs, slim its portfolio and clear a path to free cash flow.
Conclusion
More prosperous societies in Asia, above-average growth in emerging markets and global, long-term GDP growth are likely to support gold prices. Actions taken by the FED to extract liquidity out of the market will be implemented because the economy grows and does not need to be on artificial life support anymore. A growing economy is characterized by increasing inflationary pressures which should also support long-term gold price appreciation as commodities are sought out for their inflation hedging properties. Short-term governance or operational issues at Barrick Gold are manageable. Barrick also takes the right steps and divests non-core assets to improve free cash flow. Given the extremely depressed valuation of Barrick Gold, anti-cyclical investors with patience could get a serious bargain here. If Barrick Gold just manages to trade at the peer group average of 13.58 the shares have 68% upside potential. Long-term Buy.
Disclosure: I am long ABX, NEM. I wrote this article myself, and it expresses my own opinions. I am not receiving compensation for it (other than from Seeking Alpha). I have no business relationship with any company whose stock is mentioned in this article.