Monsanto (NYSE:MON) is a Chemical and Agricultural Biotechnology company producing seed brands in small- and large-acre crops as well as genetically engineered seed. Monsanto operates two business segments: Seeds & Traits which incorporates biotechnology, genomics and breeding. The other segment is Crop Protection which includes herbicide products including the world's best selling herbicide Roundup. Monsanto shares have held up nicely over the last year just like shares from Syngenta (NYSE:SYT) while other companies in the agricultural sector (namely fertilizer producers) have taken a few punches to the chin. Potash Corp. (NYSE:POT), Mosaic (NYSE:MOS) and Agrium (NYSE:AGU) were seriously affected by Uralkali's (OTC:URALL) publicized intention to leave the existing potash cartel which pushed fertilizer producers off a cliff in August 2013.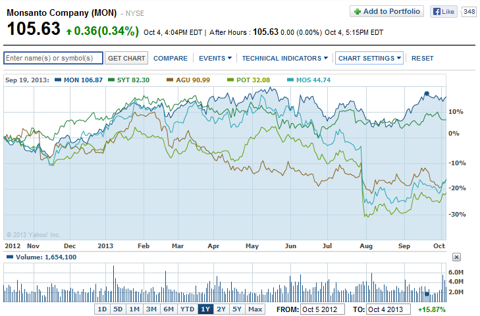 Industry drivers
Agricultural companies such as Monsanto help farmers around the world to increase farm efficiency and the crop yields. Monsanto and other agricultural companies will profit from population growth in emerging markets, limited land supply available for agricultural utilization, the rise of the middle class in developing countries and their changing food demands. These are long-term business drivers that are fundamentally supporting seed- and fertilizer companies. Climate change might add another dimension to the agriculture business with near regular natural catastrophes hurting crop supplies.
The Climate Corporation acquisition
In order to expand its agricultural business Monsanto is in the process of purchasing The Climate Corporation for $930 million funded by both cash and debt. The Climate Corporation provides data analytics allowing Monsanto to gain access to modeling capabilities to forecast weather patterns which should translate into information advantages and productivity gains for Monsanto's customers. Monsanto estimates that the acquisition will have a $0.14 dilutive EPS effect and forecasts a 2014 EPS of $5.00-5.20 including contributions made by the Climate Corporation.
Financial performance
In terms of financial performance Monsanto had a decent year behind it: It grew net sales 10% to $14.9 billion in 2013 from $13.5 billion in 2012. Diluted EPS stood at $4.60 in 2013 compared to $3.79 in 2012 (up 21%). In 2013 Monsanto earned $1,963 million in free cash flow. With 540 million weighted average diluted shares outstanding this translates to $3.64 in free cash flow per share and a trailing P/FCF ratio of 29. More importantly, Monsanto states a 2014 free cash flow guidance of $600-800 million after acquisition expenses which gives the shares a leading P/FCF ratio of 71 for the $800 million scenario. Monsanto's earnings guidance suggests a range of $5.00-5.20 per share for 2014 yielding a forward P/E ratio of around 21 (based on EPS midrange). Monsanto operates in an attractive industry, but the multiples are way out of touch with earnings and cash flow.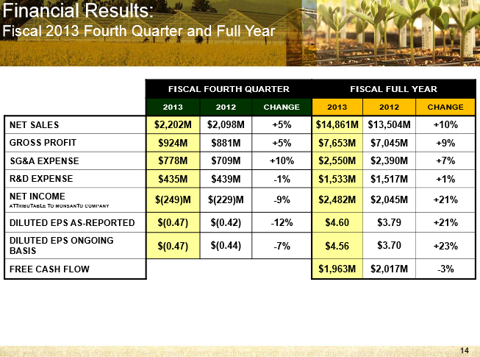 Peer group valuation
Considering the above mentioned valuation metrics for Monsanto it is not surprising that the company leads the peer group in terms of company valuation. Agrium, Potash and Mosaic trade at much lower valuations raising the odds of multiple expansion. Agrium has the lowest forward P/E at 10.40: almost half the multiple for Monsanto.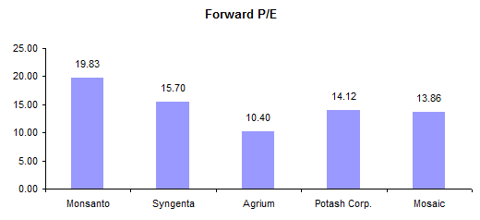 Dividend-driven investors looking for outsized yields should consider Potash Corp. which still offers the highest peer group yield of 4.25%. While Monsanto achieves the highest valuation is produces the lowest cash flow yield at 1.63%.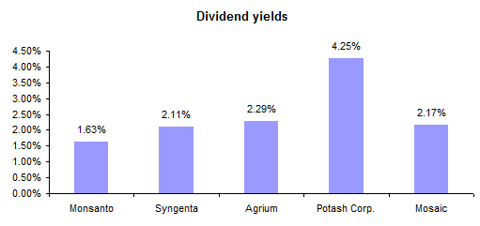 The table below summarizes the valuation metrics as well as premiums/discounts to peer group averages:

Conclusion
Investors buying Monsanto shares pay an extreme premium to earnings and cash flow and get the lowest peer group dividend as a result. Investors desiring exposure to the agriculture sector and its favorable long-term trends could consider an investment in Potash Corp. or Mosaic which both offer outsized rebound potential, better odds of multiple expansion and better dividend value than Monsanto (compelling thesis here and here). Anti-cyclical value investors could find good value in Potash Corp., Mosaic and Agrium which have already started to rebound since the August sector meltdown.
Disclosure: I am long POT, MOS. I wrote this article myself, and it expresses my own opinions. I am not receiving compensation for it (other than from Seeking Alpha). I have no business relationship with any company whose stock is mentioned in this article.