Company Overview
Costco Wholesale Corporation (NASDAQ:COST), with its subsidiaries is engaged in the operation of membership warehouses in the United States and Puerto Rico, Canada, the United Kingdom, Mexico, Japan, Australia, and through majority owned subsidiaries in Taiwan and Korea. Costco buys the majority of its merchandise directly from manufacturers and routes it to a cross-docking consolidation point (depot) or directly to its warehouses. The company's depots receive container-based shipments from manufacturers and reallocate these goods for shipment to its individual warehouses, generally in less than 24 hours. Costco's typical warehouse format averages approximately 143,000 square feet. The company's warehouses generally operate on a seven-day, 69-hour week. The company carries an average of approximately 3,300 to 3,800 active stock keeping units (SKUs) per warehouse in its core warehouse business. Many consumable products are offered for sale in case, carton, or multiple-pack quantities only.
Current performance
Costco reported August net sales of $7.95 billion, an increase of 6.9% in comparison to August 2012. For the 16-week fourth quarter ended September 1, sales were $31.8 billion, compared with 17-week fourth quarter of 2012 sales of $31.5 billion. Moreover, fiscal year 2013 sales, ending September 1, are $102.9 billion, an increase of 6% from fiscal year 2012. Comparable-store sales are up by 6% in 2013 in comparison to last year. All in all, good results for the company. Net earnings are still not out, but if we take the 12 trailing months net profit margin of 1.93%, earnings should be somewhere around $1.95 billion. With 433 million shares outstanding, that amounts to $4.48 EPS.
Company Comparable Analysis
It's a little difficult to find direct comparables to Costco, so I have used Target Corp. (NYSE:TGT), Wal-Mart Stores Inc. (NYSE:WMT), and the Discount, Variety Stores industry averages for this comparison.

COST is currently trading at a higher P/E but lower P/S ratio than the main competitors and the industry averages. As can be expected, the company has a much lower gross margin and operating margin than the main competitors and the industry, but this is certainly consistent with the business model. The company has superior revenue growth, which explains why the company is trading at lower P/S ratio than the peers, but at a higher P/E. The company is able to grow its business at a faster pace but it is not turning revenue into earnings better than the competitors.
Looking at the financial position it becomes much clearer why investors, like this one, like this company.

Every ratio measuring the financial strength of the company is at much better levels than the company's peers. And that, along with the financial performance of course, is why Costco has outperformed its peers and the S&P500 in the last three years.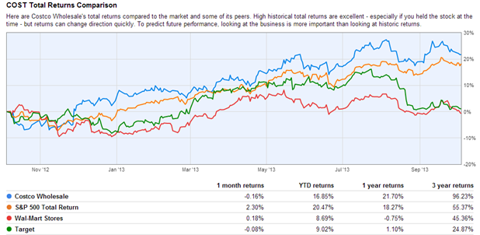 Growth
WAG of the last five fiscal years EPS are 2.89, 2.47, 2.92, 3.30, and 3.89; which is a growth of 10.43%. EPS in the first three quarters of 2013 are all higher than the same quarters of 2012, with the lowest year-over-year growth coming in the third quarter of 2013 at 18%. Revenue growth is, as both reuters.com and Nasdaq.com projected, at double digits over the long term. With company announced plans to open around 30 warehouses per year, for an indeterminate time span, this level of growth seems reasonable. Moreover, the company currently has only 10% of its operations outside the U.S., so, with such an untapped market to conquer, I believe that future growth will not be an issue for Costco.
The Costco business model is primarily based on earnings from membership fees, while selling products at zero profit margin or even at a loss. With a current renewal membership rate of over 85%, Costco has a very stable base from which to grow.
Basic Valuation
The below basic validations go some way to validating current bullish sentiments surrounding Costco. The company has a fairly predictable dividend payout policy (payout ratio of 26.48% in 2012, 26.97% in 2011, 26.37% in 2010, 27.53% in 2009, etc). Using two different dividend discount models, we arrive at an average price of $132 - an upside potential of 15.3% from the current price. The short-term growth rate is based on the average growth for the last 4 years, and the long term is based on the future EPS growth projections and the dividend payout policy. The required return is from Damodaran's cost of capital, industry Retail Store.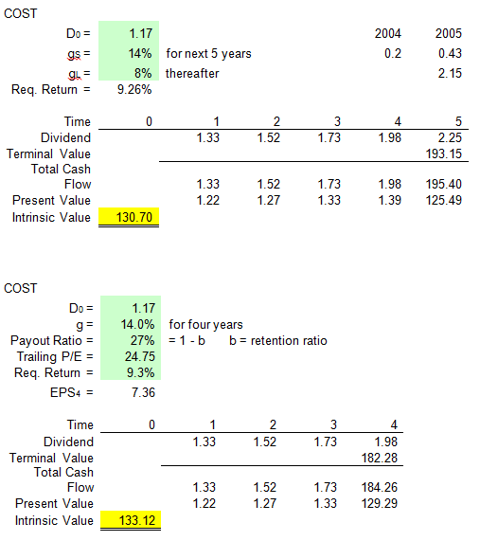 Conclusions
With the current uncertain market outlook, perhaps it is the perfect time for a defensive stock in your portfolio. Costco (beta of 0.40) with its great business model, and its potential for growth, is an ideal candidate at the moment.
As shown above COST has outperformed competitors by nearly every metric. Its stock has nearly doubled in the last three years, growth in EPS is unparalleled, the financial strength of the company is at better levels than the competition, and so on.
Why I personally like this stock, is the business model. As a customer, who can resist low-priced products at a place where you can buy everything from matches, steak and a wedding ring? Couple that with the fact that most employees love the company, and you have a winning combination.
Disclosure: I am long COST. I wrote this article myself, and it expresses my own opinions. I am not receiving compensation for it (other than from Seeking Alpha). I have no business relationship with any company whose stock is mentioned in this article.