Who in god's name continues to buy Pandora (NYSE:P) - seriously? The macro markets are falling apart on the government idiocy taking place, Apple (NASDAQ:AAPL) has all but announced intentions to simply squash Pandora, and the company is trading at 90 times its forward earnings.
Yet, Pandora ended last week at all-time highs.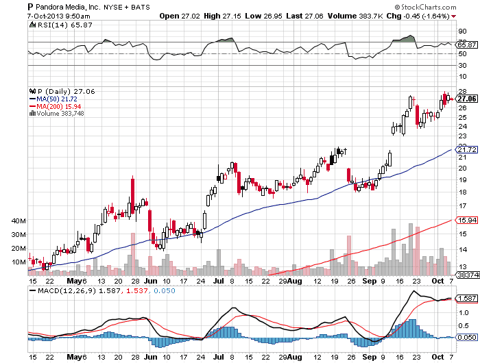 Click to enlarge
I've written a couple of articles of late, disclosing and backing my recent short position that I took in Pandora through purchasing some puts. I've touched on small bits and pieces about why I'm short Pandora - namely all having to do with Apple's entry into the streaming radio sector. Although that's a huge reason that I'm short, it's not the only reason. The purpose of this article is to lay out, in 5 simple reasons, why I'm short Pandora; and why I think a short position in the company is the most likely position to bear fruit in the future.
1. Again, September's Audience Metrics Were Meaningless
This was the main thesis in my recent article about Pandora. The stock has taken the liberty of heading up on the news of this September's Audience Metrics - as if they actually meant something. I'll argue that this is an artificial pop in the stock price based on meaningless numbers.
Pandora released the following metrics last week:
Pandora (OTC:PDRB) (NYSE:), the leading internet radio service, announced today new metrics that were reached in the month of September 2013.

Listener hours for Pandora during the month of September 2013 were 1.36 billion, an increase of 18% from 1.15 billion during the same period last year.

Share of total U.S. radio listening for Pandora in September 2013 was 7.77%, an increase from 6.53% at the same time last year.

Active listeners were 72.7 million at the end of September 2013, an increase of 25% from 58.3 million during the same time period last year.

Pandora is releasing key audience metrics on a monthly basis to provide the most current information regarding Pandora's users and usage across platforms.
The main reason that September's numbers are meaningless is the fact that they don't really account for Apple's iTunes Radio. Apple's iTunes Radio was on the market for five days - read it again, five days - before attracting 11 million unique listeners. At that rate of growth, what do you think their numbers are going to look like well into October?
Wouldn't you think that October is going to be where we start to see the tangible impact on Pandora, since their September metrics include 18 days of September where iTunes Radio wasn't even available? Let's face it, these September metrics are almost meaningless if you're looking for a gauge on Pandora versus Apple - which is the one major issue Pandora longs should be thinking about right now.
2. The Stock is Way Overvalued and Overbought
A look at the technical indicators on the chart above shows that Pandora's RSI has been borderline or above "overbought" territory several times during the stock's current trend upwards.
The market has valued Pandora, today, at $26-$27/share; which gives it a market cap of about $5 billion.
Again, from a technical standpoint and a valuation standpoint, Pandora as an investment, simply seems way overvalued. Pandora is a non-profitable company with a $5 billion market cap. Right there, you've lost me.
This is a company whose valuation is based on tons of forward looking speculative growth. If the company cannot achieve that, which I feel it won't be able to, it'll be valued at pennies on the dollar to what its value now.
Andrei Volgin echoes this, by claiming there's not enough people in the U.S. to justify Pandora's valuation:
In 3 years the company has to increase the number of paying subscribers from 3 million to 33 million (13.7 percent of all adults in the U.S.), or the number of non-paying active listeners from 71.2 million to 342 million (more than the entire population of the U.S.) to justify its current valuation.
3. Growth is Actually Stalling
Pandora depends not only on the amount of people that are listening, but the length in which they listen. The longer people listen, the more ads they hear, and the more it'll cost for the company to sell ads - thereby generating more top line revenue.
The problem is that even though listeners continue to nudge upward (see reason #1 again), the amount of time in which they listen is decreasing. This could be a trend that could telegraph where the future is heading across the board with Pandora listeners.
In his article "Pandora Growth Stalls", Andrei Volgin lays out the facts behind Pandora's growth stalling:
September audience metrics, however, confirmed that Pandora's growth is stalling.

Click to enlarge

While the number of active listeners continues its slow ascent (+0.8% from August), average hours per listener - an important gauge of user engagement and loyalty - are decreasing. As a result, total listener hours remain flat over the past 10 months. Pandora is monetizing its total listener hours by selling ads.
4. The Technology Hasn't Evolved
Pandora is a company that, again, has its valuation based on its growth and growth potential. There's only one problem: the company hasn't really evolved since its inception.
I mean, sure, there's been minor updates here and there - and the genius of Pandora was in its original genome; but since then, it's basically been the same Pandora since it started.
This was a major point in Alex Colcernian's article, "Pandora Missed the Boat". He concludes:
There's no doubt Pandora is likely spending time developing technology. Tweaking the genome, categorizing more songs, building platforms for advertising sales, metrics, etc. ... But none of this matters because Pandora has yet to reach the classification of a "value company." Pandora is at a tipping point, and they need to go back to being a growth company.

Focusing on the user, and growth of the user will be the key, and if gracefully crafted could allow Pandora to introduce new revenue streams, different and unique ad platforms, and more. Yet, two years after the IPO, Pandora hasn't appeared to spend much time here in my opinion.
Failing to aggressively evolve is a major caveat of Pandora, and yet another reason that the market has overvalued the price of Pandora stock.
5. There is No Competing with Apple
Sometimes, you just catch some bad luck - fate rears its ugly head, and decides that while you've had a nice run, the fun is over.
Such is the case of iTunes Radio and Pandora. Pandora, arguably the company that put streaming radio on the map, is now a non-profitable company with 50% of its business coming from Mac users - that's pinned up against the world's largest company in Apple.
And it's basically unanimous; nobody thinks Pandora will make it out alive.
As a reminder, iTunes Radio has been released to amazing reviews, and the blogger consensus echoes that of CNET, who put it best when they basically just said that iTunes Radio has simply crushed Pandora in all metrics:
iTunes Radio may be late to the party, but it's still better thanPandora when it comes to streaming programmed radio on iOS. Like its competitor, iTunes Radio lets you create personalized stations based on one or more artists, songs, or genres of your choice, which makes it an attractive alternative to your personal iTunes library and a nice vehicle for discovering new music. Beyond that, though, it offers seamless purchases through iTunes, a curated selection of Featured Stations, and a music library that easily dwarfs Pandora's.
It bears repeating that iTunes Radio delivers nearly 30 times more songs and is cheaper by a tune of about 30% for the pay service.
As I stated in my last article, the streaming music space is one Pandora is still going to have to compete for, with companies like Sirius (NASDAQ:SIRI), Time Warner (TWC) and Comcast (NASDAQ:CMCSA) all offering separate ways to access streaming music - and all with exclusive rights to content that sets them apart from one another. Aside from not having talk or comedy - Pandora doesn't really have any exclusive content.
Conclusion - I'm Still Short
For these fundamental reasons, I remain short on Pandora. As with any short position, you can not only benefits from a company floundering fundamentally - but from macro market pullbacks as well. With the VIX up 10% today (Monday), and the markets looking uncertain, a short position in Pandora has two ways to win: Pandora's fundamentals and the broader market pullback.
As always, best of luck to all investors.
Disclosure: I am short P. I wrote this article myself, and it expresses my own opinions. I am not receiving compensation for it (other than from Seeking Alpha). I have no business relationship with any company whose stock is mentioned in this article.