Teva Pharma (NYSE:TEVA) recently announced that its generic version of AbbVie's (NYSE:ABBV) Niaspan would hit the U.S. market. The news is particularly noteworthy because Teva was the first-to-file, making the product eligible for 180 days of marketing exclusivity (a large windfall for the company).
Niaspan is a cholesterol drug used to reduce elevated TC, LDL-C (bad cholesterol), Apo B and TG levels, and to raise HDL-C cholesterol (the good variety). Niaspan had annual sales of more than $1.1 billion in the U.S., according to IMS data. Sales of Niaspan have advanced in the first half of fiscal year 2013, growing 4% year-over-year. Niaspan is one of the top 15 drug patent losses for 2013, and we continue to view Teva's first-to-file opportunities as the best among peers (blue bar below).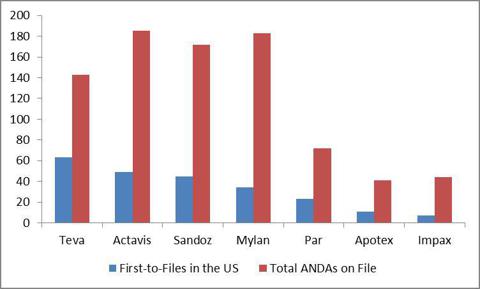 Source: Actavis, Valuentum (January 2013)
Our Take
Teva's huge opportunity remains in its NTE (new therapeutic entity) pipeline, which the company believes is a multibillion-dollar opportunity. We're also encouraged by the odds of incremental revenue growth from the firm's niacin generic (and other opportunities in its best-in-class first-to-file pipeline). We continue to hold shares of Teva in the portfolio of our Best Ideas Newsletter.
Disclosure: I have no positions in any stocks mentioned, and no plans to initiate any positions within the next 72 hours. I wrote this article myself, and it expresses my own opinions. I am not receiving compensation for it (other than from Seeking Alpha). I have no business relationship with any company whose stock is mentioned in this article.
Additional disclosure: TEVA is included in the portfolio of our Best Ideas Newsletter.