As I was getting around to finishing my first morning coffee my inbox flashed with a message from Seeking Alpha "Strategic buyers express interest in BlackBerry". Being an ex-Berry user and a recent Android enthusiast, my attention was piqued.
Since the message was about strategic rational that would benefit both companies' stakeholders, I've decided to take a stab at finding reasons for, rather than against, Google (NASDAQ:GOOG) buying BlackBerry (NASDAQ:BBRY). I've found several logical reasons why it makes sense and many reasons why it doesn't. Here are four on the positive side.
1. Android Ecosystem
The growth of Google's Android operating system continues to impress with more than half a billion Android devices activated globally.
Android, which is open-source, is vital to competition in the mobile device space, ensuring that hardware manufacturers, mobile phone carriers, applications developers and consumers all have choice.
In August 2011, Google agreed to acquire Motorola Mobility for $12.5 billion. The main rational for the acquisition was Motorola's patent portfolio which was seen as a boost to Android ecosystem.
BlackBerry has an enviable portfolio of mobile patents, including a sizable portion of the famous Nortel patents, which were acquired by a consortium, that included BlackBerry, for $4.5 billion in 2011.
BlackBerry's patent portfolio, one of the most diverse in the technology industry, is possibly the company's most valuable asset. It covers a host of innovations in all areas of mobile technology, ranging from user interfaces to battery efficiency and data compression.
By acquiring BlackBerry, Google can further reduce fragmentation in the Android ecosystem and deepen its commitment to defending Android, its partners, and the ecosystem as a whole.
2. Google Enterprise
Perhaps the most valuable patents in BlackBerry's arsenal relate to security, a field in which the company still stands head and shoulders ahead of its competitors. Roughly 2,500 BlackBerry patents relate to secure messaging and digital transactions; patents that could be used by a buyer to form the cornerstone of a secure enterprise platform.
Google's enterprise products provide familiar, easy-to-use Google technology for business settings. Through Google Apps, which includes Gmail, Google Docs, Google Calendar, and Google Sites, among other features, Google provide hosted, web-based applications that people can use on any device with a browser and an internet connection.
BlackBerry has already embraced Android and has demonstrated a commitment to the platform. With BlackBerry security credentials and enterprise customers base, Google can expand its Enterprise base and Android becomes more suited to corporate clients.
3. Google Mobility
Google Mobility business was comprised of two operating segments; a Mobile segment focused on mobile wireless devices and related products and services and a Home segment focused on technologies and devices that provide video entertainment services to consumers.
In May 2013, Google divested its Mobility Home business unit to Arris Group (NASDAQ:ARRS), leaving the Mobility business unit intact. BlackBerry's main niche was in the corporate and enterprise segment of the mobile market which would add a complimentary subscriber base to Google's mobility unit.
BlackBerry has done a great job over the years at expanding its footprint around the globe and Google would further benefit from BlackBerry's existing carrier relationships and its base of people who currently work in these roles.
4. Eric Schmidt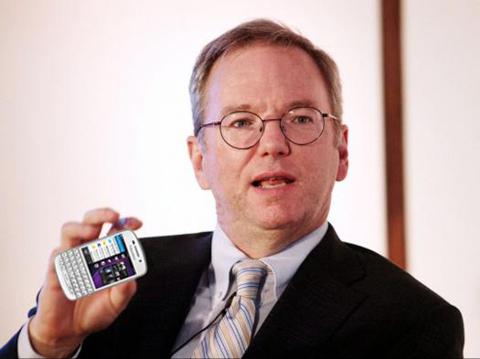 Google's Chairman, Eric Schmidt likes BlackBerry and the BlackBerry keyboard even though Android alternatives are available. Which reminds me of Victor Kiam, the man who liked Remington razors so much he bought the company.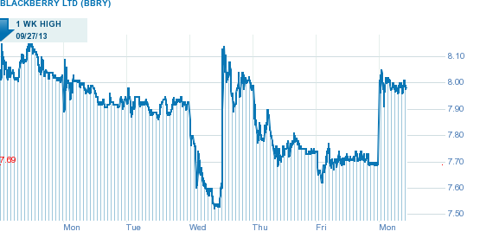 | Company | Ticker | P/E | P/S | Mrkt Cap |
| --- | --- | --- | --- | --- |
| BlackBerry | BBRY | - | 0.36 | $4.1 Billion |
| Google | GOOG | 26.6 | 5.8 | $289 Billion |
At $4.1 billion, and 0.36 price-to-sales ratio, BlackBerry might not be the best choice for a private equity investor. However, for Google, BlackBerry, with all its precious patent portfolio, is a steal. Already BlackBerry's share price is up 3.9% on the news.
Disclosure: I have no positions in any stocks mentioned, and no plans to initiate any positions within the next 72 hours. I wrote this article myself, and it expresses my own opinions. I am not receiving compensation for it (other than from Seeking Alpha). I have no business relationship with any company whose stock is mentioned in this article.