It seems as though the REIT sell-off has created some excellent opportunities for me to canvas the equity REIT universe for some new prospects for my SALSA portfolio - a fund I created for my Intelligent REIT Investor newsletter. The SALSA portfolio is not a portfolio of speculative companies but more of a growth portfolio aimed to produce higher total returns (than my "sleep well at night" portfolio).
By filtering the landscape of REITs (around 140 equity REITs in the US), I'm looking to add some "mild" ingredients - not to hot and not to cold - that will enable me to fill up the basket with juicy risk-adjusted returns. The acronym that I created to describe the growth and income portfolio is "Safe and Lasting Seeking Alpha."
As I investigate the broader equity REIT universe, I first examine the various sectors and sub-sectors and begin to filter out the categories that may provide strong and lasting returns. In doing so, I observe that the regional mall REITs have achieved high occupancies and profitable second quarter results. As explained in a recent SNL Financial article:
Median occupancy rates among U.S. regional mall REITs have steadily increased between the 2010 second quarter and the 2013 second quarter, and the median regional mall occupancy rate for the second quarter of 2013 was 93.2%, up by 3 percentage points from 90.2% in the second quarter of 2010. The sector experienced its highest median regional mall occupancy rate for the period in the fourth quarter of 2012, when occupancy peaked at 94.3%.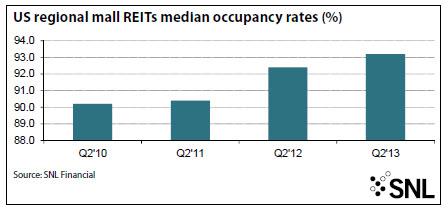 Although the threat of e-commerce sales has been headline story for many newspapers and magazine across the nation, the statistics indicate the opposite. David Simon, CEO of Simon Property Group (NYSE:SPG) addressed this at a recent conference:
I do think it will continue to obsolete some retail real estate, but at the end of the day, the bigger and better assets are going to be more valuable, and we've already seen that.
Despite the ongoing competition from retailers, regional mall REITs reported solid fundamentals for the second quarter, with Simon Property posting same-store NOI growth of 5.9%. In his comments during the company's earnings call on July 29, Simon attributed the NOI growth in part to a 90-basis-point rise in regional mall and outlet occupancy, to 95.1%. He also noted a 14.1% rise in re-leasing spread, a 3.6% year-over-year increase in base minimum rent per square foot and a 4.2% rise in tenant sales.

Click to enlarge
Macerich (NYSE:MAC) increased its same-store NOI by 4.7%, while General Growth Properties (NYSE:GGP) saw the highest year-over-year same-store NOI increase at 6.8%, which CFO Michael Berman noted during the company's second-quarter earnings call on July 30 was "$13 million ahead of our expectations."
General Growth also had the highest reported regional mall occupancy at 95.9% as of June 30, while Macerich highlighted its sales, which are above the pre-recession peak. "Over the last 10 years, we've always had relatively high occupancy even during the recession - 2009, 2010," Tom O'Hern, CFO at Macerich, said during the company's presentation at the Barclay's conference. "The sales are back again significantly above the pre-recession peak of $467 [per square foot] in 2007."
Could General Growth Be a New Flavor in my SALSA Portfolio?
Back in March (2013), I wrote a detailed article, Buying General Growth Properties Today? Is The Thrill Of Victory Worth The Agony Of Defeat?, in which I examined General Growth in molecular detail. In that article, I researched the concentration levels of J.C. Penney (NYSE:JCP) and concluded that
by controlling many key J.C. Penney sites, GGP is in a unique position to benefit from the continued monetization of J.C. Penney assets. Also, because GGP has a core of competence in redevelopment, the future of J.C. Penney could prove to be more beneficial as the company continues to evolve into a more sustainable department store based model.
As I referenced in the previous article, J.C. Penney owns many of its retail properties and the ones they don't own they control via below-market lease arrangements. In other words, there is considerable equity associated with the J.C. Penney real estate portfolio. GGP owns around 82 J.C. Penney stores out of 125 total mall-based assets. In other words, J.C. Penney stores are located in around 65% of all of GGP's US mall-based properties.
Since I wrote the article in March, J.C. Penney has replaced its CEO and the shares have declined by 53%.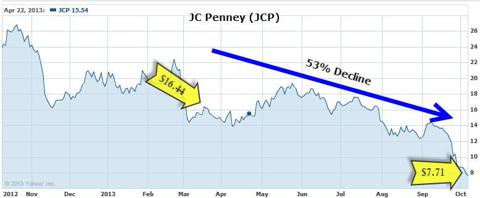 Click to enlarge
Conversely, since I wrote the same article (March 2013), GGP shares are trading at the same level that they were then.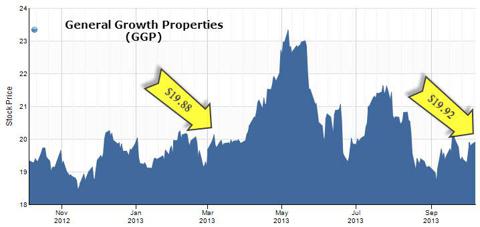 Click to enlarge
So J.C. Penney investors have lost over 50% in six months; what is it that makes me think GGP will provide value and growth potential in the future? Let's check it out…
Shopping Mall Supply
There has been muted supply creation in the mall sector since 2008 and retail area per capita has been flat. In addition, there is minimum new expected development through 2017; primarily expansion and redevelopment of high productivity malls. Remember, it cost over $100 million to build a mall and that's one reason that the mall sector is the lowest new supply outlook among all other major property sectors.

Click to enlarge
As far as demand, retailers focus on long-term growth and they are generally unaffected by short-term economic trends. According to RBC Capital, new store openings across the retail property sector are expected to increase 9% in two years. Domestic and international retailers are expanding in the US and increasing capacity in the brick and mortar format.
GGP's Evolving Portfolio
GGP has a nationwide portfolio of high-quality properties that consists of 123 malls in 41 states. Here is a snapshot of the portfolio - over 55 million square feet of in-line space: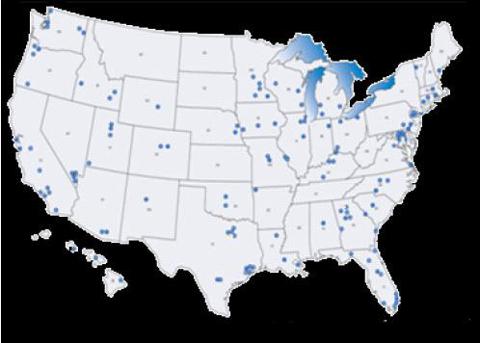 Click to enlarge
As noted above, GGP had the highest reported regional mall occupancy at 95.9% and the operation metrics are very solid. GGP's tenant sales were $560 a square foot, an increase of 5.1% from the last year, equating to an occupancy cost across the portfolio of 12.9%, a level considered relatively low for a portfolio of this quality. For GGP's "A+ malls" the average tenant sales were $650 and the average sales per square foot (for all 123 malls) was $560.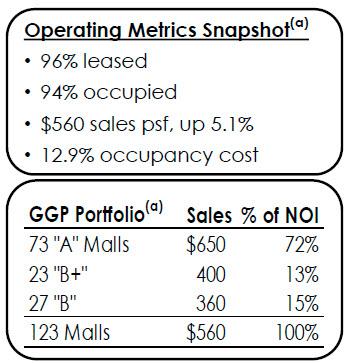 GGP has summarized a six point strategy for growth (source: Oct. Investor presentation):
Increase Permanent Occupancy: 92% by year-end 2013; 93% to 94% by year-end 2014
Positive Suite-to-Suite Rent Spreads: 2013/2014 commencements ~11% above expiring rents
Contractual Rent Increases: Gross rents increase 2% to 3% annually over lease term
Redevelopment Returns: 9% to 10% unleveraged initial return on investment
Operating Expense Control: Leveraging scale to maximize operational synergies
Long-Term Accretive Acquisitions: High-quality retail assets contribute to long-term growth
One of the compelling growth catalysts for GGP is the significant development pipeline; around $2 billion with stabilized returns of between 9-10% of cost. The company's pipeline has around 70 projects and here is a snapshot of the top 10: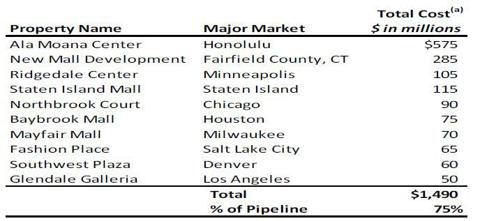 Click to enlarge
In addition to external growth, GGP has a deal flow of new acquisition opportunities, such as 200 Lafayette in SoHo District, New York City. This off market deal is expected to close in 2013 and the $150 million project has a 5.2% "going in" cap rate (current rent divided by acquisition cost). The property is around 116,000 square feet over 7 floors. The building is currently leased to J.C. Penney (100% leased) and the plan is to convert up to 4 floors to high-quality retail space. This asset provides immediate income to GGP and the potential for value creation is reflected in this snapshot below: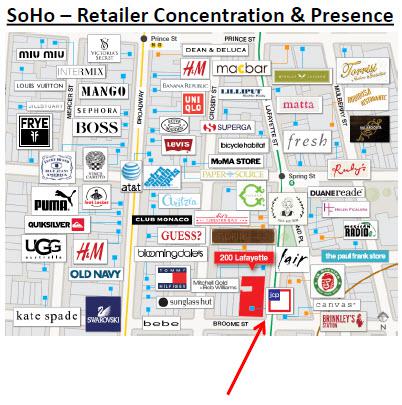 Here is a snapshot/rendering of 200 Lafayette: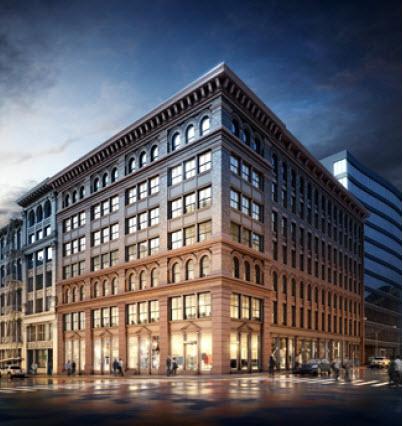 GGP's Embracing Its Troubled Past
GGP has effectively embraced its troubled past by rebuilding its balance sheet. In 2012, GGP was able to refinance $7 billion, including $1.4 billion of proceeds, of which $1 billion went to pay off Rouse bonds and the remainder funded its development pipeline; by disposing of non-core assets, generating over $220 million in net proceeds. In addition, GGP has rising fixed-charge coverage from 1.8x today to 2.0x in 2014. In addition, GGP has declined its net debt-to-EBITDA from 8.9x to 8.5x in 2014. Debt to total capitalization is less than 50%. Here is a snapshot of the well-laddered debt maturity schedule: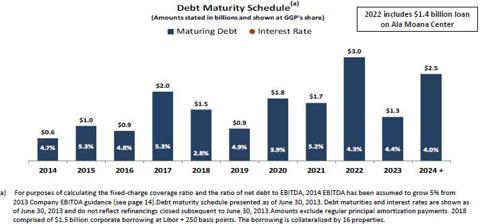 Click to enlarge
Another important element for GGP is that the company's relatively low annual debt maturities mitigate earnings impact from refinancing at higher rates. Over 90% of existing debt is fixed-rate (4.5% average rate) and because of the laddered debt, GGP deters from increasing leverage.
For the full year of 2012, GGP reported around $990 million in Funds from Operations (or FFO), approximately $120 million better than 2011, an increase of almost 14%. GGP has guided FFO to be around $1.14 billion in 2013, up around 15%. That translates to FFO per share growth of around 16% (see snapshot below):

Click to enlarge
Although the dividend cut was painful for many shareholders (in 2009), the "new" GGP has begun to "claw back" its dividend, as evidenced by a first quarter 2013 increase of 9% - from $.11 per share to $.12 per share. As evidenced by the dividend growth (below), GGP appears to have strong potential for share price appreciation - the company must raise its dividend to remain competitive with its peers.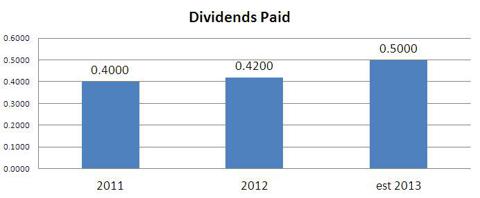 Click to enlarge
The Cream Rises to the Top
GGP's long-term history was volatile and it's obvious that the company was hit hard during the Great Recession: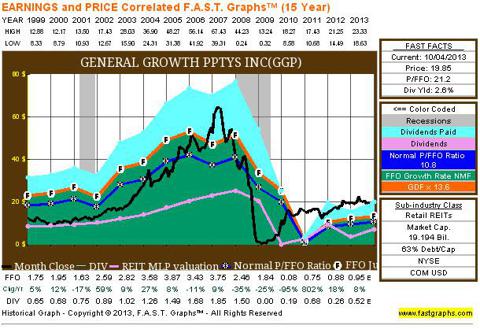 Click to enlarge
But now I see GGP rising to the top. The company has pruned its portfolio and now investors can reap the rewards of a phoenix rising out of the ashes. GGP is currently trading at $19.92, a value that I consider sound (P/FFO multiple of 17.5x), and I believe that the share price will follow the dividend. The new management team has "taken a hold" of the reigns and it appears to be steering the mall giant back to a more predictable trend of steady and reliable returns.
I have previously recommended the Series A preferred shares - for a more bond-like allocation. The 6.38% coupon be a safer ingredient; however, I prefer the common as I believe there is potential in the SALSA component - a little bit of spice makes everything nice.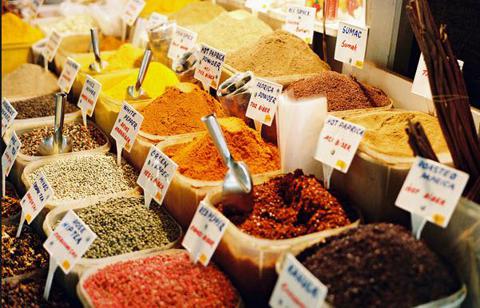 Click to enlarge
Sources: SNL Financial, FAST Graphs, GGP Investor Presentation. GGP's Q3-13 earnings release is on 10-28-13 and the earnings call is on 10-29-13.
Disclaimer: This article is intended to provide information to interested parties. As I have no knowledge of individual investor circumstances, goals, and/or portfolio concentration or diversification, readers are expected to complete their own due diligence before purchasing any stocks mentioned or recommended.
Disclosure: I am long HTA, O, ARCP, CSG, VTR, UMH, STAG, GPT. I wrote this article myself, and it expresses my own opinions. I am not receiving compensation for it (other than from Seeking Alpha). I have no business relationship with any company whose stock is mentioned in this article.