Zumiez (NASDAQ:ZUMZ) is an apparel company with most stores in the United States. In this article, I argue that it is well-positioned to outperform within a consolidating market of teen customers. Although I consider it a "hold" overall, I believe it is a "buy" if hedged against its peer group.
Peer valuation:
Compared to peers in teen apparel and apparel in general, Zumiez has a mid-range P/E. Within the group, Zumiez has a slightly higher P/E and a slightly smaller market cap, which is a common correlation. Information below is provided courtesy Google Finance.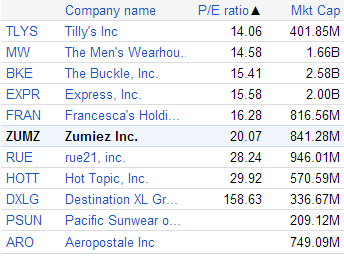 Recent teen peer outperformance:
Seeking Alpha's Shaun Currie was rightfully intrigued following the latest quarterly earnings call, as analysts diverged from management in projections. Analysts expect earnings per share of $.46 for the current quarter, while management expects only $.43 and has been similarly conservative in future projections. Management's pessimism derives from the state of teen apparel.
Teen apparel has experienced pricing pressure because it is a discretionary purchase -- the type of purchase young people are cutting back on. Zumiez management argues that while "there are too many stores in the teen world," leaders will ultimately profit from consolidation. Hard data suggests Zumiez as one of those future leaders, as Shaun points out:
After the back-to-school performance of the likes of Aeropostale (NYSE:ARO), American Eagle (NYSE:AEO), and Abercrombie & Fitch (NYSE:ANF), 3% positive comps for ZUMZ is very solid performance. It's a clear indication that the company is taking share. This is a point that should not be overlooked (it's probably the most important thing to note from the call, and reason for the rally).
While Zumiez stock currently trades around $27.81, analyst consensus puts it at $30, implying a potential upside of 7.9% if analysts are correct. In recent quarters, reputable hedge funds such as Citadel Investment Group and Gotham Asset Management appear to have traded bull theses on the name. These are positive indicators, but why should Zumiez continue to rise above industry decline?
Demographics of decline:
Consumer spending in general is in decline, especially among youth, who are disproportionately underemployed. A Los Angeles Times article also implicates a change in consumer taste:
And although 2012 was the year of color, featuring bold prints, bright pants and neon accessories, this summer has been devoid of a "large, accessible, easily understood fashion trend," Tubin said. Teen retailers have resorted to a scattershot strategy in choosing trends to feature.

Many are also behind the times, offering clothing geared to a casual, laid-back lifestyle that's losing cachet among increasingly put-together teens, said NPD analyst Marshal Cohen. Young shoppers are dressing like adults earlier in their lives, fueling the rise of affordable and trendy fast fashion outlets such as H&M and Forever 21.
The article also notes that some Generation Y buyers consider logos to be "childish." These trends would appear to be negative for Zumiez. However, Zumiez has been outperforming peers -- there must be an explanation.
Why Zumiez outperformance will continue:
First of all, Zumiez is well-adapted to compete in a scattershot market, because it is a scattershot company of action sports brands. From my research, I believe that approximately 35 brands across skateboarding, snowboarding, surfing, motocross, BMX and other sports comprise the primary experience for shoppers.
Second, it is crucial to understand the nuance of Zumiez's customer base. Zumiez sells sports brands, which are functionally inspired. A Zumiez brand is not a pure fashion statement like Abercrombie -- it is functional like Nike (NYSE:NKE). Nike has outperformed Abercrombie by 50% in the past year. In my opinion, this is largely due to the distinction between functional and non-functional branding.
While one can wear any t-shirt and ride a skateboard, one could theoretically go to work in a bathing suit. But this is not the proper uniform. We wear appropriate clothes to work and appropriate clothes to skate even though it is not necessary. Even if we are hanging out with coworkers, we wear appropriate clothing -- the same applies to lifestyle brands.
Teens and young adults are increasingly discerning in their apparel purchases, but sports apparel passes this test because it is a socially necessary uniform. As the company puts it "we support the action sports lifestyle." This functionality, coupled with an organic and well-scaled diversification of brands, is why Zumiez will continue to outperform in teen apparel.
Disclosure: I have no positions in any stocks mentioned, and no plans to initiate any positions within the next 72 hours. I wrote this article myself, and it expresses my own opinions. I am not receiving compensation for it (other than from Seeking Alpha). I have no business relationship with any company whose stock is mentioned in this article.